St Saviour's College Newsletter 2023 - Term 4 Week 6
Principal
"Travel does not exist without home … if we never return to the place we started, we would just be wandering, lost. Home is a reflecting surface, a place to measure our growth and enrich us after being infused with the outside world." (Josh Gates)
I love this quote. And it is good to be home.
I have just spent the past seven weeks on sabbatical leave, travelling abroad, actively 'stepping away' to take rest and spiritually reflect on the nature of my work as leader and Principal. During this time, I was privy to experience a variety of experiences, many of which nurtured my faith and many were purely in response to my desire to see more and learn more.
I began my journey in Jordan and Israel. This experience was an absolute highlight, shared with 18 other colleagues including Emeritus Bishop Robert McGuckin, former Bishop of Toowoomba diocese, and Dr Pat Coughlan, Executive Director of Toowoomba Catholic Schools, as well as principals and senior leaders from within the Toowoomba and Brisbane dioceses. No one could have prepared me for the extraordinary experience of visiting such places as Jordan, taking in significant holy sites such as Mt Nebo, the Dead Sea, the Jordan River, Madaba and Petra. Moving onto Israel, we travelled to Lake Galilee. Galilee was a special highlight, particularly a private Mass floating on the Lake itself, celebrated by Bishop Robert. At Galilee, we took in local sites where Jesus performed much of his ministry such as Capernaum, Tabgha (the site of the multiplication of the fish) and the Mount of the Beatitudes. We also took day trips, exploring nearby destinations such as Mt Tabor (the site of the Transfiguration), Caesarea, Haifa, Cana and Nazareth. Departing south from Galilee, we travelled to Ein Karem, the birthplace of John the Baptist.
Our next stop was Bethlehem, a city in the West Bank of Palestine, where Jesus was born. Bethlehem was a particular highlight, not only for the fact that we visited the Church of the Nativity and the Shepherd's Field, but we also had the opportunity to meet with staff and students at Bethlehem's Holy Child Program, a school for underprivileged children of both Christian and Muslim backgrounds, as well as students from Bethlehem University, a Catholic co-educational institution providing higher education to the people of Palestine. Both experiences were eye-opening and an incredible opportunity to hear first-hand the plight of the Palestinian people.
One of my most tangible and sobering learning experiences was to gather with my fellow pilgrims to hear from afflicted families, both Israeli and Palestinian, who had lost children as a result of the civil turbulence that exists presently in Israel. Having departed the Tel Aviv airport just six days shy of the Hamas attack on 7 October, I can only say that the unrest that follows from this long-standing conflict is deeply saddening, given that both the Palestinians and Israelis alike are beautiful and our prayer for them is peace.
We travelled the road to Jericho, where we reflected on the parable of the Good Samaritan; we journeyed on to Qumran, the site where the Dead Sea Scrolls were discovered in 1947. Here on, we journeyed to Jerusalem for four days of rich learning, visiting significant sites and tracing the steps of Jesus leading up to his final days, the Last Supper, his Crucifixion and his ultimate Resurrection. Other significant destinations included Bethany, where Jesus raised Lazarus from the dead, and to Emmaus, where he met some travellers on the road, who later recognised the risen Jesus during supper in the breaking of the bread.
And that was just the start. From here, I travelled with my dear friends, including former Deputy of SSC, Jen Smeed, onto Turkey, Sicily, South of France, and finally, onto Ireland.
Ireland was a gift. Jen and I retraced the opening of Mercy congregations throughout Ireland, including Carlow (est 1837), Wexford (est 1840), Cappoquin (est 1850), New Ross (est 1853), Cork (est 1831), Cork Hospital (the first Mercy Hospital, est 1857), Buttervant (est 1879 – now closed and houses 50 Ukrainian refugees), Charleville (est 1836), Birr (est 1840 – the original Convent now so beautifully repurposed as a library) and Tullamore (est 1836).
We also visited Mt Sion in Waterford where Edmund Rice established the first Christian Brothers School in 1802. The body of Edmund Rice is laid to rest in the Chapel on site. This in itself, was a deeply moving experience, given the wonderful links that bind our Mercy and Edmund Rice charisms and history.
Nothing could have prepared us for our time at Coolock House and Baggot Street. Coolock is where Catherine resided with the Callaghans, an elderly couple who treated Catherine like a daughter. It was through their generous inheritance that Catherine built the House of Mercy in Baggot Street. The Sisters at Coolock were so inviting and hospitable. It was such a treat to be shown around the Callaghan's house, before sitting down to a cup of tea and cheesecake with the Sisters. We then made our way into the International House of Mercy. The beautiful Sr Margaret Daly was the perfect host and moved us with her stories of Catherine and the Sisters and the special significance of this site on Baggot Street. It was such a special afternoon.
My learnings were many. Here are but a few.
We are lucky to live in a country, free from hostility and war.

There are two sides to every war and in terms of the current climate in Israel, there are no victors.

The inherent messages of the sacred stories of our Christian tradition stand the test of time and maintain their relevance for today.

Catherine McAuley and her Sisters of Mercy were progressive women, well ahead of their time.

The true Mercy story as I saw it at its very grassroots level, is alive and well at St Saviour's!
I can't thank Mrs Jessica Wade, Mrs Megan Schulze, Miss Leah Dempster, Ms Nicole Booth and Mrs Xenia Taylor for their leadership during my time of sabbatical. I thank the Toowoomba Catholic Schools Office, most sincerely, for enabling this experience which has, for me, being most life giving.
I look forward to the many events we have coming up in the weeks to come, to gather with you all to celebrate the year that was, and to recognise the many achievements of our students and staff across the year!
Blessings across the coming weeks.
Sharon Collins
Principal
Assistant Principal - Mission and Student Wellbeing
This year, we will see all of our students finish on or before 1 December. To acknowledge and join the Catholic traditions, we have started our celebrations early. Advent, which begins the Church's liturgical year, begins on Sunday 3 December. Advent encompasses the four Sundays and weekdays leading up to the celebration of Christmas. The Advent season is a time of preparation for our hearts and minds for the anniversary of the Lord's birth on Christmas.​ The use of the wreath and candles during Advent are a longstanding Catholic tradition that was originally adopted by Christians in the Middle Ages as part of their spiritual preparation for Christmas. The wreath and candles are full of symbolism tied to the Christmas season. The wreath itself, which is made of various evergreens, signifies continuous life. The circle of the wreath, which has no beginning or end, symbolises the eternity of God, the immortality of the soul and the everlasting life we find in Christ.​
Our first activity was to decorate a Homeclass Christmas wreath that has been hung on Homeclass doors during our final weeks of term to celebrate Advent. Each wreath is personalised by the leaves being the individual handprint of each Homeclass member. Homeclasses have spent the last two Funday Fridays decorating their wreaths and making Christmas Cards. A massive thank you to Chappy Helen and Mrs Potter for their amazing support of the Youth Ministry Team to help spread the Christmas cheer.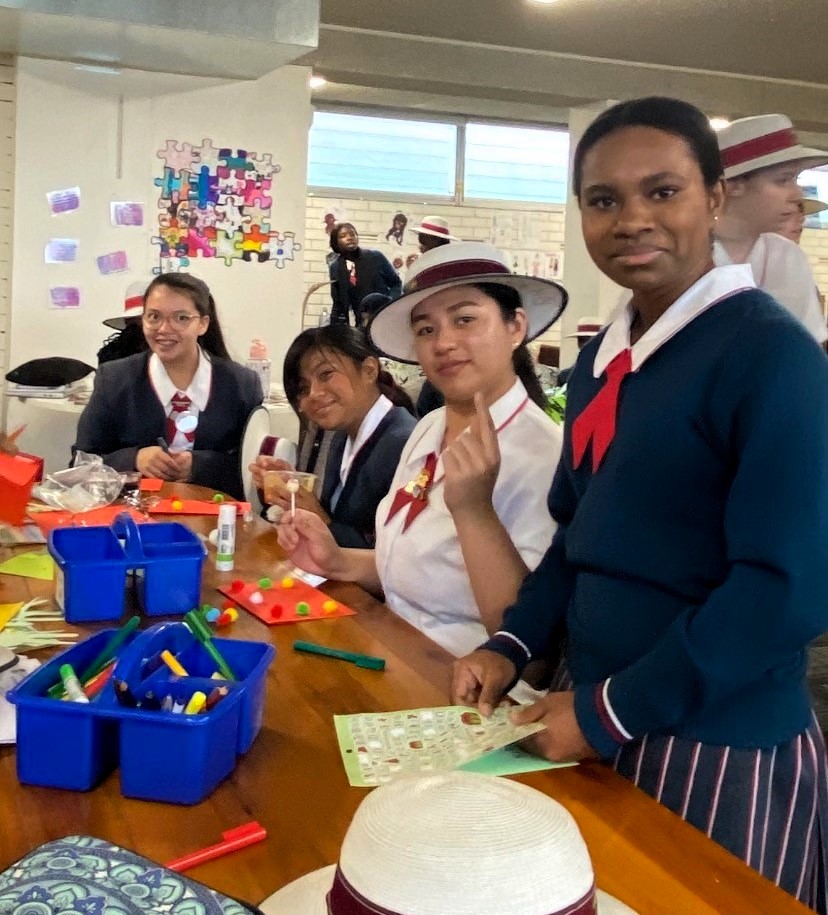 In the lead up to our final liturgy, Homeclasses have been busy collecting small donations to pass on to families in need this Christmas. If your family is able to help with a small gift or food donation to our Living Crib, it would be greatly appreciated by the many families in our local community finding it tough this Christmas.
With holidays approaching, many of our students will be spending time on devices or possibly receiving new devices for Christmas. This term we have been working with students and the local Police and their ThinkUKnow Program as well as the Madeline and Alannah Foundation eSafety Online Programs to help enhance digital wellbeing. With limited and controlled opportunities for students to engage with the digital technology at school, it is often outside school where digital wellbeing can struggle. As a school we want to work in partnership with parents to ensure that each of our girls are engaging in proactive and healthy digital lifestyles as this often results in better educational outcomes. Available to parents to empower you with knowledge, we have partnered with one of our system providers to give parents access to the latest research and up-to-date knowledge in the tech world. The Parent Online Safety Hub can be accessed via the link below and has many resources such as APP reviews and reporting links that will help you as parents engage in the current online world, particularly from a teenage view.
Megan Schulze
Assistant Principal - Mission and Student Wellbeing
Library News
Welcome
All resources to be returned before the end of term.
The one time of year everything must be back. There is no borrowing over the Christmas break as we would like all resources returned to their home in the library so they can be checked over and audited for the year.
Overdue and recall notices are being sent out and will continue through the remainder of the term to remind students to return all their resources. Students can access what they have out through our Library Web App – please encourage your child/ren to check what they have out that must be returned. Go to the link, and sign in using the Single Sign-on (SSO) blue button.
Stay tuned in upcoming newsletters for activities to keep yourselves reading over the Christmas break.
Webinar: Engaging Reluctant Readers with Comics and Graphic Novels
I recently watched a webinar with the renowned Professor Stephen Krashen discussing the role of comics and graphic novels in reading. He has some fantastic points about engaging students with comics, especially as a conduit to establishing a reading culture, drawing on his reluctance to read when he was young. He discussed how comics were his way into reading and he has never looked back since. He discussed the readability age of comics and how they are often higher than a lot of books and that in a number of the superhero comics there are descriptions of science concepts and terminology for example in Marvel The End #1 "…this device apparently caused sub-atomic particle dissociation, reducing us to proto-matter, …" (Starlin & Milgrom, 2003). Professor Krashen also mentioned how Desmond Tutu read comics and engaged with reading in this manner.
Following on from Professor Krashen was Iurgi Urrutia who is the Australian Library and Information Association (ALIA) graphic novels and comics convenor. He discussed his journey as a refuser – a person who outrightly refuses to read. It wasn't that he couldn't read but he made the conscious decision not to read. He mentioned that it was comic books that engaged his interest and from that moment became a 'reading monster'. In this, he discussed the importance of role modelling and the ability to read freely with no judgement. Lurgi made the connection between the library being a space where this can happen, especially as it provides free access and expert advice. He also made the connection between comics and literacy:
Good for struggling and advanced readers

Multimodal (multiple literacies)

Examples of concise and efficient writing

Higher memory retention

Involves: aural/symbolic, linguistic, visual, gestural and spatial aspects for students to engage through.
It was a great webinar and very relevant when our school libraries are working to engage students in reading. This continues to make clear:
Reading for pleasure is an important skill and past-time to engage in.

Comics and graphic novels have their place in engaging readers AND improving literacy.

School libraries are important facets of a student's life at school, both for academic and lifelong learning.
New Resources
New resources are still available now – come in and check out what is on display. Check the images below to see what is new in our library.
Don't forget, write your suggestions and put them in the box on the front counter so we know, here in the library, what resources you would like to see available for borrowing.
What's Happening in the Library ?
Remembrance Day from RSL Queensland and RSL Australia
Saturday, 11 November 2023 marks the anniversary of the Armistice that ended fighting with Germany in World War I.
Every year at the 11th hour of the 11th day of the 11th month, millions around the world pause in silence to remember the sacrifices many have made so we can enjoy life today.
Lest We Forget
Our Library display to commemorate this day:
"Libraries store the energy that fuels the imagination. They open up windows to the world and inspire us to explore and achieve and contribute to improving our quality of life."

Sidney Sheldon(1917-2007. American writer and producer)
Stay safe and keep reading.
Andrea King
Teacher Librarian
From the Careers Centre
Congratulations to Ashley, our new School-Based Trainee in Early Education and Care
We are delighted to announce that Ashley (Year 10), will commence a school-based traineeship in early childcare this week. Ashley has been accepted by Learning Pathways Childcare and Kindergarten, where she will work one day per week, learn on the job, and receive a Certificate III qualification in Early Childhood Education and Care upon completion. She will also get paid as she goes!
Ashley is passionate about working with children and has shown great initiative and enthusiasm for this opportunity. She is looking forward to joining the team at Learning Pathways Childcare and Kindergarten and to making a positive difference in the lives of the children she works with.
A school-based traineeship in early childcare is a program that allows high school students to balance their school studies with their traineeship, and to get a head start on their career in early childhood education and care. It is a great way to gain practical experience, confidence, communication skills, and a nationally recognised qualification. It also opens up many pathways for further education and employment in this rewarding field.
We are very proud of Ashley and her achievement and we wish her all the best in her traineeship and school studies. We are confident that she will succeed in her chosen field and that she will enjoy this learning journey.
How to Find and Apply for Scholarships and Grants for College or University
Scholarships and grants are types of financial aid that can help you pay for your college or university education. Scholarships are awarded based on merit, such as academic achievement, athletic ability, or artistic talent. Grants are awarded based on need, such as financial situation, background, or location.
To find and apply for scholarships and grants for college or university, you need to:
Start your search early and explore various sources, such as online databases, school websites, community organisations, or employers

Check the eligibility criteria, application requirements, deadlines and benefits of each scholarship or grant

Gather all the necessary documents, such as transcripts, test scores, letters of recommendation, essays, or portfolios

Fill out the application forms carefully and accurately

Submit your application before the deadline and keep track of the status.
How to choose a course that suits your interests and skills. Choosing a course is an important decision that can affect your future career path. A course is a field of study that you specialise in during your college or university education. It can help you develop your knowledge, skills, abilities and interests in a specific area.
Kimberley Benvenuti
Acting Career Development Practitioner
McAuley House Boarding News
It has been a busy few weeks at boarding.
This week we sadly bid farewell to Miss Jess Kutner, our liaison officer. Miss Jess has been with our girls for the last two terms and will be greatly missed.
Miss Lucy, who has been on maternity leave, came for dinner with her daughter and baby son. It was a nice time for the girls to catch up with her and to meet her new baby.
Voting day saw our girls participate in a fund-raising car wash. Both supervisors and boarders worked hard all day providing a car wash service. In excess of $600 was made on the day. A great effort from all. Thank you to Miss Christie for organising this.
All our girls supported the local "Reclaim the Night" domestic violence march. We made banners and badges and walked proudly to raise awareness and support domestic violence survivors. Well done, girls!
On Saturday we all rose early for a special day trip to the Gold Coast and the Aqua Fun Park. The girls enjoyed time on the inflatable obstacles and slides followed by fish and chips on the beach. To finish off the day we stopped at the surf beach for a swim before heading home.
Halloween Night - We all enjoyed a fabulous, themed dinner by Miss Jenny and her crew which consisted of:
Spook-etti

Frankenstein's lollipops

Adam's ribs

Graveyard roasted veges

Poison apples
This was followed by a bus trip to the "Haunted House" which aptly gave us all a Halloween "spook". A great fun night.
Nicole Booth
Boarding Manager
Bangarra Workshop
On Tuesday 7 November, the College was honoured to host Bangarra Dance Theatre for a workshop. Students were very privileged to have this calibre of world-renowned dancers here to work with our students. Bangarra's home base is the Sydney Opera House, and while the Callaghan Centre is not as flash as that, we were able to impress our guests with our deadly dance skills. Bangarra were in town for a performance at the Empire Theatre, "Sand Song: Stories from the Great Sandy Desert", which from all accounts is a phenomenal work and perhaps some of you enjoyed it in person.
Lillian and Maddi gave insights into how their contemporary dance works are devised. Their Creative Director spends considerable time with First Nations communities learning and sharing with them. Insights are gained into traditional practices and importance of specific flora and fauna in that area. Song lines and stories are investigated and broad concepts for works are gleaned. This can be up to two years of yarning. With the permission of the particular elders, permission is given for a new dance to be developed. The team of dancers then spend about 10 weeks coming up with a new work and then continue to refine and elaborate through the use of their bodies in movement to bring a new response to country.
The current work reflects this collaborative process and it was very special that the Bangarra team shared with us a section of the Spinifex dance, which the students picked up very quickly in the short time we shared. All elements including sets, music, hair, makeup, costuming and props are discerned to fit in with the dance and the original mob are still consulted through this process. After the work is performed all around Australia (and sometimes internationally), the dancers visit the community and 'return' the story to them, on country.
To have such insights into this process was truly special. Aside from our First Nations Students, others who wanted to be involved and the Year 9 Dance students got a lot from this afternoon, especially given that they are currently studying Bangarra in their unit and will be assessed on their knowledge shortly.
Isn't it amazing what The Arts can do for communities, and bring out in us?
Thanks to our students who participated wholeheartedly and for the amazing dancers Lillian and Maddi who shared their skill, talent, passion and drive with us. It was truly inspirational to witness these artists at the top of their field.
Joanne Stewart
Teacher of the Arts
Sporting Achievements
#1 Well done to Lekaysha Woodbridge (Year 10) who has been selected to go to the Australian National boxing Titles in Hobart from the 22 to 26 November. Here is a sample of what Lekaysha has been up to in 2023.
Win against Ruby Pokarier - also getting fight of the night in Noosa
NAIDOC 2023 - Junior Sports Award
2 x Golden Gloves Champion 48kg and 51kg in Cairns
Represented Queensland for the State of Origin in Sydney- winning against Ella Crosswell
#2 Congratulations to Mary Duncan (Year 9 student) who claimed an Incentive Award from Sports Darling Downs for her recent efforts with endurance horse riding. Mary has also completed the Speak up for Sport Program which is designed to give young athletes skills to navigate their sporting pursuits.
#3 Congratulations to Kellie McMahon, St Saviour's College (Old Girl 2022) on her achievement with both her studies and football in the USA. Kellie has recently signed with Murray State College, Tishomingo, Oklahoma. She has a soccer scholarship playing in the NJCAA Division 1 Women's Soccer, Region 2. Her team made it to the final of the Region 2 Tournament and went down 3-1 to Seminole State College who are No. 2 in the US for the NJCAA Division 1.
Sports Notices
Students are reminded to return all sporting equipment that has been lent to them over the term for various sports. Futsal and Rugby 7s have jerseys on loan, so if your student has been playing in these, can you please remind them to return them to the sports office ASAP.
Volleyball expression of interest forms have been emailed to your students. Please fill these in so the College can assign resources to this program. Click the link here https://forms.office.com/r/m28zHaHxpT
St Saviour's College Netball in 2024: Expression of interests are now open for all players and parents for the 2024 Netball season with Toowoomba Netball Association. For more information, please email greg.leathart@twb.catholic.edu.au Any parent who would like to be a part of the committee is more than welcome.
Congratulations to the Futsal team for Term 4. Although this was just a social competition the girls have shown real pride and passion over the last five weeks helping each other to become better players and better people. Futsal players - Emily, Vaishali, Ava, Poppy, Ajah, Happy, Irene, Adhieu, Victoria, Macie, Ella Brooke, Silvana, Peyton, Dimerica, Emmie, Alison, Furaha, Meg and Kiara. Students are encouraged to keep an eye out for the 2024 Futsal and Soccer Calendar. More details soon.
Well done to the Rugby 7s girls in the 13s and 15s for 2023. Although short on numbers, the girls who have played have shown great commitment in learning the new skills to play the fast version of rugby. A special thank you to Mr Will Wigan who has organised and coached the girls this year, even driving the boarder students out to Highfields and back every Monday and Thursday nights.
Sporting Schools Touch Football in Term 4
Students have been given an opportunity to participate in some Touch Football sessions during Wednesday sport time with the focus on the development of the sport in 2024. Students from Years 7-9 will have an opportunity to engage in fun and fundamental sessions designed to help improve performance. Please encourage your student to have a go. Selected students will be invited back on Wednesday 22 November. For more information about touch football in 2024 contact the Sports Office.
Subject Support
Students needing support in Maths are welcome to come along to the following sessions:
Dads of High School Aged Girls Survey
Parents of High School Girls Survey
New Uniform Supplier