St Saviour's College Newsletter 2023 - Term 3 Week 10
Principal
The Season of Celebration
This week, we celebrated our Valedictory Mass, Year 12 Awards Presentation and Valedictory Dinner. It was a wonderful way to honour our Class of 2023, who have demonstrated compassion, joy, efficacy and leadership, particularly during the last year.
Here is an excerpt from my address to the community gathered:
Earlier this term the Australian population was enraptured with the journey of the Australian Women's Soccer/Football Team – the Matildas. There are many reasons as to why we can look at this period in Australia as a liminal time; a time on the threshold moving from one state to the next. A transitional time of change, not dissimilar to that which our Year 12s are facing today. Change is afoot but nothing is certain. The path is not strictly laid out in its entirety… yet. In many respects, the FIFA tournament was an awakening for all Australians and consequently, there are many learnings we can take from the journey that unfolded, literally in our back yard. There's something in these words of advice for all of us, especially for our Class of 2023.
Represent.

Live your truth.
Change can take years before it happens all at once.
Build a fan-base of supporters.
Give people a reason to notice who you are and what you stand for.
Humility reigns.
Challenge unacceptable behaviour.
So during this – your liminal time between the here and now, and the there and then – know that you have the support of an entire community standing behind you. A community who knows you, values you and believes in you. Thank you, Class of 2023, for all you have been for your St Saviour's College community, for your families, your teachers, your fellow students and for me. We love each of you for the people you are and the gift you have been for us. Our prayer for you today is to be ambitious for higher gifts, and our God, who loves you with unconditional agape love and will show you a way that is better than any of them.
At our Awards presentation, it was wonderful to hear from Toowoomba Catholic School Director: People, Engagement and Services, Mrs Hayley Farry, who spoke to our community about each person's pathway, whilst different, leads them to where they are called to be. Hayley challenged the graduands to open to new possibilities in life, opening themselves up to new challenges.
It was a great opportunity to recognise the many achievements of our Class of 2023, acknowledging their many successes in the the sporting, cultural, service and academic life of the College.
The Valedictory Dinner was a particular highlight. As expected, the girls looked stunning. It was a beautiful evening at Clifford Park celebrating our finest.
Many thanks to the host of staff who were responsible for organising the multiple events and experiences. Special thanks to our Events Coordinator, Ms Harriette Spork and her team, for all their efforts in making this such a special time for our Year 12s. I am sure the girls and their families valued the collective effort that went into the ensuring that our young women were celebrated well.
We wish all the girls the very best leading into their final assessments next term, as they move into their external assessment in Week 4 of Term 4.
Leave
Tomorrow, I will be embarking on sabbatical leave to engage in a pilgrimage with colleagues from across the diocese to the Holy Lands (Israel and Jordan) followed by time in Turkey, Sicily, France and Ireland, where I will visit the International House of Mercy at Baggot Street as well as many of the Irish Mercy Congregations established during the lifetime of Catherine McAuley. I am grateful that the College will be left in capable hands, namely Acting Principal, Mrs Jessica Wade, Acting Deputy Principal, Ms Leah Dempster and the remainder of the College ELT. I will keep you all posted as I travel, and I ask that you pray for me during this time of leave, as I reflect on the past seven years as College Principal and what it has meant for my life.
Blessings to all for a safe and happy holiday, enjoying much needed time with loved ones.
Sharon Collins
Principal
Deputy Principal - Curriculum
Year 11 and 12 Mock and Final Exams
Congratulations to all Year 11 and 12 students who sat mock and trial exam papers across week Week 8 and 9. For Year 11 students, this was the first time they undertook such exams, and we saw great effort, perseverance and grit during these long exams.
For Year 12 students, the exams provide an opportunity for students to ensure they know what they don't know, before undertaking the 'real deal' in October.
Whilst exams can be challenging, they are a wonderful opportunity to approach a task in an undistracted way, and hopefully, into a state of flow throughout - surrendering our whole selves to the task at hand.
Our modern world provides us very few opportunities to be totally committed and present to one task, in absolute quiet, away from our computers and devices. Whilst we often don't view exams as gifts in this way, they do provide us with the opportunity to know ourselves, know our strengths and most importantly, they give us great feedback about what we are yet to know.
I encourage Year 12 students to take their learnings from this first round of exams and use them to prepare for their upcoming external exams in Weeks 4-6 of Term 4.
Year 10 and 11 Roll Up
At the beginning of Term 4, all Year 10 and 11 students will roll up into Year 11 and 12. In this way, the beginning of Term 4 is almost like the beginning of a new school year. All parents have booklists for student subjects and many students in Year 10 will have new teachers in Term 4.
Booklists have been emailed out and are published on the Sentral Parent Portal app.
Reports
Today all students in Years 7-11 will receive their report cards. These report cards provide feedback on student learning behaviours and provide student results on assessments to date.
For students in Year 10 and 11, these reports are the end of year reports for these year levels, providing Year long grades.
For Year 7-9, the reports are interim reports and provide a snapshot of progress to date.
Parent Teacher Interviews Term 4
Parent teacher interviews are to be held at the beginning of Term 4 on 3 October. All parents are invited to book parent teacher interviews for their students. These can be booked through the Sentral Parent Portal app, or by calling the office to make an appointment. I encourage all parents to attend these interviews to discuss your child's strengths, learning behaviours and areas for growth.
Jessica Wade
Deputy Principal - Curriculum
Assistant Principal - Mission and Student Wellbeing
Last week, Principal Sharon Collins, Chappy Helen, Father Ray and myself attended the Year 12 Retreat with our 2023 graduating cohort at Alexandra Headlands. What a moving experience to be a part of, helping the girls consider what has been and what is to come as they move closer and closer to the final part of their journey with us. The time to retreat, step back and reflect was approached with a sincere purpose from the Year 12s and I hope that the experience will help shape their future in accumulation with the past 6 years of Mercy Education. I thank the teachers who shared their stories with the girls and each student will take a little piece away with them. In particular, I hope they take the Peace Prayer of St Francis of Assisi with them shared by Mr Hickey:
Lord, make me an instrument of your peace:
where there is hatred, let me sow love;
where there is injury, pardon;
where there is doubt, faith;
where there is despair, hope;
where there is darkness, light;
where there is sadness, joy.

O divine Master, grant that I may not so much seek
to be consoled as to console,
to be understood as to understand,
to be loved as to love.
For it is in giving that we receive,
it is in pardoning that we are pardoned,
and it is in dying that we are born to eternal life.
Amen.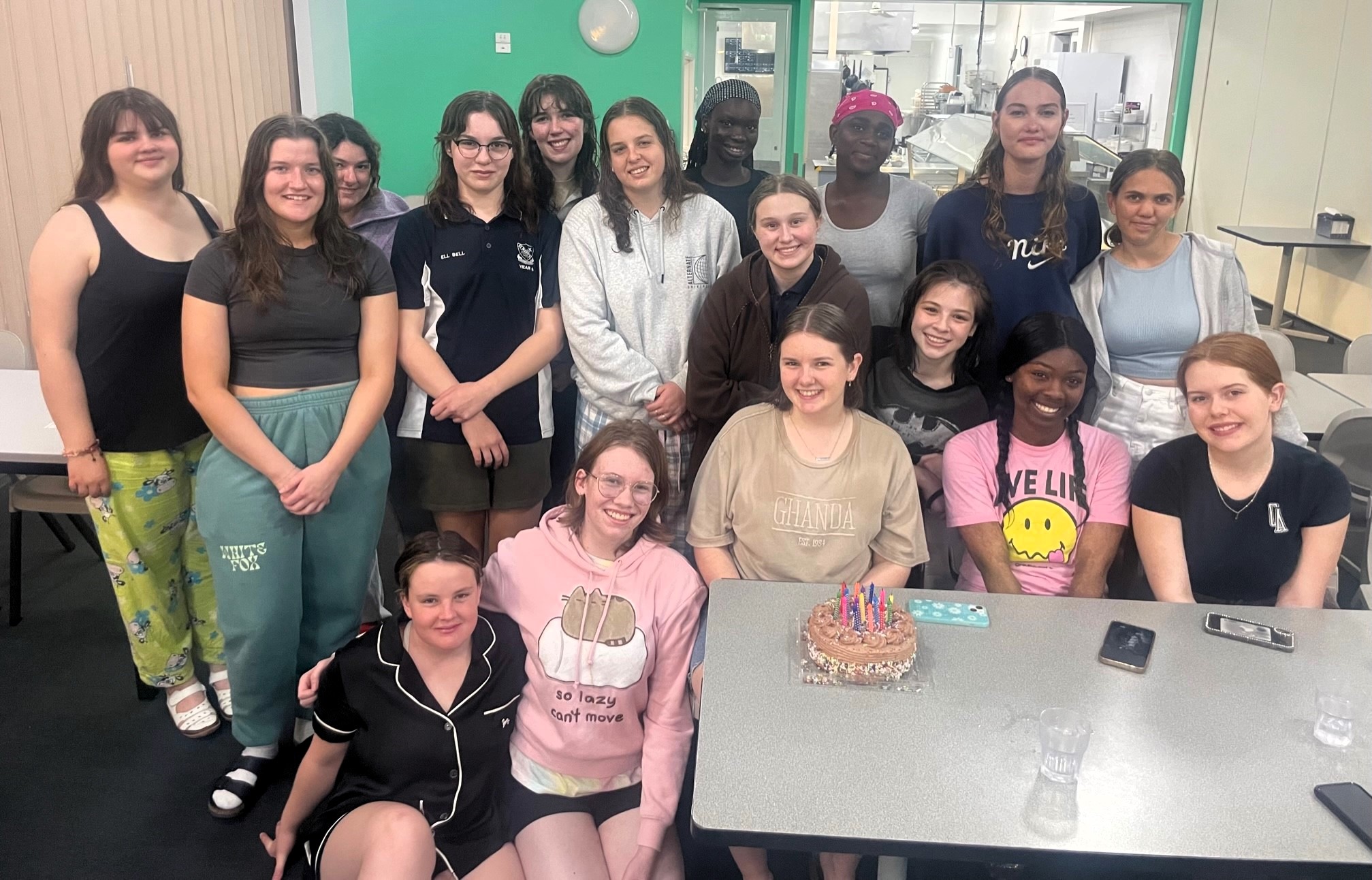 Wellbeing Wednesday
The Wellbeing Wednesday program has continued with students exploring different aspects of their wellbeing in age-specific programs. The year 7s have continued their Mental Health First Aid course, the Year 9s are closing out their Blurred Minds Program and the Year 10s continued to look at Healthy Habits for Seniors with a visit from psychologist Mel Pridden to explain the brain's response to stress as well as a session on Sleep Hygiene. This week, we highlight the Year 8s Rock and Water Program facilitated by Middle Leader of Pastoral and Learning Support, Michelle Reid, and teacher, Jordie Franke. Both teachers completed the facilitator course this year and with the help of Mr Wigan and Mr Burley have commenced the program with the Year 8 cohort. It is hoped that students take the skills from this program and implement into their daily interactions with peers and overall attitude.
Year 8 – Rock and Water Program
The Rock and Water program is an evidence-based program that includes a series of exercises and games designed to develop confidence and self-reflection. The games are diverse and teach students to stand strong, negotiate using "rock" or "water" verbal approaches, walk away from trouble, consider alternatives to aggression and develop understandings about who they are, their intuitive feelings and their personal direction.
The program has a strong connection to the Respect Matters Australian Curriculum. Our College employs the Positive Behaviours for Schools model and we use the program as a Tier 1 level of intervention.
Physical exercises are linked with mental and social skills. Program topics include: intuition, body language, mental strength, empathic feeling, positive feeling, positive thinking and positive visualisation. Discussion topics include the importance of finding and following one's inner compass.
The Four Key Threads
1. Grounding, centring and focusing. Learning how to stand firm and relaxed. How to concentrate your breath in your belly and focus attention.
2. The golden triangle of – body awareness – emotional awareness – self-awareness. Emotions are expressed in the body by way of muscular tension high breath/low breath. Therefore, increasing body-awareness can lead to more insight and experience of one's own patterns of reaction which, in turn, can offer a chance to deepen and further develop emotional awareness and self-awareness.
3. Communication. The development of physical forms of communication as a basis for the development of other, more verbally oriented, forms of communication.
4. The Rock and Water concept. The tough, immovable rock attitude versus the mobile, communicative water attitude. This concept can be developed and applied at various levels: the physical, the mental and the social level. At a physical level it means that an action can be parried by firmly strained muscles (rock) but also - and often even more effectively - by moving along with the energy of the action (water). At a social level - for instance in a conversation - it is also possible to choose between a rock or a water attitude and the same choice applies to the way in which one maintains relationships with others.
Megan Schulze
Assistant Principal - Mission and Student Wellbeing
Subject Support
Students needing support in Maths and Science are welcome to come along to the following sessions:
New Uniform Supplier
We have a new uniform supplier, School Locker, who will commence in Term 4 with first day of trade being Tuesday 3 October 7.30am to 10am. (Please see flyer below for more information)
Libary News
Welcome
The end of the term is suddenly upon us. It has gone so fast that it feels just like last week we were running the Harry Potter Day and Book Week competitions and quiz. Just remember, during the holidays is a great time to take a break and look after yourself. There is no better way to take a break than to find a lovely patch of sun, curl up and read a good book.
There are online books if you prefer reading from a screen – these can be accessed via our catalogue or for a wider range, if you are a member of the Toowoomba Library, you can access their online magazines and online books. Finally, being a member of the State Library of Queensland means you have access to the magazines they subscribe to online plus hundreds of newspapers, local, national and international to access. Plenty of options to keep your reading skills up whilst relaxing and enjoying the sun and holidays.
And just as a reminder on the importance of School libraries, Teacher Librarians and student achievement:
Book Week Photos
Students with their prizes from the various Book Week activities:
Costume winners:
| | | |
| --- | --- | --- |
| Award | Character | Student |
| Best Homemade Costume | Queen (King) of Hearts | Haylea Evans |
| Most Original Costume | Steve Harvey | Liahni Naylon |
| Most Recognisable Character | Mad Hatter | Isabella Dowton |
| Audience Chosen Costume Winner | Mother Gothel & Rapunzel | Katie, Aleisha |
| Audience Chosen Costume Runner-up | Aliens | Emily, Deja, Victoria |
| Audience Chosen Costume 3rd place | Matrix | Elize, Dhriti, Liz, Caitlin, Tehnaya, Irene, Ofly |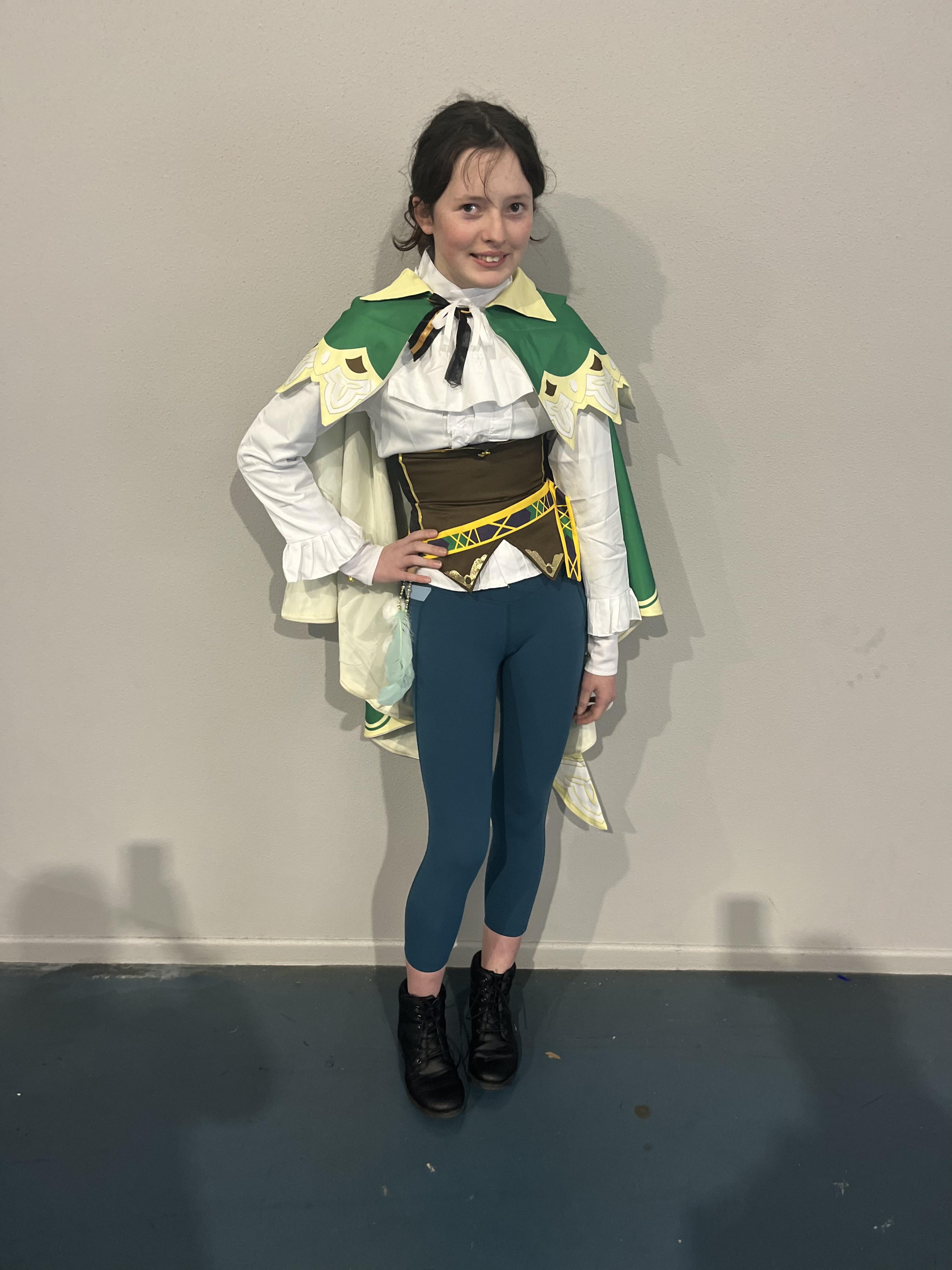 Date Claimers:
October 1 – 31: International Library month
"When I look back, I am so impressed again with the life-giving power of literature. If I were a young person today, trying to gain a sense of myself in the world, I would do that again by reading, just as I did when I was young." - Maya Angelou (American memoirist, poet, and civil rights activist)
Andrea King
Teacher Librarian
From the Careers Centre
From the Health Hub
Last week, we shared an incredible experience with the residents of Symes Thorpe. Mater Education Health Hub students had a tour around the facility which included viewing the high care residence/Independent living and dementia wing. We were lucky enough to share some stories with the residents and meet an incredible lady who was at a very young age of 104 years. Her secret to non-ageing skin was no moisturiser or make-up! The group observed the morning seated exercises, shared cuddles with the local therapy dog and then got to know some of the residents a little more over morning tea. The ukulele band provided entertainment for the residents which even sparked some dancing feet amongst the students. It was very moving to see the interactions between young and old. Before leaving our excursion, the Trainee at Symes Thorpe shared her personal experience about what she has learnt including juggling school life and what her pathway will look like. As this was from a current Year 10 student, it was very relevant and real for the Health Hub students.
I would like to commend the students from St Saviour's College and St Joseph's College for their maturity, their compassion and their enjoyment, displayed on our excursion.
Tracey Gollan
Mater Educator
ACU Visit
On Monday, Sandy Boyd, National Outreach Officer - First Peoples at the Australian Catholic University visited our First Nation students to talk about what ACU has to offer including how the university supports their students, scholarships, the campus and their away from base courses. This was a wonderful opportunity for our students to hear about the many pathways their futures can take.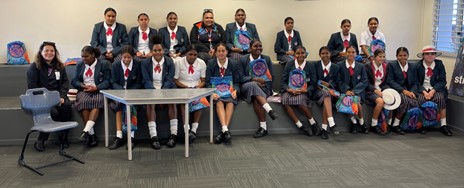 SBA Vacancies
40/23: Years 10 and 11 - Certificate III in Wall and Ceiling Lining at BBC Constructions. Closing date 14.09.2023
The successful apprentice will apply and fix plasterboard, suspend ceilings and composite wall linings in residential or commercial buildings. You will mix and apply coats of plaster to walls and ceilings to ensure a smooth or decorative finish.
39/23: Years 10 and 11 - Certificate III in Carpentry at BBC Constructions. Closing date 14.09.2023
The successful apprentice will carry out setting out, construct wall frames, ceiling frames, pitched roofs, eaves, external stairs, flooring systems, install windows and doors.
38/23: Year 12 - Certificate III in Electrotechnology Electrician at Brown Electrical. Closing date 14.09.2023
Electricians install, maintain, repair, test and commission electrical and electronic equipment and systems for industrial, commercial and domestic purposes. Electricians may also work on electrical transmission and distribution equipment.
37/23: Year 12 - Full time: Certificate III in Cabinet Making at Focus on Kitchens. Closing date 14.09.2023
Cabinet Makers make, repair or install furniture using solid timber, flat panel or timber-based products and a wide range of laminates and other materials.
Chris Grierson
Career Development Practitioner
McAuley House Boarding News
Last week was a hard week for our boarders with the announcement that Boarding will cease at the end of 2025. This has been an emotional time for our girls and staff as we all adjust to no longer being part of the amazing family that makes up McAuley House.
Our Resilience Rockstar this month is Laura Birkli. Laura consistently displays kindness, a willingness to participate in Boarding Life, as well as always being polite and helpful. Congratulations Laura!
Our Year 12 Boarders went on retreat which was a welcome time of rest and recovery before they headed into formal week. We marked this special formal week with a dinner on Wednesday with families joining our boarding family to celebrate the achievements of our senior girls.
A big congratulations goes to the Souths Under 17 football team who played in the grand final and had an impressive and well-deserved win.
The netball team also played in the grand final, winning the top spot. Congratulations girls!
We are very proud of our Boarders who gained leadership roles for 2024.
Jauntae - First Nations Leader
Minnie - Residential Captain
Roxy - Goretti House Captain
Kyomie - Xavier House Captain
As the holidays approach, all the staff wish our girls a safe and happy holiday and we can't wait to see you all return in Term 4.
Nicole Booth
Boarding Manager
Year 10 Well-Being Visitor
Year 10 had a special visitor on Wednesday. A regular to boarding and sometime tutor of note, Hendrix is featuring in activities on how our pets play a crucial role in our physical and mental health. Pets are great listeners, never passing on anything that is told to them in confidence. They also live joyfully and think their humans are the best ones on this planet, giving them a well-earned laugh at doggy antics. Most pets need regular physical outings and encourage us to be active. Thanks Hendrix for your wise insights today.
Saviour's Sisters: A Term of Triumphs
Greetings from the St Saviour's College Performance Choir, the Saviour's Sisters! We are delighted to share with you some of the highlights of our musical journey this term. It has been a busy and rewarding term for our choir, as we have participated in various events and showcased our talents to different audiences.
We ended Term 2 on a high note, with two outstanding performances at the Toowoomba Catholic Schools Arts Festival. We performed the Mega Mix from Joseph and the Amazing Technicolour Dreamcoat in the musical theatre section and we joined other choirs in the Sacred Choral Sing for Joy concert.
Term 3 started with a special performance for the Sisters of Mercy, who celebrated their 150th anniversary of arriving in Australia from Ireland. Mrs Potter led the hymns for Mass in the Chapel and then we performed on assembly for the whole school. We felt honoured to be part of this historic occasion and we thanked the Sisters for their legacy of education and service.
In Week Three, we sang for another special group of people: our grandparents. We led the Grandparents' Day Mass with our beautiful voices and enjoyed spending time with our grandparents afterwards. We are grateful for their love and support and hope they were proud of us.
In Week Four, we had another opportunity to showcase our talents at the SSC Winter Showcase. We performed alongside other talented students who sang solos, duets, read poetry, or played instruments. Our choir was a highlight of the night, as we sang with harmony and enthusiasm.
As Term 3 came to an end, we sang at the Year 12 Valedictory Mass, where we bid farewell to our amazing Year 12 students. We will especially miss our lovely Year 12 choir member, Kiara McMahon, who has been a vital part of our team this year. She has a beautiful soprano voice that blends well with our choir. We wish her all the best for her future endeavours.
We will also perform at the Grand Central Carnival of Flowers Parade After Party on Saturday 16 September. This is a huge honour for us, as we have been invited to perform at this special event that celebrates Toowoomba's floral heritage. We will sing from 2.25pm - 2.55pm on the stage at the base of the Grand Staircase near Vapianos, outside of Grand Central Shopping Centre. Come and cheer us on as we entertain the crowd with our songs.
When we return for Term 4, we will start working on our end of year items, including Mrs Potter's favourite, Christmas Carols! We are looking forward to spreading some festive joy with our music.
We would like to thank everyone who has supported us this term: our families, our teachers, our school community and our audiences. We appreciate your encouragement and applause. We would also like to thank our incredible accompanist, Father Nathan Webb and our special guest accompanists throughout the term: Amelia Claxton, Sister Margaret Norris, Mr Rhody Nilon, and Lyn Jordan. And of course, we would like to thank our sparkly conductor, Mrs Potter, who inspires us every day with her passion and dedication.
We hope you enjoyed reading about our term of triumphs. Stay tuned for more updates from the Saviour's Sisters!
Dancer's Digest with Mrs Potter
Hello from the St Saviour's College Dance Department! We are thrilled to share with you some of the amazing achievements and activities of our Year 9 and 10 Dance students this term. It has been a busy and productive term for our dancers, as they have prepared and performed for various events and occasions.
We ended Term 2 with a spectacular performance at the Toowoomba Catholic Schools Arts Festival Musical Theatre section at the Empire Theatre. Our dancers performed the Mega Mix from Joseph and the Amazing Technicolour Dreamcoat, and they wowed the audience with their skills and energy.
Term 3 started with a lot of preparation for our Winter Showcase performances. Abbi, Olivia and Ella choreographed and performed a fantastic original dance piece, along with their friends, Sophia and Yvonne. Their slick choreography, bright costuming and entertaining performances were a clear highlight of the evening. Elize worked alongside Liz and Dhriti in the choreography and performance of their own trio, as well as being a strong leader in the creation of and performance with the Desi girls, our beautiful Bollywood Performance Group, that also features several members of our Year 7 Dance class. For their Dance assessments this term, the Year 9 and 10 girls choreographed and filmed their own dance music videos. These were fantastic displays of their creativity and a wonderful blending of performance and technological skills.
As Term 3 comes to an end, we sadly farewell Elize and Charlotte from our Dance class, as they progress into their senior schooling pathways, beginning Year 11 in Term 4. They have been delightful members of the Dance class and their spirit and energy will be sorely missed. We wish them all the best for their future endeavours.
When we return for Term 4, we will start working on our end of year items, including some exciting dance projects that will showcase our talents and passion.
2024 St Saviour's College Musical
It is with great pleasure that we announce the 2024 St Saviour's College musical will be:
Elf The Musical JR. is presented through special arrangement with Music Theatre International (MTI). All authorized performance materials are also supplied by MTI. 421 West 54th Street, New York, NY 10019 Phone: 212-541-4684 Fax: 212-397-4684 www.MTIShows.com.
Elf The Musical JR. is based on the 2003 New Line Cinema hit and features songs by Tony Award nominees Matthew Sklar (The Wedding Singer) and Chad Beguelin (Disney's Aladdin On Broadway, The Wedding Singer), a book by Tony Award winners Thomas Meehan (Annie, The Producers, Hairspray) and Bob Martin (The Drowsy Chaperone).

The musical tells the story of a young orphan who mistakenly crawls into Santa's bag of gifts and is transported to the North Pole. The would-be elf is given the name Buddy and raised by elves in the North Pole. Buddy lives happily unaware that he is actually a human until his enormous size and poor toy-making abilities cause him to face the truth. With Santa's permission, Buddy embarks on a journey to New York City to find his birth father and discover his true identity. Faced with the harsh reality that his father is on the naughty list, and his stepbrother doesn't even believe in Santa, Buddy is determined to win over his new family and help New York remember the true meaning of the holidays.
The performances will take place 19 and 20 July 2024 at the Armitage Centre - Empire Theatre.
Auditions will be held towards the end of Term 4, 2023 with cast announced before the Christmas holidays so students can receive their scripts and music to learn over the break, ready to begin rehearsals in Term 1, 2024.
We are currently looking for staff, students, parents, or community members who would like to be part of the production team.
These roles are on a voluntary basis.
If you wish to express an interest in assisting with the musical, please send an email to the Director, Mrs Jenni Potter Jennifer.potter@twb.catholic.edu.au no later than 3 October 2023. Applicants will be contacted via email and a production team meeting will be held early Term 4 2023.
We are also offering the opportunity for local businesses to sponsor our production. There are various sponsorship packages available. For more information on sponsorship opportunities, please email Director, Mrs Jenni Potter at Jennifer.potter@twb.catholic.edu.au
Celebrating Excellence: A Year to Remember for Interact 2023
As the sun sets on another remarkable year, we take this moment to reflect on the incredible achievements of our outgoing Interact executive team for 2023. Amelia Claxton, Abbey Crothers, Holly Muscat, Kiara McMahon, Awel Deng, Eliza Morcom, Alby Darnell and Georgia Denny have truly set the bar high with their dedication, passion, and unwavering commitment to making a positive impact on our community. As we bid farewell to these outstanding individuals and welcome a new chapter of Interact leadership, let us take a moment to applaud and thank the 2023 executive and teachers, Mrs Samantha Judd and Mrs Narinder Loi, for their remarkable contributions to our community this year.
Fundraising Triumphs
One of the standout accomplishments of this year's team was their extraordinary fundraising efforts for the AEIOU Foundation and the PNG Midwives Program. Through innovative and impactful initiatives, they raised substantial funds to support these vital causes, providing hope and assistance to those in need. Their tireless work and dedication to making the world a better place have not gone unnoticed.
The Great Debate Champions
Our Interact team also achieved a historic 10th win in the Great Debate against the Toowoomba East Rotary Club. Their intellect, eloquence and teamwork were on full display as they once again triumphed in a battle of wits and words. This victory is a testament to their unwavering commitment to excellence, despite being what some say was a controversial win.
Community Spirit Shines
Interact 2023 also demonstrated incredible community spirit by brightening the lives of residents at the Yukana Retirement Village on Mother's Day. The team's visit and thoughtful gestures brought smiles to the faces of the elderly, highlighting their dedication to fostering connections and spreading joy.
Honouring a Dedicated Volunteer
In memory of Cliff Hughes, a dedicated volunteer who played a pivotal role in our College's Interact chapter for many years, the team made a meaningful gesture. They donated a beautiful Canvas print by Indigenous Artist Garry Purchase entitled, 'Women in Strength', to the college. This gift not only commemorates Cliff's commitment to Interact but also celebrates the strength and unity of our community. Cliff Hughes may have passed away earlier this year, but his legacy lives on through the countless lives he touched and the enduring impact of the Interact chapter he helped shape.
Welcoming the New Executive for 2024
With great excitement and anticipation, we extend our heartfelt congratulations to the incoming Interact executive for 2024. This team comprises talented and passionate individuals who are ready to build on the great tradition set by their predecessors.
President - Giliann Pamalaran
Vice-President - Eliza Morcom
Secretary - Lillian Findlay
Treasurer - Holly Muscat
Youth Director - Dhriti Shah
Photo Director - Hope Meldrum
We have every confidence that this dynamic team will lead us with dedication, innovation, and compassion, leaving their own unique mark on our community and beyond.
Adele Stretenovic
Interact Supervising Teacher
HOTA (Home of the Arts)
On Wednesday 6September, all Year 8 students went to HOTA (Home of the Arts). It is a 60-million-dollar arts precinct at Surfers Paradise. The main attraction, of course, is the architecturally awarded Art Gallery.
We viewed the collection at HOTA and the "100 Years of Archie" exhibition. As you may know, The Archibald Prize is Australia's most infamous Portrait Prize and 2022 was its 100th year.
Our Year 8 Visual Artists, in their Semester, study the history of the prize, the many controversies it attracts and examine interesting portraits that are the "Faces of Australia". This was a travelling exhibition at HOTA, so it perfectly aligned with our studies. Year 8 do a unit, "Sometimes it REALLY is all about ME", and complete artmaking and a test on The Archibald at the end of their Semester. Many thanks to Mrs Molly Urquhart and Mrs Alyson Holmes for accompanying the students. Thanks also to HOTA, specifically for the amount we were given to offset the cost of the bus to travel there. We would not have been able to have had this great day, without the support of the "Jock and Beverly McIlwain Arts Bus Fund."
Joanne Stewart
Visual Arts Teacher
Creative Generation Excellence Awards
Year 12 students, Lily Barrington and Ella O'Shea-Bell's Visual Art Works are on show at the Toowoomba Regional Art Gallery.
The Creative Generation Excellence Awards in Visual Art recognise and promote excellence in senior visual art education throughout Queensland state and non-state schools.
Since 1990, the program has helped raise community awareness of the degree of sophistication in concepts, diversity of technical competence and the high standard of visual art education in Queensland secondary schools.
This regional exhibition displays the creative talents of senior high school visual art students from the Darling Downs and South-West Queensland region for 2023.
The Creative Generation Excellence Awards in Visual Art would like to thank QAGOMA for their ongoing support.

EXHIBITION ON DISPLAY - 2 September - 15 October 2023
FREE ADMISSION / OPEN: Wednesday to Sunday 10.30am - 3.30pm
Closed Monday, Tuesday and Public Holidays (NB: Open for Toowoomba Carnival of Flowers Monday 18 September and Tuesday 19 September)
Toowoomba Philharmonic Youth Choir
Toowoomba Speed & Sidestep Clinic
Blood Drive 2023
Every drop counts. Can we count on you?
From 1 August to 31 October, St Saviour's College will be supporting Australian Red Cross Lifeblood's annual QLD & NSW Schools Blood Drive and we're encouraging all eligible members of our school community aged 18+ to roll up their sleeves and donate.
Can we count you in?
Every week across our nation, Lifeblood needs to collect 33,000 donations to support patient healthcare needs. Australia's donors are lifesavers, they're indispensable and inspirational. However, with winter colds and flu having an impact, many regular donors are feeling unwell and are unable to donate. That's where people from St Saviour's College come in! If you haven't donated for a while or if you've never donated and are keen to give it a try – Lifeblood is counting on you to help fill the gaps.
By giving together, our College can make a difference.
Schools are at the heart of our communities, they bring people together, foster connection and support others when they need it most. And this Blood Drive is the perfect opportunity for our school to do just that!
To be eligible to donate you need to be aged 18+ and feeling healthy and well on the day of your donation. You can check if you're able to donate by taking the online Lifeblood Blood Eligibility Quiz. Blood can be given every 12 weeks, while plasma can be given more often – helping even more people.
And because this is a Blood Drive, hundreds of schools across Queensland and New South Wales will join together as we aim to give 1,000 donations, which have the potential to save up to 3,000 lives.
You can see our school's donation tally at any time on the Blood Drive landing page.
It's as easy as 1, 2, 3 to count yourself in.
So, whether you've been giving blood for decades or you've just started thinking about it, now is the perfect time to start, and it's as easy as 1, 2, 3.
Join St Saviour's College's Lifeblood Team
Register as a donor.
Book your life-giving donation.
You can learn more by visiting the Lifeblood website or if you need help please get in touch with Kerri Prentice: kerri.prentice@twb.catholic.edu.au or phone 4637 1600.
Remember, every drop counts - and we'd love to count you in!