St Saviour's College Newsletter 2023 - Term 2 Week 6
Acting Principal
Glory
We often speak of glory in terms of war or sport. In wartime, victors bask in glory; in sport, glory reigns down on the winner of the round, the season, the game. To glorify someone or something is to elevate it to high levels, to praise them, to honour them to the highest degree. Our shared Catholic faith reminds us that we are created in God's image and likeness and that we as human beings are meant to live lives that are great so as to give glory to our creator. In Sunday's gospel, the word Glory appears five times within the first five lines. It is clear that Jesus was keen to bring glory to the father and be glorified. But this reading is more about what Jesus was asking God for in this prayer or intercession.
Intercessions are a key part of our Catholic Culture - central in that our faith is not self-serving or insular, but that we are called to be people for others. We pray for them in every liturgy of the Word - we ask for God to intercede, intervene, end suffering or bring blessings to others as well as our selves. In Sunday's gospel, Jesus prayed for others, in particular, his close friends, his disciples.
We are called to glorify God, to live lives that bring great honour to the goodness, the hospitality, the compassion, the commitment to justice that Jesus modelled for us. One way that we are able to do this is by being people for others. We strive to be people who offer prayers, as well as practical care, for others so that in our own ways our lives reflect the glory which we were born for - made in God's image and likeness, born to glorify the father.
Jesus' prayer for his disciples in John's gospel is a prayer that transcends time and space. It is a prayer of intercession that we know we are protected by God's love. We ask for God's help in bringing this prayer to life this week and always.
Sharon's Return
It is with great joy that we welcome Sharon's return Monday 29 May from Our Lady of the Southern Cross in Dalby.
I would like to express my sincere gratitude to Ms Leah Dempster for filling the role of Deputy Principal over the last six weeks. Her kindness, her superior organisation skills and her commitment to excellence have had a wonderful impact on our College in this short time. We wish her well as she now undertakes four weeks of Long Service Leave where she will split her time between family in New Zealand and holidaying in Europe. Enjoy the break Ms Dempster!
Opportunities Abound
Each week as a staff, we have an internal circular known to us as 'The Week Ahead'; it is one page that summarises all the activities and goings on in the school for that week. When I reflect on that Week Ahead, it is clear that no matter your interest, there is something happening for you at this school. These opportunities do not happen without the generosity of the many staff and parent volunteers in our community and I would like to extend my thanks to all those people for their service to the broader undertakings of College life.
Monday Afternoon Soccer Success
Well done to our girls who are playing on Monday afternoons in the soccer competition - coming away with a 2-1 win this week!
Science and Engineering Challenge
Well done to the Year 10 students who are participating in the Science and Engineering Challenge this week - I can't wait to hear how you go!
Volleyball
Well done to the Volleyballers and Mr Hickey who are heading off to the state Volleyball Championships this week.
Netball
Congratulations to the Netball team who will brave the cold at Nell E Robinson this week to represent the College at Toowoomba Netball.
Year 9 Camp
Well done to our Year 9s who had an incredible time on camp, connecting and growing together as a cohort. They arrived back tired, a little dirty and keen for a warm meal, a hot shower and comfy bed! A reminder that it truly is the little things that bring us happiness.
All of these undertakings are just a small glimpse of the incredible opportunities afforded to our Mercy Girls each and every week. Well done to all those who took up these offerings!
Jessica Wade
Acting Principal
Bishop Ken Howell Appointed Seventh Bishop of Toowoomba
Pope Francis has appointed Bishop Ken Howell, who has served as Auxiliary Bishop of Brisbane since 2017, the seventh Bishop of Toowoomba.
Bishop Howell will succeed Bishop Robert McGuckin, who has led the Diocese of Toowoomba since 2012, whose resignation Pope Francis has accepted.
"I am deeply humbled to be called by Pope Francis to shepherd this local Church and I thank him sincerely," Bishop Howell said.
"I realise that I have been given a great responsibility to care for the faithful and to engage in the life of the broader community across the Diocese."
After serving as a priest of the Archdiocese of Brisbane for 40 years, and the last six as auxiliary bishop, Bishop Howell conceded there was a "touch of sadness" in leaving.
"However, I do not come to Toowoomba as a stranger," he said.
"The close links between Brisbane and Toowoomba have been longstanding and I know many of the priests of the Diocese.
"I come with a desire to listen to God's people and to understand and grow in love for the mission of this local Church. It is my firm hope that I may accompany the community of the Church of Toowoomba, as together we seek to live and proclaim the Good News of Jesus Christ in the world."
In addition to parish ministry and leadership positions within the Archdiocese of Brisbane, Bishop Howell completed a licentiate in sacred liturgy at the Pontifical Institute Sant'Anselmo in Rome and served as vice rector of Holy Spirit Seminary, the Queensland regional seminary, for six years.
Australian Catholic Bishops Conference president Archbishop Timothy Costelloe SDB welcomed Bishop Howell's appointment.
"Having worked as secretary to Archbishop John Bathersby, and as Auxiliary Bishop and Vicar General in Brisbane, he will arrive well equipped for this new ministry to which he has been called," he said.
"He has been a valued member of the Bishops Conference for the past six years."
Archbishop Costelloe also paid tribute to Bishop McGuckin, saying he "offered the Conference great service for more than a decade, providing exceptional leadership particularly in the area of canon law".
"His episcopal ministry has been generous, extending well beyond the normal age of retirement to serve the people of Toowoomba and the Church in Australia," Archbishop Costelloe said.
Bishop McGuckin said he had been "privileged" to serve as Bishop of Toowoomba for 11 years and wished Bishop Howell "every blessing as he takes up his pastoral ministry in this vast and special Diocese".
"The people of the Archdiocese of Brisbane will be sad at losing Bishop Ken, but rest assured Bishop Ken will be warmly welcomed to Toowoomba," Bishop McGuckin said.
Bishop Howell's installation as Bishop of Toowoomba is scheduled for July 11 at St Patrick's Cathedral.
Acting Deputy Principal
Connecting, Communicating and Conquering Challenges: Student Assessment Phase Semester 1
As we transition into the assessment phase of learning for our students in Years 7-10, we appreciate your continued partnership and support to ensure their success. Week 6 presents an opportune moment to re-visit the assessment calendars (published in our school portal) and have a constructive conversation with your daughter about her preparation plans for the upcoming weeks.
We encourage you to set aside some time this week to engage in a conversation with your daughter about her impending assessments. Here are some questions to prompt your discussion:
Do I understand the requirements and expectations for my upcoming assessment?

If not, where can I source the information I need?

Have I organised my study materials for upcoming exams or assignments? (This could include books, notes, Canvas, class OneNote).

How can I apply my knowledge and skills before the actual assessment?
It is not uncommon for students to feel a level of stress and pressure during this phase. However, proper organisation, planning and preparation can significantly mitigate these feelings. Now may also be an excellent time to discuss stress management techniques, such as mindfulness strategies and deep breathing exercises.
Please remind your daughter that some stress is completely normal. It can, in fact, serve as a motivator to help us perform at our optimal level. A crucial part of navigating high-pressure situations is understanding and accepting that everyone experiences some level of anxiety and stress. Let's work together to help our students navigate this critical phase of their learning journey confidently and successfully.
Changes to Academic Reports: Year 11 and 12 Unit 1/3 Reports
Please note that our Academic Reports for this semester will emphasise learning behaviours and pastoral comments, offering a fuller picture of your daughter's academic journey. At the end of Week 7, we will publish Year 11 and 12 Unit 1 and Unit 3 reports on the parent portal. These reports will detail your daughter's progress in General, Applied and Certificate courses, highlighting her learning behaviours, the covered content and her overall performance in each subject. We encourage you to review this feedback together and discuss potential growth areas.
Should you have any questions regarding these reports, please reach out to your daughter's classroom teacher. We appreciate your support as we refine our academic reporting.
Giving ATAR Eligible Students Every Opportunity to Succeed
The Toowoomba Catholic Schools mission states that "We believe in academic success within a distinctively Catholic community". The two key pillars of this mission 'academic success' and Catholic community' come together through the Diocese's External Examination Preparation Program (EEPP).
Held in the second week of the September school holidays, EEPP brings students from across the eight Diocesan (Catholic community) schools together in Toowoomba to undertake a specialised program designed to enhance performance (academic success) in Queensland's common external examinations, held in October.
At EEPP students will have the opportunity to be guided in their preparation by an expert mentor. Each mentor has been selected, not only because of their expertise in their subject area, but most importantly, because of their experience with the external examination process. Many of them are employed by the QCAA as external examination markers or as assessment confirmers, so they are indeed experts, able to pass on the nuanced skills that can make all the difference in a student's results.
This year, EEPP is being conducted from Sunday 24 September through to Friday 29 September and will be held at the Toowoomba Catholic Schools Office in Toowoomba (opposite St Saviour's College). A select number of subjects will be offered across the six days, with each subject involving two four-hour sessions on consecutive days. Students can select the subjects that best suit their particular needs and EEPP's timetable.
Further details including a timetable and costings will be sent to parents shortly.
Year 11 Academic Interviews: Tailoring Pathways for Success
The first round of Year 11 Academic Interviews will be conducted in Week 8. These interviews form an integral part of planning and adjusting senior pathways, with the aim of ensuring all students are on the right track to attain a Queensland Certificate of Education (QCE) and achieve their post-schooling aspirations.
If your daughter is contemplating changing pathways or subjects, this is the ideal time to do so, as many subjects will commence Unit 2 work in the following week.
Leah Dempster
Acting Deputy Principal - Curriculum
Assistant Principal - Mission and Student Wellbeing
What makes being a Catholic school different to any other school? We acknowledge that every being is created in the image of God and that educating the whole student is vital in providing a flourishing life. Education is more than the academics in the classroom. So many more things go on in the lessons than the absorbing of content. Students learn relationship skills with one another and with adults. They learn how to struggle and what to do when things do not just come easily. The need for resilience in learning at any stage of our life is important. It is what helps us get knocked down and bounce back up, ready to try another way. Many of the world's most successful people will acknowledge that their achievements have come from having the ability to try again, often another way, when they got knocked back. ReachOut Australia (2023) explains:
"Students experience a tremendous amount of physical and mental growth on a daily basis. Between school, co-curricular activities, work and their social life, teens face lots of new experiences and challenges. Being resilient gives them the ability to tackle these head-on, bounce back from any setbacks and have the best chance at succeeding. It allows them to learn and grow in all situations - two skills that are crucial to wellbeing and development. Resilience will also help them to approach new situations, people or experiences with confidence and a positive mindset, which will make them more likely to succeed."
Australian statistics around mental health are also increasing with:
Over 2 in 5 (44%, or 8.6 million) Australians aged 16–85 are estimated to have experienced a mental disorder at some time in their life, with 1 in 5 (21%, or 4.2 million) having experienced a mental disorder in the previous 12 months.
Almost 1 in 7 (14%) children and adolescents aged 4–17 years are estimated to have experienced a mental illness in the previous 12 months.
(Australian Institute of Health and Welfare, 2023)
As a part of our responsibility to ensure our students have the holistic education they deserve, purposeful pastoral programs are put in place. One of these has been our recent Year 9 Retreat Day and Camp. The focus of the retreat was for students to consider their God given strengths and be able to practice gratitude in their daily lives. Not only did they engage with these strategies, but we had Julie Inskip and the Vinnie's Youth Team come to speak to the students around "Privilege and Homelessness".
The Year 9 camp is also intentionally chosen to help build resilience, through the experiences of our ANZACs. The feedback from the students who participated in both days highlighted that this is such a valuable experience for the students, especially in today's world.
To build awareness around mental health in the month of June, our College Vice-Captain Abbey Crothers is leading a team of students and staff in the Push Up Challenge. During this time, participants will complete a set amount of daily push ups (or an activity of choice such as squats) in recognition of the importance that acknowledging mental health is something we must look after and physical activity can be a way to help this. Students are invited to sign up by collecting the permission note from student services. With students under 18, permission will need to be given to before signing up. For more information on the challenge: https://www.thepushupchallenge.com.au/
On assembly this week, Andrew Knife from Caritas Australia accepted our donation of $977 from our Term 1 service outreach: Project Compassion. Project Compassion runs through Lent and our Mercy Girls donated their left-over change, cooked pancakes and sausages, and sold Ice-poles and Lollies. A wonderful effort!
Xavier house last Thursday finished their two-week awareness campaign around Bullying with our Day for Dolly. In the lead up to the day, Homeclasses made kindness quilts and were educated around what is bullying and its impact. On Thursday, the College stood together to say, "Speak up even if your voices shakes" and raised $572 for the Dolly's Dream Foundation.
In a world where adolescents are often considered to be 'Me' centred, our students have participated in many acts of service, just as Mercy Sister founder, Catherine McAuley, devoted her life to.
Megan Schulze
Assistant Principal - Mission and Student Wellbeing
Libary News
Welcome
What's Happening in the Library?
May has been a huge month for us here in the library.
We kicked it off with May the 4th Be With you and Revenge of the 5th!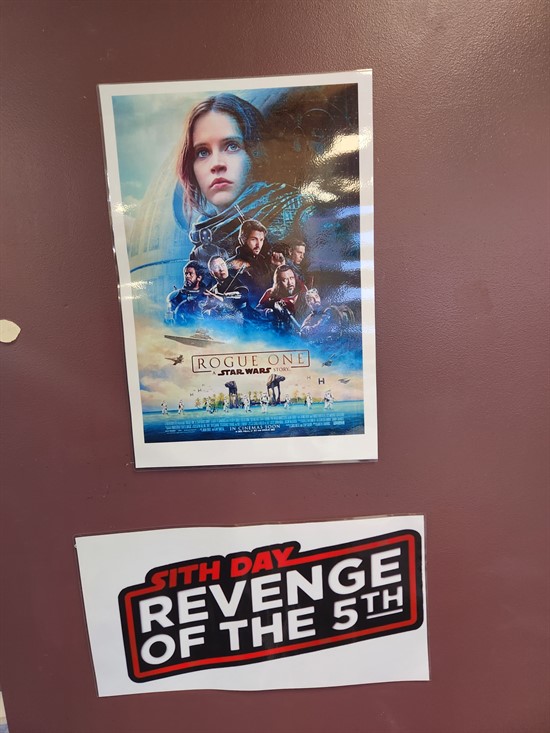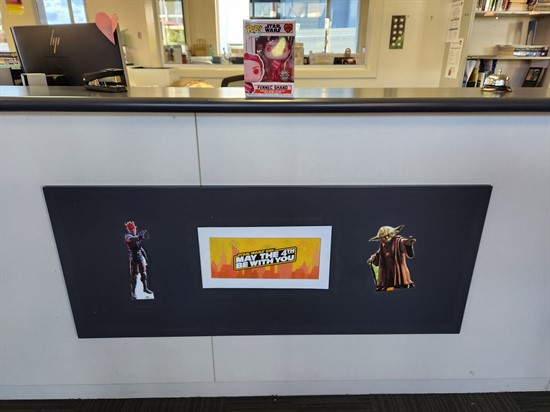 We also held our first ever Paper Plane competition. A great time was had by all who entered with making their planes and then seeing who could throw it the furthest from a standing start. We also looked at the planes that showed some great creativity in their making. Congratulations to our winners and runners up who were presented with their prizes on assembly last week.
We then kept our push of reading during the month of May going with new books being on display (check out the section on New Books in the Library! Below). We are closing our month with our Sherlock Holmes day. We have provided a little competition of solving the mystery by solving the clues and students are furiously working on the clues to have them solved.
We also put on display some great mystery stories, both new and old.
New Books in the Library!
This week we are focusing on our Manga collection! We have a wide variety of new Manga being added – both continuing series and brand-new series. Check them out below, make a reservation through our online Library site or visit us in the library and see them on display.
Graphic Collection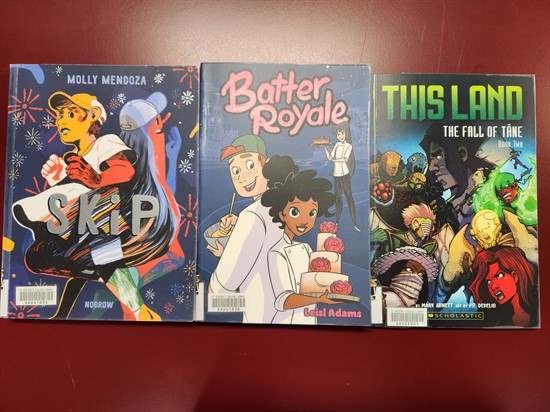 New Books Collection
Non-Fiction Collection
Senior Collection
Looking to Help our School by Volunteering, We Here at the Library are Looking for You!
Interested in volunteering at the library – looking for interested parties to help with reshelving books, helping with displays, laminating, covering books (after a workshop on how to do it) and possible other activities.
If you are interested, please email Andrea King andrea.king@twb.catholic.edu.au with your days, times available, name and phone number.
Many thanks for supporting our school library.
"Advocates argue the professional role [of Teacher Librarians and Teachers], jointly focused on students' literacy, digital and research skills, has never been more important." (Chrysanthos, 2020)
Date Claimers:
June 5: World Environment Day
June 8: World Oceans Day
June 21: World Music Day
Author Roald Dahl (British novelist, short-story writer, poet, screenwriter, and wartime fighter pilot):
"I have a passion for teaching kids to become readers, to become comfortable with a book, not daunted. Books shouldn't be daunting, they should be funny, exciting and wonderful; and learning to be a reader gives a terrific advantage."
Andrea King
Teacher Librarian
Yukana Morning Tea
On Saturday morning, the St Saviour's College Interact Club, Saviour's Sisters choir, Mrs Judd and Mrs Potter attended Yukana Retirement Village, along with local Rotary members, for an early Mother's Day morning tea with Yukana residents.
The guests were entertained with several songs performed by the choir, as well as solo performances by Penny Sanders, Alby Darnell and Mrs Potter, and a beautiful poetry reading by Mairead Obst.
Morning tea was provided by the Rotary Club and the students enjoyed speaking with the Yukana guests.
The College was gifted a beautiful book from resident Irene Maskell O.A.M's own personal collection with a lovely, personalised note inside.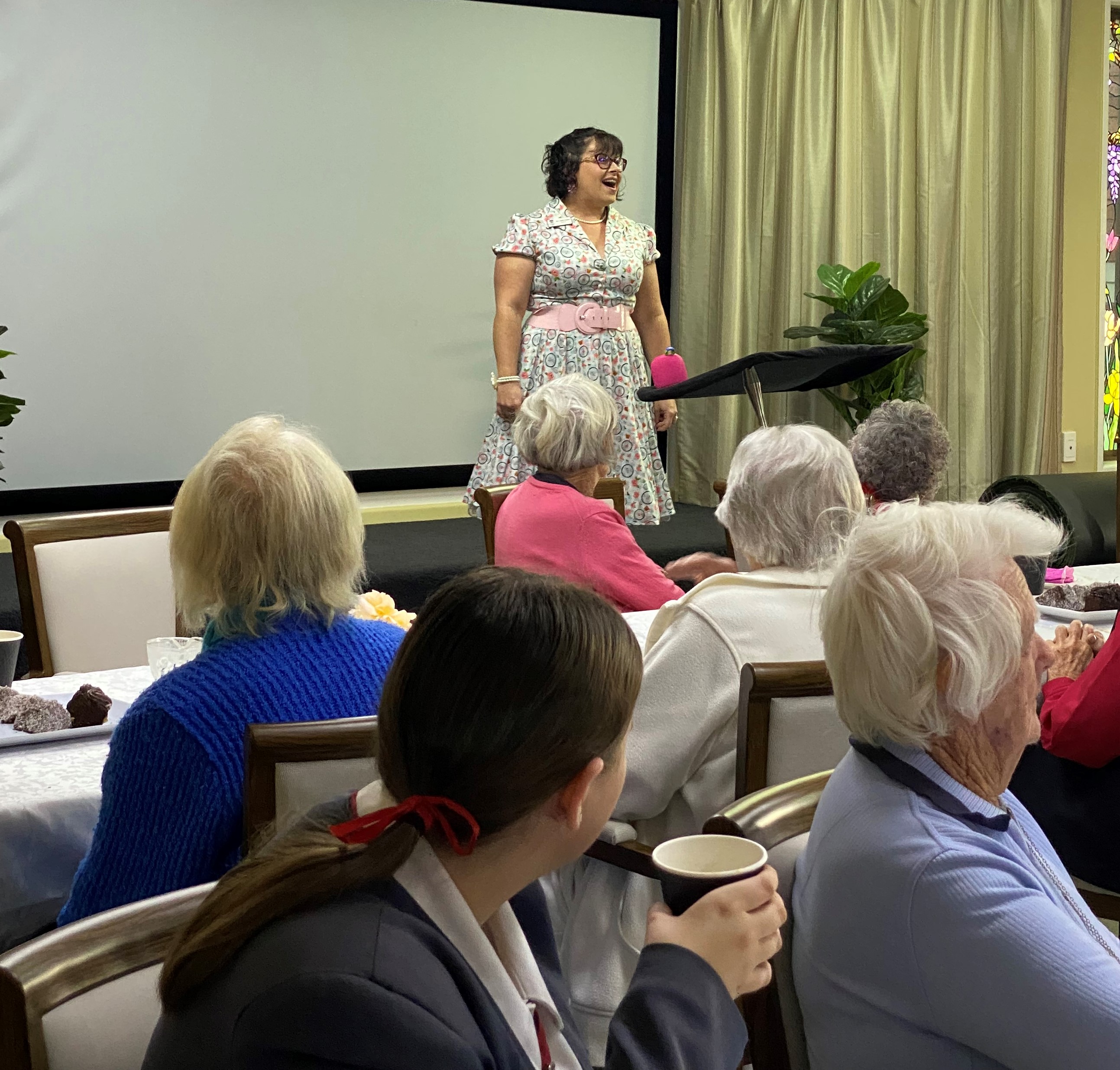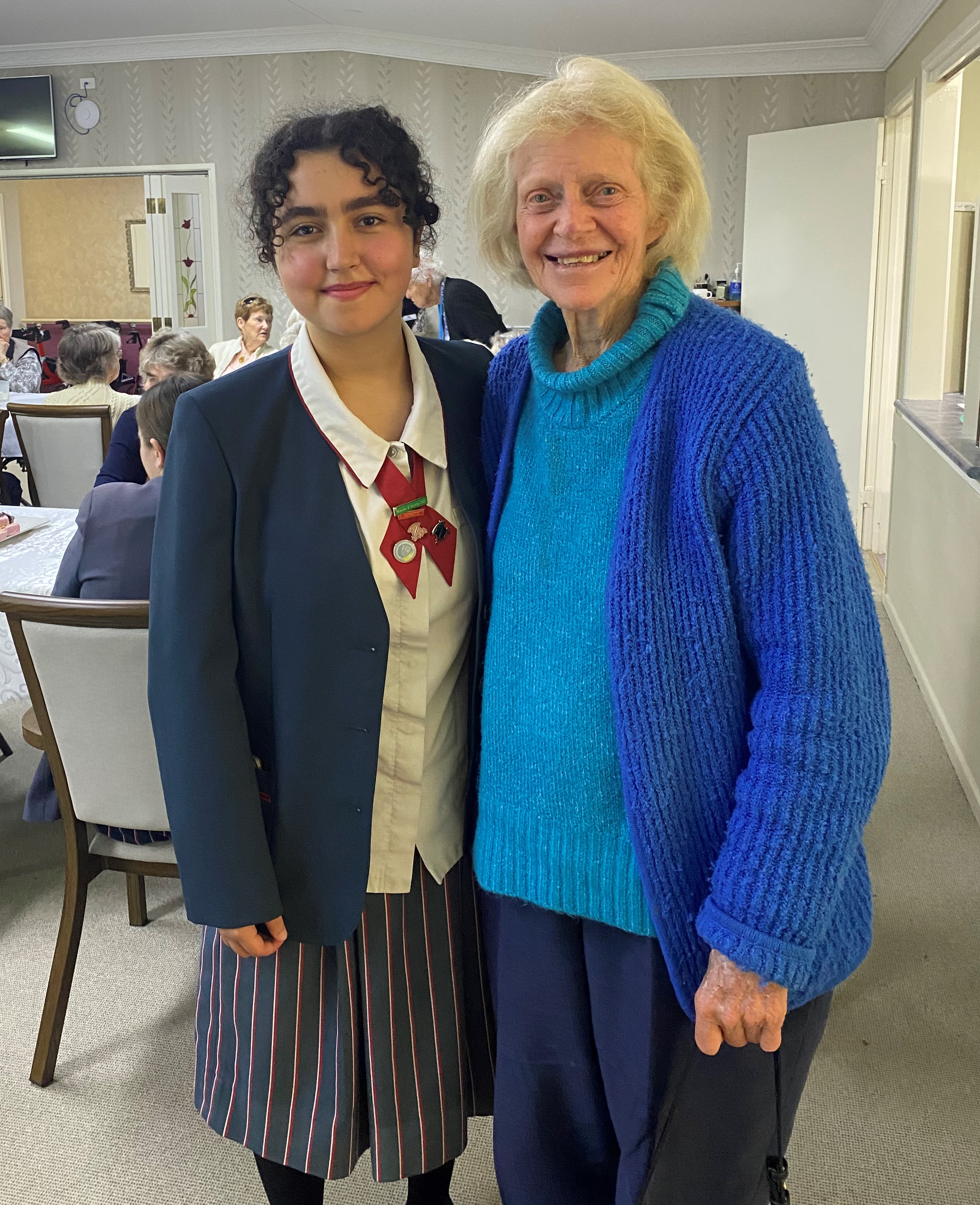 Saviour's Sisters
Week 5 saw an incredibly busy week for the Saviour's Sisters Performance Choir. Following on from their Eisteddfod performance on Saturday 6 May, the students had three more opportunities to perform in Week 5.
On Thursday 11 May, the Saviour's Sisters delighted staff, students and invited guests with their beautiful hymns performed in St Patrick's Cathedral for Catherine McAuley Day, including a sung version of Catherine McAuley's 'Suscipe' and 'An Old Irish Blessing' in honour of our founder, Catherine McAuley.
Later that day, the choir led a rousing rendition of 'Mercy Girl' at the shared lunch that took place in the Callaghan Centre.
On Friday, 12 May, the Saviour's Sisters performed 'When I Grow Up' for their maternal figures at our SSC Mother's Day Breakfast. Despite some technical difficulties, the students sang beautifully and remained professional throughout their performance.
Ending the busy week, the students then travelled to Yukana Retirement Village with the Interact students and Rotary Club to perform for the Yukana residents for a Mother's Day morning tea.
I would like to take this opportunity to thank our dedicated 'Saviour's Sisters' and their families for continuing to support the co-curricular Arts program here at SSC. These students work incredibly hard, rehearsing twice a week, constantly expanding their repertoire and often performing with very little notice or time to rehearse new work. They are the epitome of Mercy girls, always demonstrating our values of Integrity, Justice, Hospitality, Excellence and Compassion.
A big thank you also goes to our accompanist Fr Nathan Webb, who constantly brings a sense of joy to all of our rehearsals.
Jenni Potter
Co-curricular Music Co-ordinator
Year 9-10 Visual Art
Both classes for Artmaking this term started off with a study of Barbara Kruger, an influential Post-Modern Artist. Kruger worked in print advertising in the heady world of 1980's commercialism in the USA and began practicing as an Artist using the very same techniques advertisers used to sell products. Her hard-hitting works comment on social justice issues facing women and questioning cultural norms. Students chose a theme inspired by Kruger's oeuvre and created collage works using photography, text and monochrome colours. They studied irony, pastiche and appropriation to engage audiences in their artworks. Students are now completing screen prints to continue with further skill development.
Hospitality Happenings
Our Year 11 and 12 Hospitality students have had a busy fortnight, with two very early morning starts.
On Tuesday 9 May, Mrs Potter and the Hospitality students volunteered at the 29th Annual Mayoral Prayer Breakfast at Rumours International helping to greet, seat and serve over 600 guests. The girls were fantastic representatives for SSC and did a wonderful job. Several guests commented on the girls' manners and approachability.
On Friday 12 May, the Hospitality girls were up early once again, this time assisting at our SSC Mother's Day Breakfast. The students spent their Thursday afternoon lesson helping to set up for the function, then arrived at 6am Friday morning to finalise setting up, before serving food and drinks to over 130 guests. The girls had constructed and followed a workplan and worked as a team to ensure a seamless morning.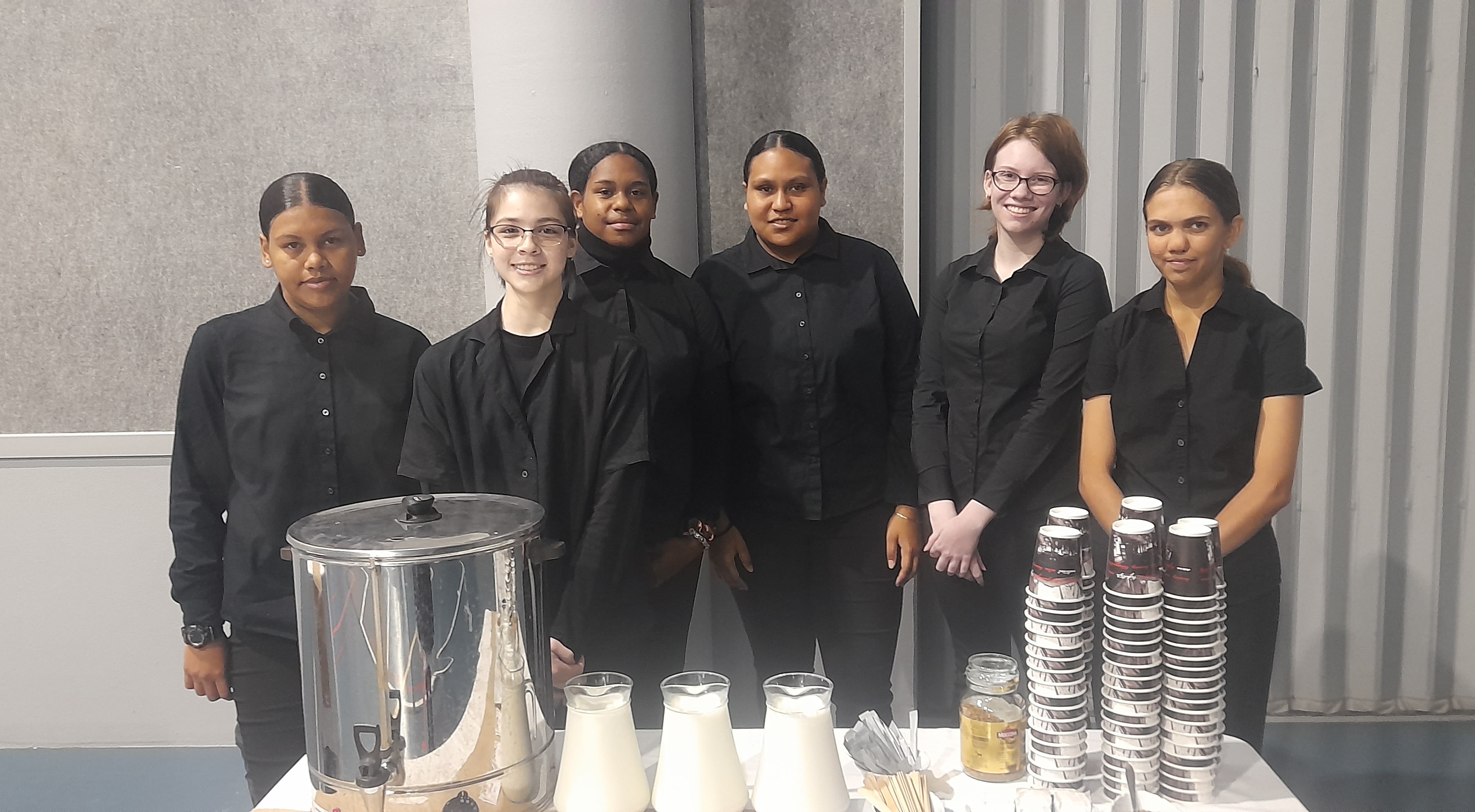 These service opportunities help the students to increase their workplace knowledge, teamwork abilities, and customer service skills while counting towards workplace experience hours for their Certificates III in Hospitality.
From the Careers Centre
Health Industry Showcase Launch
On Friday 12 May, four students travelled to St Mary's College to take part in the Health Industry Showcase Lunch. Health is the biggest industry in Toowoomba and is also incredibly diverse – think specialists, doctors, nurses, paramedics, occupational therapists, physios, managers, ICT, receptionists, maintenance workers and caterers. Students heard from industry leaders and had the opportunity to speak with industry reps about local jobs and how to get into them.
SBA Spotlight – Furaha Iranzi, Certificate III in Early Child Education
Tell me about your school-based apprenticeship?
My school-based apprenticeship is where I get to work with children and study for a Certificate III in Early Childhood Education and Care.
Where and when do you complete your theory blocks?
I can complete my theory work at the childcare during my 30 minute or 1 hour break. I can also work on my theory work at home and at school.
What is the best thing about your SBA?
The best thing about my SBA is being able to work with children and feel safe working in a comfortable environment.
How would you describe yourself as an employee?
As an employee, I ask questions, I think before I speak and I always try to help around where I can, because that is what I love doing.
What are your greatest strengths?
Being able to work with children and understand their ways of playing. Creating games for the children to play and making sure no child is left out.
What are your goals for the future?
My goal is to finish the Certificated III and study for a Bachelor in Education, so I can go into primary school teaching.
What does customer service mean to you?
Being able to meet the satisfaction of the customer and meet their needs more than wants.
What has been the most rewarding experience of your career so far?
Working with the children and getting a small view of how my future as a primary school teacher might look.
Date Claimers
31 May – Toowoomba Careers Roadshow - Hospitality students to attend
3 June – Aviation Expo Brisbane
5 June – Girls can trade up workshop (Year 11 students)
12 June – QTAC Parent/student information session online event – Year 12 Focus
13 June – QTAC Parent/student information session online event – Year 10 Focus
20 June – UniSQ's Year 9/10 Discovery Day
National Careers Week
To commence National Careers Week, Stephanie Morris from UNIQ You outlined their virtual career advisory service which gives girls in Years 9 - 12 the opportunity to book real-world, personalised video conversations with women working in 'non-traditional' roles and industries. Students have the opportunity to book calls with an engineer, data scientist, fire fighter, apprentice carpenter, police officer, data analytics consultant, field ranger and more. Visit Home - UNIQ You for more information.
On Wednesday we welcomed accountants Naomi, Lauren and Caitlyn from Power Tynan and Ashlii Timms, an Engineer (Construction and Maintenance) at the Toowoomba City Council to chat with students regarding their career pathways. Held annually, National Careers Week is an initiative led by the Career Industry Council of Australia and is a great time to explore the latest occupations and industries in demand.
On Thursday, Karen Coulston visited St Saviour's College to explain the processes of School Based Apprenticeships and Traineeships. Karen is the Senior Project Officer with the Catholic Education SBA program at TCSO and kindly shared her wealth, experience and knowledge of all things within the work experience, apprenticeship and traineeship realm.
To finish off National Career Week, Dr Andree Wade, Pediatrician at St Vincent's Hospital and the Toowoomba Base Hospital presented to the students. Dr Wade started her working life as a science teacher and now provides pediatric care for the youngest members of our community. She spoke about subject selection, the different pathways to medicine through University study, the working hours and placements and the positive experiences experienced.
Free myfuture Webinar | Managing Career Uncertainty and Anxiety: The Power of Career Conversations
Wednesday 7 June, 5:30pm (AEST)
Career uncertainty has been defined as the inability, as a teenager, to articulate a career ambition or occupational expectation for adult life. As transitions from school to further education, training or work have become more unpredictable, and employment markets more competitive and fluid, career uncertainty in young people, both in Australia and internationally, is increasingly common.
In this webinar, Dr Jo Gleeson (Monash University), lead author of the forthcoming myfuture Insights Paper 'Managing career uncertainty and anxiety: the power of career conversations', will talk about the findings of her research in this area, and share a questionnaire that can help you to facilitate career conversations with your child. Register now
Career Tools Newsletter
The latest issue of the bi-termly newsletter has now been released. This week's articles are:
Careers in Care and Support

National Careers Week

Year13 Expo

Where to Look for Jobs

2023 Future of Jobs Report

Global Footprints Scholarships

QANTAS Pilot Scholarships

National Youth Science Forum

Velocity Truck Apprenticeships

Micro Mathematicians

Reasons to Get Involved

Challenges and Competitions
Click here to read the newsletter.
Alyson Holmes
Acting Career Development Practitioner
Urgently Seeking Host Families
We are urgently seeking host families for Japanese students visiting 17-29 July 2023. Some of our wonderful families have already agreed to host students in the second round of visits but we urgently require nine families to host students in this first round.
Please see the flyer below for information and payment amounts. There may be a chance families could host two students and if so the payment will be double the amount as shown on the flyer.
We would love to hear from you. You can obtain a Host Family Application Form by contacting Japanese teacher, Ms Jane Greenhalgh via email: jane.greenhalgh@twb.catholic.edu.au or phone 4637 1600.