St Saviour's College Newsletter 2023 - Term 1 Week 6
Principal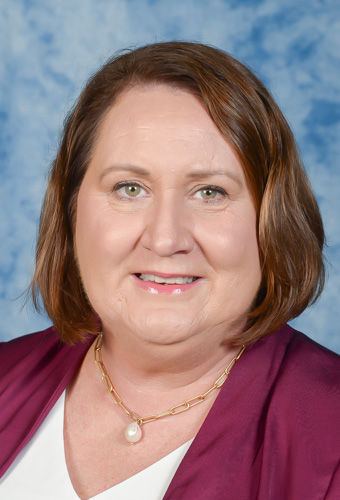 Being Your Best Self
My role at the College involves a lot of conversation with people from all walks – parents, students, teachers, prospective families. Many of these conversations arise when I am called to address certain behaviours that do not align with our College values. As teachers, part of our job is to ensure we educate the 'whole' person and take the time to sit and be present for learners who may be struggling to engage at various junctures in their learning. I thank the parents I have spoken to in these instances who have supported our quest to ensure learning takes priority. Always.
We are reminded of our own vulnerability when we consider last week's Gospel, the first Sunday of this year's Lenten journey, where Jesus was tempted in the desert. In an article by Catholic Daily Reflections, we learn "Temptation in life is real. It's the result of our fallen human nature. It comes from our weakness ... temptation can be a heavy burden and cause heavy emotional and psychological pain, and when the temptation is given in to, it causes an even deeper spiritual pain. Jesus never gave in to the temptations in the desert, nor did He give in to temptations at any other time in His life, but He endured them and suffered them."
We take heed from this, that while we don't always 'get it right', and that temptation can be very real, for each time we give into good, we grow. This Lent, may we commit to still being ourselves, but being our best self, so that we live life in abundance and allow others to do so also.
Leadership Forum
Last week I attended the termly Leadership Forum hosted by the Toowoomba Catholic Schools (TCS) Office. Principals from across the 31 diocesan schools gathered and engaged in professional learning, ensuring a fidelity to the system that is TCS. The theme of the forum was 'Taking control of the agenda'. I congratulate Mrs Jessica Wade who was asked to co-deliver a Data Window Presentation, using digital insights to tell your school's story. In addition to quality professional learning, it is always a great opportunity to share collegial time with fellow leaders from across the diocese. I thank the TCS for their commitment to this valuable experience, provided each term.
This week, myself, Mrs Wendy Collins and Ms Leah Dempster, are heading to Port Moresby to join with teachers and students in Port Moresby for a four-day professional learning program.
The Governments of Australia and Papua New Guinea are working together to deliver the PNGAus Partnership Secondary Schools (PASS) initiative under the PNG-Australia bilateral partnership. The PASS initiative continues the enduring friendship between the two countries. It's goal is to strengthen relationships between Papua New Guinean and Australian secondary schools in a manner that builds their capabilities and deepens people-to-people links. The initiative connects Papua New Guinean and Australian students, teachers and school leaders to better prepare our future generations to thrive in a technology-driven and globally interconnected 21st century.
The learning program will support educators to develop a community of practice action plan to sustain engagement between PNG and Australian educators to build capacity in schools. Through this learning, educators will also gain a greater understanding of the PASS Learning Bank, its resources and capacity building opportunities. Importantly, the learning program in Port Moresby aims to deepen engagement, knowledge, friendship, and plans for continued collaboration between Australian and PNG educators.
We look forward to sharing our learning upon our return.
International Women's Day Breakfast
I encourage you to join us next Friday 10 March at 6.45am for 7.00am to celebrate International Women's Day. This is always such an important part of our calendar year. This year, we hear from Past Pupil and CEO of the Red Rose Foundation, Betty Taylor. Please rsvp using the QR code provided on the invitation below.
Vaping
Sadly, the incidence of vaping continues to plague us. I would like to think that SSC is immune, but this is not the case. To address the issue, we will be locking the toilets during class time and reopening the toilet block and disable toilet for breaks. This will trial across two weeks. During this time, we are asking students wishing to access the toilets during class time to do so at sick bay, located in Student Services.
I would encourage parents to continue to discuss the many health concerns related to vaping and partner with us in our attempts to address this at a College level.
Many blessings for the weeks ahead.
Sharon Collins
Principal
To register to attend our International Women's Day Breakfast please click this link below or scan the QR code on the invitation:
https://www.trybooking.com/events/landing?embed&eid=1020252
Deputy Principal
Ignite Protection
Over the past two years, it has been a privilege to work with the dedicated teachers of St Saviour's College on a learning project called the Ignite Project. This project focused us as teachers on the core business of our classrooms: Learning. The project called us to both become learners and place learning at the heart of our school.
Working through this project, as a staff, we considered a range of research and best practice in education to create an approach to learning and pedagogy that focussed on catering for our Mercy Girls. It was to be an approach that catered for their needs and one that served our College mission - to send out empowered women for a changing world.
The Mercy Approach to Learning serves as a guide for all undertakings in classes and offers a framework to serve us as we negotiate changing times, competing priorities and diverse student needs.
The Mercy Approach to learning uses rich symbolism and iconography to encapsulate our vision for learning and commitment to our students.
Empowered by A Community of Learners
Foundational to our Mercy Approach to Learning is the belief that we exist as a community of learners - staff, students and parents. This means that we are called to learn in action, learn together, and on an ongoing basis over time. The hands of the Mercy Approach to Learning support and cradle the fragility of the flower - reminding us of the importance of collaborative partnerships and community in our learning.
Just this week, we have had staff engaging in learning in different contexts: four staff undertook Professional Learning in Trauma Informed practices, last week four different staff participated in Literacy Teaching professional development and finally over the past two weeks, 12 staff have undertaken professional learning around the new Australian Curriculum Version 9. This week Ms Collins, Mrs Wendy Collins and Ms Dempster have travelled to Papua New Guinea to participate in the Global StEM partnerships program and learn alongside their PNG peers in Port Moresby. Wow! We certainly are learners!
The message here is simple - learning doesn't stop. Some of us learn things quickly, others need to have a few goes at things, but when we commit to supporting each other to be curious, to ask the right questions and be vulnerable in the messiness of learning something new, we are taking the first steps in being empowered people in a changing world.
Assessment Expectations
In the interests of equity and fairness for all students, parents and students are reminded that students in Years 10-12 need to have a medical certificate if they are away for an examination or assessment that cannot be submitted electronically (eg speech/ performance).
Reports
Interim reports for Year 11 and 12 students will be published in the coming week. I encourage all parents and students to access these report cards via the Sentral portal. These interim reports reflect your daughter's performance on her first assessment task of Unit 1/3 and contain important feedback on her learning behaviours.
Jessica Wade
Deputy Principal - Curriculum
Acting Assistant Principal - Mission and Student Wellbeing
Project Compassion and Lent
Not only has the countdown to the holidays begun, but the 40 days of Lent has also. Last Sunday 19 February Kia, Maleta, Felicity and Shari represented the College at St Patrick's Cathedral's Project Compassion launch. Schools around the Diocese congregated together during the 9am Mass to take forward the Project Compassion mission into their individual communities. This year's theme of "For All Future Generations" encourages our students to say "Yes" to the Gospel, just as Mary said "Yes" to God. The Gospel from last Sunday, Matthew 5:38-48 "Love Your Enemies", challenges our Mercy Girls to look beyond themselves this Lent and to not only give to those who are more vulnerable but to those in their community that they may not consider friends.
Matthew 5:38-48
Love Your Enemies
38 "You have heard that it was said, 'An eye for an eye and a tooth for a tooth.' 39 But I tell you not to oppose an evil person. If someone slaps you on your right cheek, turn your other cheek to him as well. 40 If someone wants to sue you in order to take your shirt, let him have your coat too. 41 If someone forces you to go one mile, go two miles with him. 42 Give to everyone who asks you for something. Don't turn anyone away who wants to borrow something from you.
43 "You have heard that it was said, 'Love your neighbor, and hate your enemy.' 44 But I tell you this: Love your enemies, and pray for those who persecute you. 45 In this way you show that you are children of your Father in heaven. He makes his sun rise on people whether they are good or evil. He lets rain fall on them whether they are just or unjust. 46 If you love those who love you, do you deserve a reward? Even the tax collectors do that! 47 Are you doing anything remarkable if you welcome only your friends? Everyone does that! 48 That is why you must be perfect as your Father in heaven is perfect.
Within our school community, our House Leaders led the fundraising for Project Compassion by selling Pancakes on Shrove Tuesday. The pancakes sold out and I thank the House Leaders Abby, Alison, Mia and Eliza, along with Youth Ministry leader, Maryam, for their initiative.
Our Year 8-12 students participated in Ash Wednesday House Liturgies to mark the beginning of the Lenten season. To align with Matthew's Gospel, students were asked to consider that what they see when watching others depends on the purity of the window through which they look. Before they give any criticism, it might be a good idea to check their state of mind and ask themselves if they are ready to see the good rather than to be looking for something bad in the person they are about to judge.
The Season of Lent is an opportunity for us to be acutely aware of the message from Matthew's Gospel, to judge scarcely and to love others as we love ourselves. To our bookshelf, that is building Our Story for 2023, we added a bottle of Windex as our constant reminder to our commitment to be looking through a lens of clear glass.
Our Year 7s joined St Saviour's Primary School in their Ash Wednesday Mass with Fr Michael. All students represented the College respectfully and we thank SSPS and Mrs Ward for the invitation.
Fundraising continues for Project Compassion this Lent with the Youth Ministry selling Zooper Doopers on Friday breaks.
Student Protection Officer Training
On Thursday 17 February, members of our Pastoral Team including those from the boarding school, participated in Student Protection Training to ensure our school has numerous members on staff who are trained School Student Protection Officers. These staff members are integral in building the culture of the school where abuse, harm or inappropriate behaviour is not tolerated, nor accepted. All staff can assist students if they feel unsafe at school but the SSPOs (identifiable on posters throughout the school) are available at any time for students when they feel their safety is compromised. Please don't hesitate to contact any of the SSPOs if you have any safety concerns.
Share the Dignity – Dignity Vending Machine
Recently we installed a Dignity Vending Machine donated from Share the Dignity Organisation, to aid in ensuring all Queensland females have access to sanitary products. The machine is in our disabled toilet and students who are in need will have access to the Period Packs (pads and tampons). We do encourage the students to access the machine but only what they need.
Toilet Block
In the coming days, within the toilet block, vaping posters (sourced from Government Health and Australian Universities) will be displayed as a proactive measure for early intervention in educating our students about the impacts of the latest craze for adolescents. We are also reinforcing evidence-based dangers, opposed to online searches that may lead to less credible sources, for our more curious older teens.
As a College, we are concerned for the wellbeing, safety and health of students. There have been ongoing reports of students vaping in school toilets. This continues to be a widespread social issue for not just St Saviour's College but all Colleges.
In response to concerns that students are vaping in the College toilets, as a leadership and pastoral team we have trialled the following responses:
Increased presence around the toilet block

Information and education through HPE classes

Zero-tolerance for students identified vaping
We will continue to enact these responses but the ongoing concerns we have around student behaviours in the toilet block have forced us to take further action. From today, we are trialling locking the toilet block next to the oval during class time. This means that the toilet block next to the oval will be open before school, during break times and after school, but will be locked during class time.
7.30 - 8.30: Student Services and Toilet Block OPEN
8.30 - 10.32: Student Services toilet OPEN
10.32 - 11.08: Student Services and Toilet Block OPEN
11.08 - 1pm: Student Services toilet OPEN
1pm - 1.20pm: Student Services and Toilet Block OPEN
1.20pm - 3pm: Student Services toilet OPEN
3pm - 4pm: Student Services and Toilet Block OPEN
We recognise that most students do not access the toilet block near the oval during class times. We reiterate that students WILL HAVE ACCESS TO A TOILET ALL DAY. The toilet in the student sick bay will be open and available for student use throughout the day. It is equipped with a sink area and a sanitary bin for student use.
Please use this opportunity to talk with your daughter about the risks associated with e-Cigarettes and Vapes and that the purchasing, distribution and use of vapes is illegal for persons under 18 years. This usage is also in breach of the Colleges Substances Policy.
For further information please click on the links:
https://adf.org.au/talking-about-drugs/vaping/vaping-youth/talking-about-vaping/
https://lungfoundation.com.au/lung-health/protecting-your-lungs/e-cigarettes-and-vaping/vaping-and-young-people/
In the week ahead, I look forward to meeting the families of all our new students at the New Family Gathering on Tuesday 7 March and celebrating International Women's Day Breakfast on Friday 10 March.
Megan Schulze
Acting Principal - Mission and Student Wellbeing
Megan Schulze
Acting Assistant Principal - Mission and Student Wellbeing
Library
Welcome
What a whirlwind couple of weeks in the library it has been! We have had new security gates installed and they have had their position changed. We have dismantled some of our non-fiction shelves after looking at the quality and age of the resources we have on the shelves. This allowed us to move our shelving with the manga and graphic back to create some more floor space. Recreate a new area for our senior fiction and short story books. To continue the changes, we have moved the first bays of our fiction shelves and begun to create genre sections to help students find books they would like to read.
This have been a long process of checking books and retrospectively adding genre stickers to those fiction books that did not have any to begin with. We will be seeking feedback from our school community on the viability of these changes early next term once everyone has a chance to browse the changes.
What's Happening in the Library?
World Book Day - Thursday 2 March
World Book Day changes lives through a love of books and shared reading. Our mission is to promote reading for pleasure, offering every child and young person the opportunity to have a book of their own.
Reading for pleasure is the single biggest indicator of a child's future success – more than their family circumstances, their parents' educational background or their income. We want to see more children, particularly those from disadvantaged backgrounds, with a life-long habit of reading for pleasure and the improved life chances this brings them.
World Book Day was created by UNESCO on 23rd April 1995 as a worldwide celebration of books and reading. It is marked in over 100 countries around the globe.
Spending just 10 minutes a day reading and sharing stories with children can make a crucial difference to their future success and its fun for all involved.

Information retrieved from https://www.worldbookday.com/
International Women's Day - Wednesday 8 March
Check out our display in the library to celebrate International Women's Day next week.
We have a variety of diverse books looking at a range of historic to contemporary women.
We are also running a competition to guess our "Most Wanted" women – all women have their name on display somewhere in the library. Come along and see if you can find them all! See the example below:
Library Lego Legends Lunchtime
We have recently begun our lunchtime activity of Lego at Lunchtime in the Library on Tuesday during the first break. At the moment we are having free creation, further down the track we will look at adding in some opportunities to create around our themes in the library for some prizes. Check out our first completed Lego creation:
We are also considering a Games lunchtime, so stay tuned to find out when this will be up and running.
New Books in the Library!
We continue to promote our new books – they are often on display in the spinner. Recently we had some new manga added, series' volumes increased and new series purchased. Come along and check out our Manga collection!
Date Claimers:
March 2: World Book Day
March 8: International Women's Day

Library Hours
Monday to Thursday: 8.00am – 4.00pm
Friday: 8.00am – 3.00pm
PLEASE NOTE: On occasion there may be unforeseen circumstances, therefore the library may be closed. Please keep looking at the library section of the newsletter for further updates.
Author Sidney Sheldon:
"Libraries store the energy that fuels the imagination. They open up windows to the world and inspire us to explore and achieve and contribute to improving our quality of life. Libraries change lives for the better"

Andrea King
Teacher Librarian
Year 7 Camp
On the 15 February, 54 students and three teachers left Toowoomba and headed north to Camp Cooby. We spent three days and two nights taking in the beautiful environment on the edge of Cooby Dam. Students and teachers learnt the skills of teamwork, resilience and realising that we need to work hard to get what we want.
The students were a credit to the College with their 'can do' attitude. They learnt important skills including time management, taking responsibility for the cleaning roster, turn taking during activities and encouraging each other through tough challenges.
The students were very caring of each other and respectful to the camp staff. They helped wherever they could and supported each other when required. On the final night of camp, they were asked to write down some of their thoughts on the camp, here they are:
'I like my new friends that I made, and I made many new friends.' Chelsea B
'My camp experience was amazing, the food was nice, the activities were great and the staff were friendly. It was definitely better than expected.' Angela A
'It was very fun. The activities were interesting and were unlike the other camps I've been to. I enjoyed the food; it was very yummy.' Eve M
'It is challenging to work but you just need to work together.' Evie
'It was amazing and it was a great time to connect with people I don't know.' Novena V
'I enjoyed spending time with friends and doing new activities. I also learnt that teamwork is very helpful for activities and working together gets things done in a better way.' Emelia B
'Focus on your time you have. You only do this once in your life and if you don't spend your time wisely and be kind you will regret it. God chose these people to be in your life and have this experience with you.' Summer C
'It was beautiful to be outside in the bush.' Taya
'Camp was amazing. I met new people. It was an experience to cherish for many years to come.' Haylea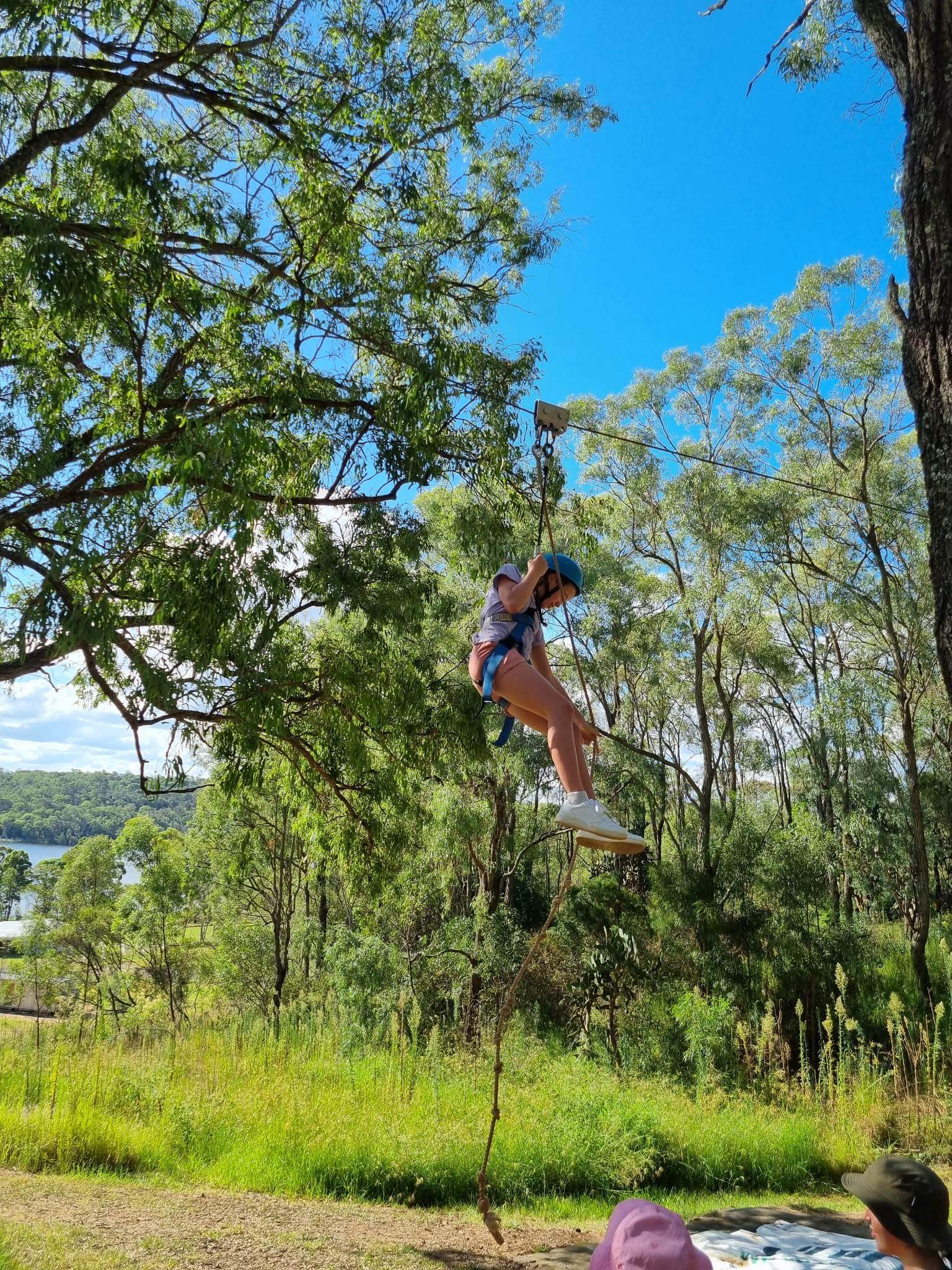 Alyson Holmes
Teacher, Year 7 Camp
McAuley House Boarding
We were excited to welcome a number of new girls into boarding over the last couple of weeks including two new students from Papua New Guinea.
On Saturday 4 February, we took the girls to Tallebudgera Beach. The weather had been so hot so we were really looking forward to a swim. As we headed down the range it started to rain and it didn't let up for the remainder of the day. The girls were really good sports, had a swim and enjoyed a picnic lunch before we packed up and went for a quick shop at Harbour Town.
Last week, we farewelled Miss Lucy as she started her maternity leave. We are excited to meet the new baby in a few weeks.
This term we have introduced casual leave for Year 11 and 12 students. The idea is to allow some more independence and give the girls the opportunity to see a movie or shop on a Saturday. As with all leave, any girls not meeting our expectations and bringing the College into disrepute will not be allowed leave.
This Sunday, the girls will go to Southbank for the day. Hopefully the weather will be great and they can enjoy a fun day out.
Humanities, LOTE and Technologies
Our Year 9/10 Digital Technologies class are busy building robots! Students are working collaboratively to build a robot which they will then program applying their knowledge from Python coding. This task provides students with a practical opportunity to use design thinking and be innovative in using technology to solve real world problems.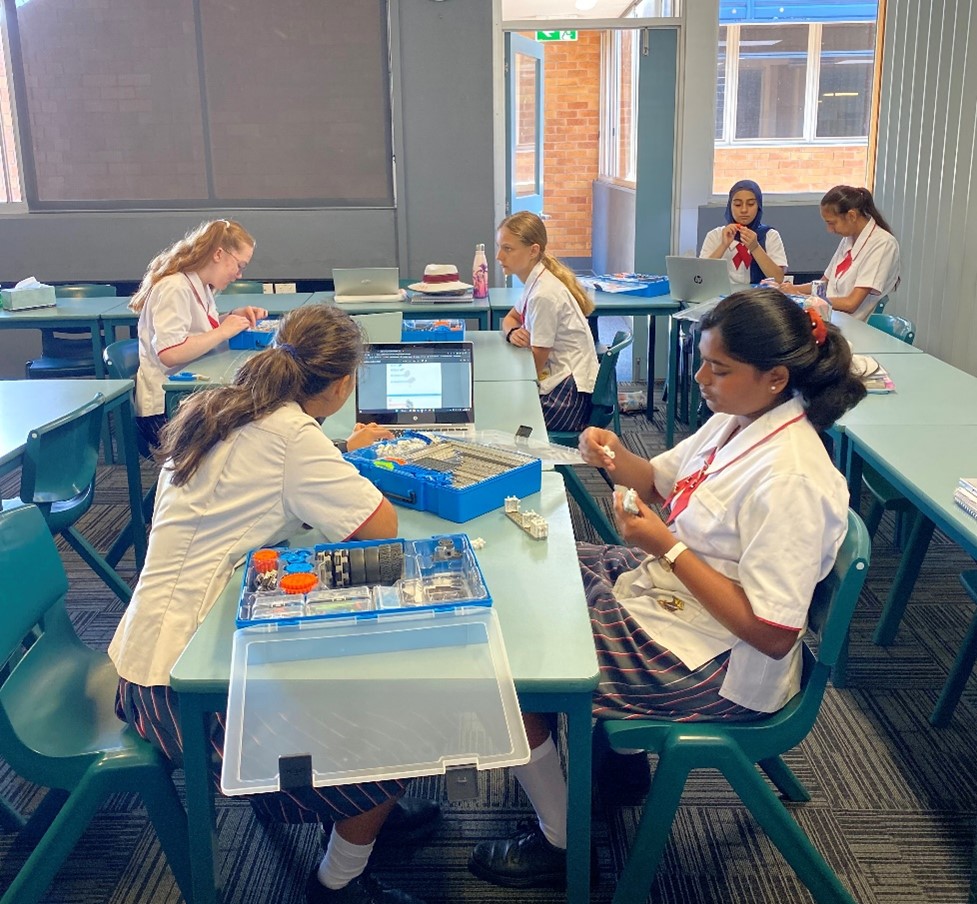 In Year 7 Humanities, students are learning about the history and culture of First Nation's Australians. Year 7s had a visit from senior student, Dakota Weatherall-Crocker, for a lesson about storytelling through art. Dakota shared artwork made by her aunt and grandfather, and students created their own artwork telling their story.
Samantha Judd
Middle Leader - Humanities, LOTE & Tech


Mathematics and Science
The term is moving quickly, and I haven't had the chance to introduce myself. For those of you who don't know me, my name is Narinder Loi and this is my second year teaching at St Saviour's College. This year I have also taken on the role of Curriculum Leader for Mathematics and Science. I have been visiting classes and I wanted to say how great it has been seeing many of the students enjoying their Maths and Science lessons and trying lots of new things.
This term we started the Maths Support program, which is offered on Tuesdays and Thursdays from 7.50am to 8.25am. Many students so far have taken this opportunity to come and consolidate their understanding and learning, as well as, meeting new people. Students do not need to sign up, they can come whenever they feel they need the extra support, whether it is with a certain concept, homework and/or assessment tasks.
"I have been attending maths support because I need support with my maths and to help my grades go up. This has been helping me review my maths that I learnt last year." (Year 7 Student)
"The math support sessions have supported and benefited me by helping me focus and getting math homework done in the sessions. I understand more concepts than I used to and I have also gained a lot of confidence in going to these classes to study and ask for help when I need it." (Year 8 Student)
"The main reasons I have been going is to catch up on class work and homework and make use of extra study time." (Year 11 Student)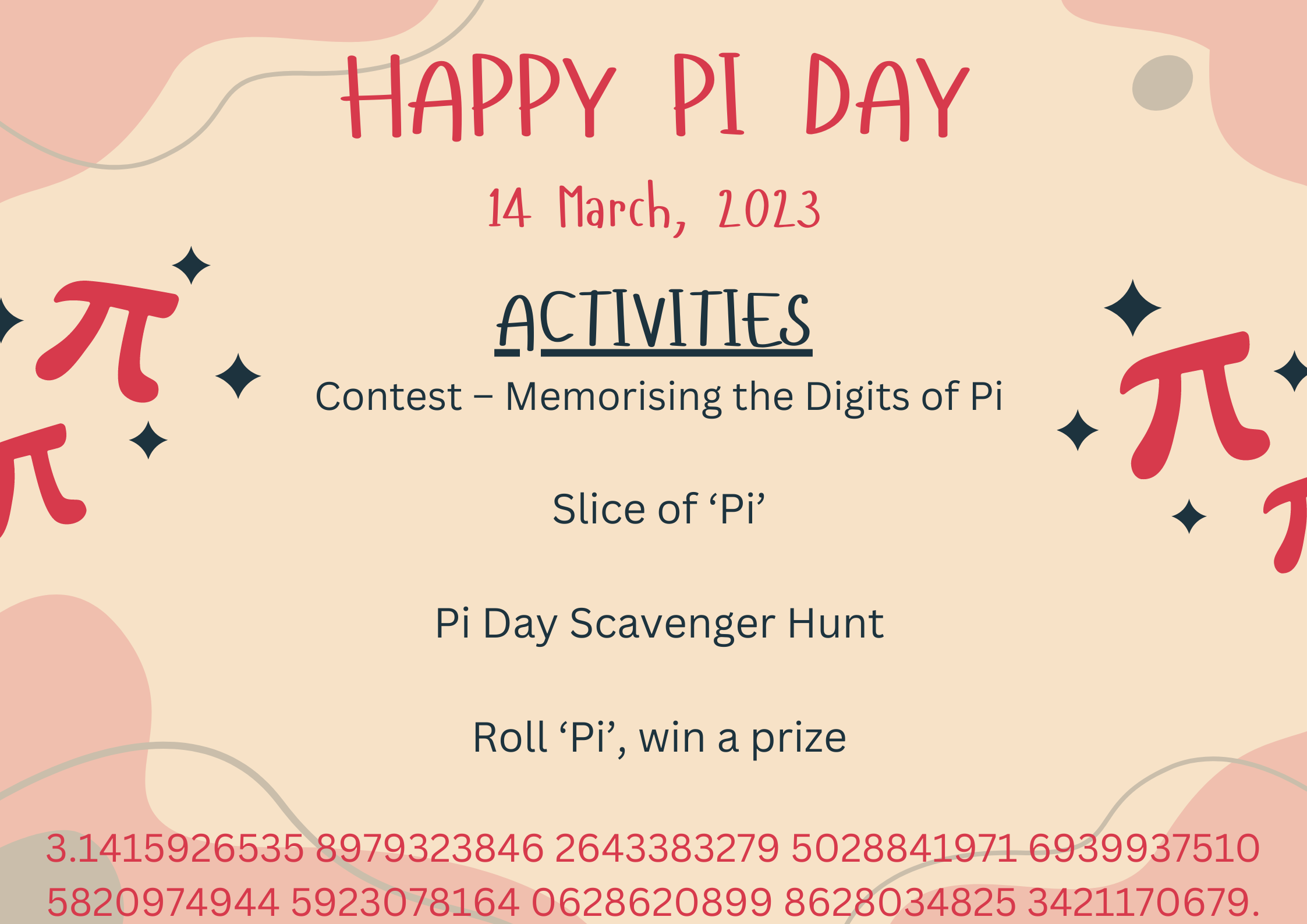 We, as a department, are looking at ways for students to consolidate and extend their understanding and knowledge in both Mathematics and Science. This term, the Maths department will be holding two events: 'Pi Day' and 'World Maths Day'. These events will allow students to see Mathematics differently and participate in various activities during breaks.
Narinder Loi
Middle Leader - Mathematics and Science
Hospitality Happenings
The past few weeks have seen the Year 11 and 12 Hospitality class very busy with earning their Service Hours and increasing their Hospitality skills.
Students prepared a wonderful grazing table and greeted and served food and beverages to a number of guests at the Strategic Plan Launch evening at the beginning of February, allowing them the opportunity to develop their Hospitality skills, work effectively with others, prepare and serve non-alcoholic beverages and interact with customers.
On Valentine's Day, the students learnt how to prepare a royal icing from scratch and some basic piping skills when they decorated home-made heart-shaped sugar cookies for all the staff of SSC to show their appreciation for the love and care they are provided each and every day, here at St Saviour's College.
In Week Five, the Year 11 Hospitality students undertook their Coffee training with Peti Kiwha from Blueprint Career Development, learning how to prepare and serve espresso coffee. They learnt their way around the coffee machine, and even managed to produce some fantastic latte art. The staff are looking forward to being willing taste-testers as the students continue to use and develop their barista skills!
The students continue to extend their skills and gain experience within the Hospitality realm and are looking forward to a busy Week Seven when they will be assisting at the New Parent Welcome Gathering and the International Women's Day Breakfast.
Jennifer Potter
Teacher - Hospitality
Co-Curricular Music
St Saviour's Choir is conducted by Mrs Jenni Potter. Rehearsals are held on Wednesdays during first break and Thursdays 3:15-4:15pm. The choir performs at a variety of college events, masses, liturgies and ceremonies throughout the year. They take part in Toowoomba Eisteddfod, Paul Morton Festival, Interact Mother's Day Breakfast at Yukana, Toowoomba Catholic Schools Arts Festival and a variety of other events throughout the year. There are no fees to join.
Instrumental ensemble – co-ordinated by Mrs Jenni Potter and conducted by Mr Chris Hartley. Rehearsals are held at first break on Mondays. Instrument hire fees apply if students cannot supply own instruments.
Rock band - co-ordinated by Mrs Jenni Potter, joined by Mr Rhody Nilon. Rehearsals are held Tuesday after school 3:15-4:15pm, and on Thursdays at first break. Currently we have a five-person band consisting of piano, percussion, guitar, bass and vocals.
Private vocal lessons - Mr Jon Maskell. $36/half hour lesson. Lessons are held on Friday mornings during class time.
Private drum, keyboard, piano and guitar lessons - Mr Chris Hartley. $38/half hour lesson plus music book purchase and instrument hire fees.
Following are music opportunities available at St Saviour's College:
Musical - every 'even' year. Next musical 2024 is yet to be decided but is in partnership with St Mary's College Toowoomba. St Mary's College often invites St Saviour's College students to be part of their musical in the 'odd' years. Our upcoming 2023 Musical is 'Big Fish' (see information below).
Showcase - an evening for all Arts students throughout the school to perform and display their Arts – 'odd' years.
Toowoomba Catholic Schools Arts Festival – Last week of Term 2, 2023.
Bangarra Dance Theatre performance and workshop – Term 4, 2023.
There will be many, many more opportunities to come as our program continues to grow and develop.
"Big Fish - School Edition" Musical
Big Fish centres on Edward Bloom, a travelling salesman who lives life to its fullest ... and then some! Edward's incredible, larger-than-life stories thrill everyone around him - most of all, his devoted wife Sandra. But their son Will, about to have a child of his own, is determined to find the truth behind his father's epic tales. Overflowing with heart, humor and spectacular stagecraft, Big Fish is an extraordinary Broadway musical.
Three shows only:
Thursday 20th April at 7.00pm

Friday 21st April at 7.00pm

Saturday 22nd April at 7.00pm
Don't miss this outstanding performance by St Mary's College, St Saviour's College and St Ursula's College students! Tickets on sale now at https://www.trybooking.com/CFGYT
Sponsorship opportunities are available. If you would like to receive a copy of the sponsorship prospectus, please email Mrs Tyhla Roper at ropert@stmaryscollege.com.