St Saviour's College Newsletter 2022 - Term 4 Week 8
Principal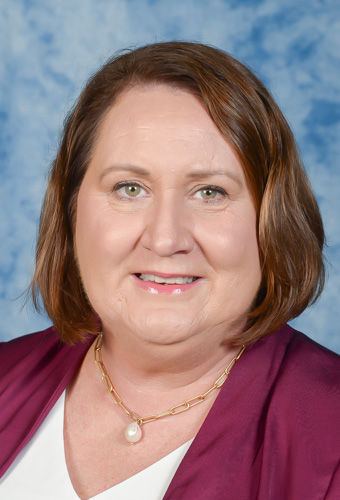 Awards Celebration
Last Friday, our year culminated at the Annual Awards Presentation. The celebration, compered from the team at SSC FM, celebrated the many achievements of the students who consistently pursue excellence. It was a wonderful opportunity to gather with dignitaries, staff, students, families, and friends of the College, to celebrate the many achievements of our young women over the year, from sporting to cultural, service, and academic. I am always astounded by the level of involvement of our students and the array of talented staff and students we have. Special thanks to those involved in the organisation of this great event. It was an outstanding morning of joy and celebration of our many achievements across the year of 2022!
During my speech, I spoke of Catherine McAuley's commitment to excellence, with her mantra being simple but laden, "The simplest and most practical lesson I know is to resolve to do good today, but better tomorrow."
In addition, I expressed gratitude to the following people:
"I offer a depth of gratitude to my exceptional colleagues, fellow leaders, Jess Wade and Heather Hageman, our College Executive Team, our dedicated teaching staff and support staff, our Head of Boarding, Ms Nicole Booth, and our incredible boarding staff. I am also indebted our College Board (particularly Mrs Tracy Hudson-James who moves on from her position of Secretary), and our College P&F (particularly Mr Peter Trezise and Ms Ann Barnes). To the Toowoomba Catholic Schools, we are eternally grateful for the support receive from you.
"I thank our parents and families for entrusting your young women to us. To be co-creators with them is a privilege.
"I give thanks for our Mercy Girls and for the gift they are to all of us. We commit to walking with you as co-creators of your story. This is our resolve. This is the resolve of St Saviour's College as we resolutely play the 'long game' with you."
Staffing 2023
As you would appreciate, the acquisition of quality staff is pivotal to the College's success and ongoing performance improvement agenda. I am pleased to announce the following recruitment for 2023.
Mrs Lauren Geldard – is a former 'Mercy Girl' who will be joining us from St Joseph's College, Toowoomba, as a teacher of Maths and Science.
In addition:
Mrs Megan Schulze – will be taking on the position of Acting Assistant Principal: Mission and Student Wellbeing, replacing Mrs Heather Hagemann who will be taking Long Service Leave during Term 1.
Mrs Michelle Reid – will be acting in the role of Middle Leader: Student Wellbeing, replacing Mrs Schulze for Term 1.
Ms Leah Dempster – Leah has been successfully employed as Learning Leader Years 7-9, a new Middle Leader position arising from the continued growth of the College.
Mrs Alyson Holmes and Mrs Hazel Johnson will be returning at the start of Term 1 following on from their time of Long Service Leave.
And, sadly, we farewell:
Mr Cameron Love – Cameron is finishing up after 11 successful years at the College. "Mr C Love" has been a revered teacher during this time and has earned for himself the respect of many students as a quality senior sciences and maths teacher and Women's Rugby League Coach extraordinaire. Cameron has accepted the position of Head of Science at St Joseph's College, Toowoomba. We thank Mr C Love most sincerely for the commitment, collegiality and care he has given across his many years at the College. Our loss is most certainly St Joseph's gain. We wish Cameron all the very, very best and thank him for a job well done.
Miss Kate Hudson-James – Kate is finishing her 'gap' year experience having worked as a Support Officer across the past year. Employing Kate in this capacity began as an 'experiment' which has grown to be a gift for the College. Kate has been most supportive both inside and outside the classroom and has contributed enormously to the Musical and filming projects, as well as student learning and enrolment tours. We wish Kate all the best and trust that we will see her name up in lights as she pursues her dreams as a talented performer!
Miss Siobhan Landsdowne – Siobhan finishes up as Junior Boarding supervisor at McAuley. Siobhan has always been creative in organising life-giving experiences for the girls outside of school and will be missed for the positive role model she has been for our young women. We wish Siobhan all the best as she embarks on her teaching career at Concordia.
Miss Hannah Purvis – Hannah has been a great asset as Junior Boarding supervisor at McAuley House. Her enthusiasm to support and encourage the girls in their many sporting pursuits will be greatly missed. We wish Hannah all the best as she makes a big move to be a governess to a family on a property in Kununurra.
Mrs Heather Hagemann – we wish Mrs Hagemann all the very best as she takes a term of well-deserved Long Service Leave. Enjoy this special time of replenishment Mrs Hagemann.
We are yet to appointment a Middle Leader – Maths/Science, Learning Support Teacher, Administration Officer (Daily Organisation), Marketing Officer and Term 1 contract HPE teacher and some boarding positions. These will be announced at the start of next year.
College Magazine and Calendar
This Thursday, your daughter should have delivered home the 2023 College Calendar and 2022 Magazine. Both these publications are credited to the talents of Mrs Kerri Prentice. Enjoy! They are a great representation and celebration of extraordinary personality that is 'St Saviour's College'. If you are yet to receive these publications, please contact the office.
Happy Holidays
It is an honour to lead a community that has just fulfilled its 149th year, serving as the oldest secondary school in Toowoomba, in the spirit of Catherine McAuley and the Sisters of Mercy. To the young women of St Saviour's College, thank you for being our reason for being. Thank you for the infectious joy you bring to our College and for the way in which you commit yourself to all you undertake. Thank you to our dedicated staff for your unwavering commitment to your educational ministry. Catherine McAuley said it best when she proclaimed, "You must be cheerful and happy, animating all around you". Thank you for doing just that. We look forward to the many celebrations our 150th year of Mercy education will bring.
For each of us, may our prayer for the ensuing Christmas season be that the mercy qualities of hospitality, compassion, justice, and excellence direct us in all that we undertake. Safe travels to our boarding students and to those on the roads over the holidays. May integrity always continue to be our strength.
Blessings for a joyous festive season with family and friends. May the celebration of Christ's birth serve as a reminder to each of us that life is full of endless surprises, joy and the opportunity to see hope for the future.
Thanks for another great year.
Sharon Collins
Principal
Deputy Principal - Curriculum
The End of 2022
Thank you to the St Saviour's College community for a wonderful year of academics! 2022 has proved another busy year for all things learning and teaching. From the commencement of Term One with online learning, to celebrating academic excellence at the inaugural St Saviour's College Awards Ceremony last Friday; 2022 has seen many, many class lessons, excursions, awards and competitions and wonderful learning experiences for all our SSC students. I would like to thank the staff who have worked tirelessly to support our girls in achieving their academic best. We wish all students and their families a rejuvenating and safe holiday as well as a holy Christmas before returning in 2023.
Year 9 Mandatory Laptop Collection
All school-issued laptops in Year 9 need to be returned before the holiday break.
Students should check they do not have any important files stored locally on their laptops. Quite simply, everything should be on their OneNote drive. Anything not stored properly WILL BE LOST. Year 10 2023 students will be issued with new laptops at the beginning of 2023.
How to Access Academic Reports – Sentral Parent Portal
Please follow these steps to access academic reports
On Friday 2 December, Year 7 to 9 report cards will be published to the parent portal. These can be accessed via the Sentral Parents App on a mobile device or via the desktop site. To find your daughter's report card on a mobile device, click on their photograph and then navigate to Academic Reports. The PDF will be published there.
Jessica Wade
Deputy Principal - Curriculum
2023 Next Step Year 12 Completers Survey
A reminder that our Year 12 students will be invited to participate in the Next Step Year 12 Completers survey starting in March 2023. The short confidential survey will ask questions about graduates' activities since finishing school, like study and work.
Graduates can expect to be invited to the survey via a letter from the Minister for Education or an email or phone call from the Queensland Government Statistician's Office on behalf of the department. Please check your contact details are correct with your school and your learning account by logging into the student portal at https://myqce.qcaa.qld.edu.au/
We appreciate your participation in this important survey as it helps our school improve our senior services for future students. For more info visit www.qld.gov.au/nextstep
Assistant Principal - Mission and Student Wellbeing
Faith and Mission
As a Mercy community, we are called to serve others. This has been a loved experience across the whole community this term, with the Firefighters' chocolate fundraiser and advocacy campaign, led by two of our Youth Ministry students, Beth and Maryam. Working tirelessly at break times, tickets were sold to raise awareness of, and much needed funds for the families of our local emergency services – the Fire Brigade. At our last weekly College assembly, Beth and Maryam invited representatives from our local Fire Brigade to join our Mercy Moments segment. Mr Doug Maxwell, Station Officer, from the Toowoomba Fire Brigade, and Mr Gary Greer, First Officer from the Cambooya Fire Brigade, joined Beth and Maryam for the segment, to present them with a cheque for over $430 – the monies raised across the term. Students bought tickets in the draw to win five 2kg blocks of chocolate. The Youth Ministry Team at the College is appreciative of those who contributed to this fundraiser to show our appreciation and support for our local Fire Brigade, and to effect positive change in our society.
Over the last fortnight, staff and students have been spending many hours in preparation for end of year reporting, Christmas celebrations and events to mark the end to another successful year at the College. Mrs Potter and Chappy Cath have been working with the Praxis girls with Mrs Potter's Christmas Club, making Christmas gifts of soaps, bath bombs and Christmas earrings as gift ideas for their loved ones. This is a time to give thanks for the blessings of this year and to remember the great joy of the birth of Jesus. One of the prayers shared by our Homeclass brings to life the Christmas story of the birth of Jesus:
We come together to adore the Christ for whom there was no room at the inn.
We come to worship God who came into this world in an unexpected manner,
as a small, poor child, born in a stable.
People came from far and wide to see this miracle child, bringing gifts of all kind.
We come together to worship God who came to show us how to make room for others.
God who taught us how to welcome the mysterious and the different.
We come to celebrate and show our appreciation of the gifts
we see in every person beside us today.
May we always worship the Lord in spirit and in truth.
Amen.
Jesus undertook many challenging journeys during his lifetime. With this in mind, we acknowledge the departure of many in our community; our Year 12s and those heading off on more adventures, to shine their lights within other communities. Farewells are always bittersweet; however, we know that wherever members of our Mercy family go, they will remain forever in our hearts. We wish them well as they continue along their own roads, knowing that Jesus walks gently beside them.
Community of Compassion
This term we devoted our fundraising efforts to our Living Crib initiative, which received resounding support. We acknowledge and support the efforts of Mrs Julie Inskip - Youth Development Officer, and her team at St Vincent de Paul, who will be with us to celebrate our end of year Christmas liturgy. Our College community is blessed to be able to offer some assistance to these families through these community support initiatives. Over the term, the College community has donated gifts, to help those families in our community who are currently experiencing times of hardship, celebrate Christmas. We call these gifts a Living Crib and offer these as a symbol of hope and compassion to these families, just as God offered us the gift of hope and compassion by gifting us the miracle of Jesus as his gift to the world.
Student Wellbeing and Engagement
From the classroom – "Care for Creation" Year 8 Zoo Trip
This week saw the Year 8 cohort set off on their adventure to the Darling Downs Zoo, to "Care for Creation". The earth and all life on it are part of God's plan. We are called to respond and to adopt new ways of living, and we are considering opportunities for our staff and students to become more involved. This was an exciting annual opportunity for our students to learn about different animals and their habitats, and they actively participated in educational presentations throughout the day. The staff at the Zoo went out of their way to ensure our visit was a welcome and educational excursion.
The day began with one-on-one sessions with the baby alligator, with the zoo trainers providing the girls with background information about the 'baby' alligator, which was only about a foot long, but five years in age! Students were treated to talks on each of the animal groups from the animal handlers, detailing the lives of the animals, their habitats and growth cycles. Animal food was kindly provided so our Mercy Girls could interact with the animals.
All in all, it was a wonderful day of educational interaction, and one which I am sure the students and accompanying staff will remember for a long time to come. Many thanks to the staff who accompanied the students on this day of wonder and appreciation – Mrs Jane Greenhalgh, Mr Rod Hickey, Ms Renee Hunter, Chappy Cath and Fr Nathan Webb, one of our Parish priests. We look forward to a mutual partnership with our local zoo, moving into 2023. Our students were enthusiastic and impeccable ambassadors of the College.
Holidays
At the end of this week, we farewell our Years 10 and 11 students, as they commence their Christmas break. Next week, our junior students will be departing on Wednesday, after their last few days of educational activities to end the term. Our loving God walks gently beside all of the students and staff of our Mercy community throughout the well-deserved Christmas break, as we traverse ahead with helping hands, a head full of plans, and a fearless heart. We give thanks for the wonderful times we have experienced this fruitful school year and farewell our students and colleagues who have immersed themselves in the Mercy values of compassion, integrity and dedication. May they always walk with a confident step and a happy heart, as empowered people in a changing world...
"The journey of one thousand miles begins with a single step."


Catherine McAuley, circa 1830
Always Making the Right Choices
At St Saviour's College we acknowledge that students are under increasing pressure to navigate complex social situations both online and in person. Student safety is of the utmost priority for all Toowoomba Catholic Schools; therefore, it is paramount that our students receive clear guidance and support in this area.
eSafety Website
Young Mentors: eSafety
Schools are reminded that "eSafety" consistently update their offerings on their website. Currently, registrations are open for parents and carers seeking to understand the influence of games, apps and social media on young people's mental wellbeing, or engage in hard-to-have conversations. Topics include: cybersafety and topics usually considered to be taboo or uncomfortable to talk about. A selection of "eSafety" resources are available if you click here. Webinars for parents and carers via the eSafety website provides free webinars for parents and carers to learn the latest strategies for helping children stay safer online.
The eSafety Commissioner has launched a new program that aims to improve older Australians' digital skills by connecting them with student mentors.
The intergenerational Young Mentors program brings teenagers together with older Australians to share digital skills and knowledge and help them gain the confidence they need to navigate the online world. The eSafety Commissioner is requesting schools, libraries, councils, aged residential care facilities and other community groups to consider involvement in the program. This opportunity may be of particular interest to:
School coordinators looking for a service in community, volunteering awards, work experience or leadership program for their students

School community service program coordinators

School Information Communication Technology (ICT) or Digital Technologies (DT) lead looking for a program that ties in with an ICT or DT elective

Coordinator looking for a program for their students to undertake in the Service section of the Duke of Edinburgh Award. CSAs are reminded that funding assistance for the Duke of Edinburgh's International Award.



Blurred Minds Approach
Blurred Minds has been developed around three evidence-based pillars to create an engaging curriculum mapped learning experience for students.
Mapped to the Australian Curriculum, targeting years 7 to 10 in Health and Physical Education

Underpinned by gamification principles to ensure student engagement

Supports Social Cognitive Theory
Going to the website: https://www.blurredminds.com.au/free-resources/ allows you to view the games and resources, which help parents and their children build knowledge, start the conversation. The website also contains training resources, consisting of four 1-hour, interactive workshops https://www.blurredminds.com.au/workshops/. The workshops are under the following topics:
Changing Attitudes (1 hour) about alcohol education
Vape Detective (1-2 hours) Vaping Education and how to make vaping uncool
Empowering Change (1-2 hours) - a combined drug and alcohol workshop

Virtual Choices (45 mins). This learning-by-doing approach combines modern development principles from Virtual Reality to help increase your student's resilience and reduce their peer pressure susceptibility.
Parent Engagement
The Daniel Morcombe Foundation Website
Visit https://danielmorcombe.com.au/safe-bedrooms/ to access this helpful and informative resource for parents and carers and their children and teens. Safe Bedrooms is a suite of resources which equips parents and carers with the tools to lock predators out. Online grooming can happen to any child. However, 97% of Australian parents and carers hadn't previously considered online grooming a threat. Safe Bedrooms provides information for parents and carers on how to recognise, react and report online grooming. Through the series of videos and resources, parents and carers can learn about the warning signs of online grooming, how to protect their children and what to do if they are concerned about a child. By becoming informed, parents and carers can keep their children safe online.
Behaviour Support for Productive Choices
The College also employs a best practice model of engaging with families and to provide a restorative approach to conflict within the community. Our College Pastoral Program embeds the PERMAH approach to wellbeing, with a Catholic lens of our Core Values. Our Wellbeing team actively encourages:
Partnerships with other schools (St Mary's College, St Saviour's Primary School. Our Mercy partner schools and other Toowoomba Diocesan and Catholic Colleges).

Family Engagement by invitation to our regular College events, our fortnightly newsletter, social media platforms (check out our Facebook and Instagram pages!)

Strong community ties with local support and social justice agencies such as Toowoomba Transition Support Services, St Vincent de Paul, Protea Place, St Patrick's Parish.

Intervention and Postvention strategies on campus for identification and referral for students who may need support, across all year levels.

A supportive Wellbeing Team, trained and with experience in restorative practices and mental health and wellbeing, consisting of:
Assistant Principal: Mission and Student Wellbeing, Mrs Heather Hagemann
Email: heather.hagemann@twb.catholic.edu.au
Middle Leader Student Wellbeing, Mrs Juanita Doherty
Email: juanita.doherty@twb.catholic.edu.au
Middle Leader Student Wellbeing Support, Mrs Megan Schulze
Email: megan.schulze@twb.catholic.edu.au
A fulltime Psychologist in the role of College Counsellor, Ms Renee Hunter
Email: renee.hunter@twb.catholic.edu.au
A College Chaplain, Wednesday to Friday, Ms Catherine Skuse
Email: catherine.skuse@twb.catholic.edu.au
A Cultural Liaison Champion, Monday to Friday, Ms Amii Brown
Email: amii.brown@twb.catholic.edu.au
Useful Wellbeing and Support Links for Students

Beyond Blue is one of Australia's best known mental health and wellbeing support organisation. They provide support programs to address issues related to depression, suicide, anxiety disorders and other related mental illnesses. Along with a comprehensive website, the beyond Blue Support Service provide 24/7 phone support, Chat online 1pm-12am / 7days a week, email support and a range of community chat forums 1300 22 4636 www.beyondblue.org.au

Kids Helpline is a free Australian telephone and online (webchat and email) counselling service for young people aged between 5 and 25. 1800 55 1800 https://kidshelpline.com.au

1300 MH CALL: Mental health access line
1300 MH CALL (1300 642255) is a confidential mental health telephone triage service that provides the first point of contact to public mental health services to Queenslanders. 1300 MH CALL is available 24 hours a day, 7 days a week and will link to the caller's nearest Queensland Public Mental Health service.
https://www.qld.gov.au/health/mental-health/help-lines/1300-mh-call
eheadspace provides free online and telephone support and counselling to young people 12 - 25 and their families and friends.
Call 1800 650 890, 9am-1am AEST / 7 days a week. https://headspace.org.au/eheadspace/
Student Reminders of College Guidelines and Expectations
Use of Mobile Phones and Earbuds
As per the guidelines outlined in the College Student Planner, students are not to use personal electronic devices (mobile phones or earbuds) at school, within the hours of 8.30am – 3.00pm, without permission from the Principal. Any device found switched on in the possession of a student while they are at school will be confiscated and the parent/carer will be contacted by the office. The electronic device can then be collected by the parent/carer at the end of the school day. The instruction is clear and Homeclass teachers spent a good deal of time ensuring this was clearly communicated during the start of year housekeeping session in Week 1. Students have all been asked to sign pages of the Guidelines in their Student learning Journals to indicate their compliance. These can be found on page 8, so please discuss these with your child. We trust that parents and carers are supporting the address of this matter from home, by encouraging our girls to comply with College Guidelines.
Out of Bounds Areas
The Student Learning Journal (diary) has a clear, colour-coded map of the College grounds, indicating areas which are out of bounds, as well as areas in which students must have adult supervision. I have given several reminders on Assembly to students and staff about this in recent weeks, so please review the Learning Journal to ensure compliance with this document.
Bullying (inclusive of cyberbullying)
There is no place for bullying at St Saviour's College. Bullying is a repeated pattern of behaviour which includes name-calling, taunting, mocking, making offensive comments, kicking, hitting, pushing, theft, inappropriate text messaging, sending offensive or degrading images by phone or internet, producing offensive graffiti, gossiping, excluding people from groups and spreading hurtful and untruthful rumours.
Cyberbullying is a repeated pattern of behaviour defined as 'the aggressive, intentional act carried out by a group or individual, using electronic forms of contact repeatedly and over time against a victim who cannot easily defend him or herself'. St Saviour's College is committed to promoting responsible and positive use of social media sites.
Summer Uniform
The uniform requirements are as follows:
White short-sleeved blouse with red piping

College striped skirt (*below the knee)

Red tie with College badge pinned in the centre

College white formal hat

Mid-calf, white socks

Black leather lace up shoes (no buckles, casual styles, raised heels or coloured stitching)
* It is important that students are conscious of their skirt length remaining below the knee. This may require letting down the hem, to allow for a growth in height.
What is not acceptable:
Makeup or other cosmetics

Earrings other than one, in each lower earlobe

Earrings other than one pair of plain sleepers or studs; no 'decorative' earrings

Earrings larger than 5mm

No other jewellery apart from a plain wristwatch

Coloured nail polish

Fake nails

Headbands with bows or any other detail

Unnatural hair colours or styles

Hair extensions

Black socks
"All laugh and pray together not one cold, stiff soul appears."
Catherine McAuley, circa 1830
For every day, I give thanks – God bless.
Heather Hagemann
Assistant Principal - Mission and Student Wellbeing
Library
Reminder
All resources are due back for Years 7 - 10. Please ensure you check what is out in your/your child's name through our Library Web App. All students should know how to access this, if they don't, please remind them to see Mrs King in the library.
Overdue resources will be charged.
New Resources
We have a variety of new resources that will be available for borrowing next year. So, visit the library in the first week or check out our first newsletter of next year to see our new resources.
In the meantime – check out our online catalogue for our eBooks – download and read on the go! Search as normal and look for the 'e' icon on the resource.
Keep Calm and Read ... over the Holidays
Interested in a Summer Reading Club????
Libraries are not only invested in supporting the development of early literacy skills of children from birth, they are also keen advocates of sustaining literacy and promoting the importance of recreational reading across all ages, particularly during the summer months.
The summer school holidays are a time for kicking back, catching up with friends, playing outside, and enjoying the freedom that comes with being young, having no responsibilities, and no homework for the summer!
All this free time can however result in a loss of learning gained during the school year, which is often referred to as the 'Summer Slide.'
The great news is basic skills are easy to maintain as your kids enjoy their free time! The Summer Reading Club inspires opportunities to keep your kids engaged all summer long by reading, playing, exploring and discovering which is what the research has identified as the antidote to this phenomenon.
The Summer Reading Club is a fun, free program delivered annually by the State Library of Queensland online and in public libraries and Indigenous Knowledge Centres across Queensland to encourage children to keep reading through the summer!
(State Library of Queensland, 2022. Retrieved from: https://summerreadingclub.slq.qld.gov.au/)
Check out the following link from the State Library of Queensland:
And another reminder that you can read online through our collection of eBooks in our catalogue – head to our Library online Web app (link in 1st section), do a search and look for the eBook filter on the left menu, tick it and see what is available for you to read online! Loan it just like a physical book. Check out what a mystery search looks like in the eBook collection below:
"Reading is to the mind what exercise is to the body and prayer is to the soul". Matthew Kelly
Stay safe and keep reading.
Andrea King
Teacher Librarian
Sport
Sport Uniforms
Please make sure your student has returned all sport uniforms to the sports office. These uniforms are required for next year. Netball dresses and rugby shorts are the main items that students seem to forget to return. Any questions or concerns about this matter should be addressed to Mr Greg Leathart in the Sports Office.
Futsal
Congratulations to the Futsal squad who have finished their season on a high, recording a number of wins in the Term 4 Glennie competition. The girls will be looking to improve as we move into the school titles in March next year. Exciting programs will be offered in 2023 for girls interested in futsal and soccer.
2023 Upcoming Events
Dates could change, more updates will be available early in 2023. If you require more information about any sport, please email at greg.leathart@twb.catholic.edu.au
St Saviour's College Sport History
The College is currently updating some of its trophies and history of past athletes and students as well as tracking down previous house winners of our major carnivals. Over the next few weeks more details will be published however in the interim, it would be wonderful if any past students had any information they would like to share which could shed light on some of our past sporting history. Please email greg.leathart@twb.catholic.edu.au if you have photos or records/programs or any general information you would be happy to share with us.
Greg Leathart
Middle Leader - Sport & Activities/HPE
From the Careers Centre
Tips for Parents
Generation Next has an article on How parents can help students in the senior years of school written by Andrew Fuller. The article states that parents have a vital role in helping students to:
Manage time

Manage energy

Manage stress

Manage to get everything in at the right time and in the right place.
This sounds like a big ask! However, the body of the article does suggest strategies to help parents achieve their role. Topics include:
Developing a system – time management planning

Dealing with meltdowns and catastrophic thinking

What to do when the system breaks down or when your child won't listen to you

How to deal with the build up to exams.
Finally, the article makes the point that Year 12 results aren't the end of the world. They don't determine a student's future success in life. Parents with a student in Year 11 or 12 may find this article of interest.
School-based Traineeship
Congratulations to Joelle Shindano (pictured below with Mrs Mary Tanous) who commenced her Certificate II in Community Pharmacy school-based traineeship at Morton and Coote Pharmacy.
Chris Grierson
Career Development Practitioner
Art Gallery Excursions
The Year 12 Art class and both Year 9 Art classes have recently visited the Toowoomba Regional Art Gallery in their double periods in Week 7. It was fantastic to see the works and have the Gallery staff point out some of the back stories of particular pieces in the collection, as well as explain why they display items the way they do and how curatorial choices change over time. A highlight was the tour of the Bolton reading room with students accessing important manuscripts from the 1600s. Many thanks to the gallery staff for welcoming us and making our visits so informative.
Joanne Stewart
Art Teacher
Queensland Gallery of Art Trip
On Saturday 5 November, a trip to the QLD Gallery of Art and Gallery of Modern Art was offered to the boarders. Students travelled with me to Brisbane and enjoyed visiting the exhibitions at both galleries at South Bank.
Students conducted themselves with impeccable manners and were a real credit to the College and their families. They really enjoyed seeing many works that were startling and thought provoking. Upon visiting the Indigenous collection at the Qld Gallery of Art, it was remarkable the number of personal connections students had with the artworks, as many were related to the artists. This impressed the gallery staff immensely.
Thanks to the support of McAuley House staff on allowing me to facilitate the trip. I was very proud to accompany the students who were fine representatives of the College in public.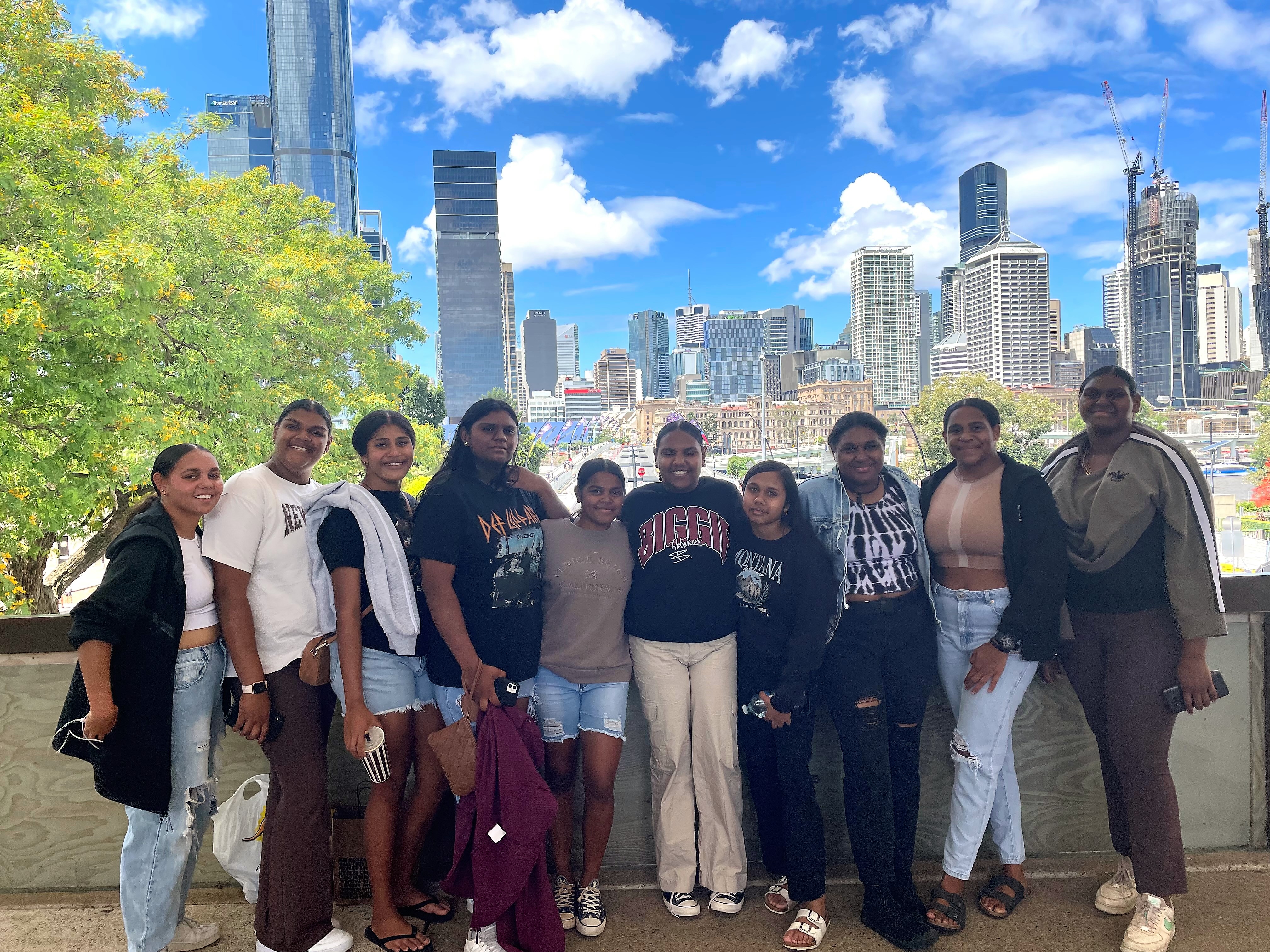 Joanne Stewart
Art Teacher