St Saviour's College Newsletter 2022 - Term 3 Week 10
Principal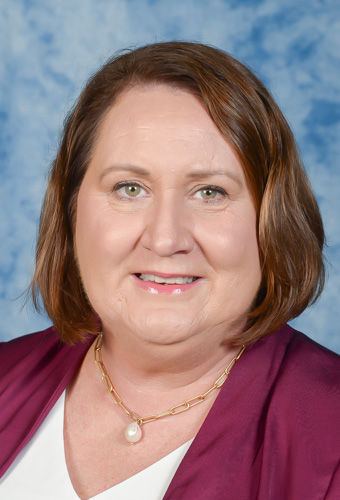 Class of 2022
This week, we celebrated our Valedictory Mass, Year 12 Awards Presentation and Valedictory Dinner. It was wonderful to honour our Class of 2022, who have demonstrated compassion, joy, efficacy and leadership, particularly during the last year.
Here is an excerpt from my address to the community gathered:
Last Friday, when I was at Alexandra Headlands on Year 12 Retreat, like all of us here, I woke to the news of the passing of her royal highness, Queen Elizabeth the second. Like most of us in this room, with the exception of a few of the grandparents present today, for my entire lifetime, Queen Elizabeth II has been our Commonwealth's figurehead. Irrespective of one's views around the relevance of monarchy for our country, there is no doubt that the late Queen has been an outstanding model for all and remained extremely relevant across the seven decades she has held the throne, particularly for female leaders. For this reason, I wish to leave our graduates with some key lessons we can take away from the life and legacy of Queen Elizabeth II; seven lessons in fact, one for each decade of influence.
Use your education, power and privilege for good…
Adapt to the murkiness of life…
Be of your times…
Retain your humour...
Be kind to animals and the elderly...
Be a person of faith...
Be an empowered woman in a changing world...
"Go – Do not be afraid – Serve." This was the timeless message given to the youth of the world from Pope Francis at Rio de Janeiro, on Copacabana Beach in 2013 at World Youth Day. This same message, I am sure would be proffered by the late Queen Elizabeth the second, were she here today. And the same message, I am doubly sure that would be extended by Venerable Catherine McAuley were she here today.
At our Awards presentation, it was wonderful to hear from Senior Education Leader from Toowoomba Catholic Schools Office, Ms Maryanne Walsh OAM, who spoke to our community about the importance of reflecting on being grateful for education, opportunities and for those we love. Maryanne challenged the graduands to be ever grateful and give thanks for the quality experience they have enjoyed during their time at St Saviour's College.
It was a great opportunity to recognise the many achievements of our Class of 2022, acknowledging their many successes in the the sporting, cultural, service and academic life of the College.
The Valedictory Dinner was a particular highlight. As expected, the girls looked stunning. It was a beautiful evening at Clifford Park Racecourse celebrating our finest.
Many thanks to the host of staff who were responsible for organising the multiple events and experiences. Special thanks to our Events Coordinator, Mrs Kathy McDonald and her team, for all their efforts in making this such a special time for our Year 12s. I am sure the girls and their families valued the collective effort that went into the ensuring that our young women were celebrated well.
We wish all the girls the very best leading into their final assessments next term, as they move into their external assessment in Week 4 of Term 4.
Farewells
Best wishes to Mrs Alyson Holmes who takes well deserved long service leave next term. Alyson will be replaced by Mrs Julieanne Rasmussen. Mrs Wendy Collins is also taking the first five weeks of Term 4 for long service leave. Wendy's Curriculum Leader's role will be assumed by Mrs Adele Sretenovic and Mr Wes Irwin will be assisting in covering additional classes. We wish Alyson and Wendy all the very best on their leave.
Blessings to all for a safe and happy holiday, enjoying much needed time with loved ones.
Sharon Collins
Principal
Deputy Principal - Curriculum
Interim Reports 7-11 Now Published
The interim unit report for Years 7-11 students gives a progress mark on several areas of College life including overall academic achievement, application, participation, completion of homework, readiness to learn and behaviour. The assessed fields and their meanings are outlined below:
Academic Progress in General Subjects:
At the end of the term, students have generally completed at least one assessment and thus, the interim report provides an indication of expected progress for the semester based on learning in Term 3. On the Interim Report, academic progress in subjects is measured on a five-point scale (A-E). No plus or minus grades (e.g. A+ or A-) are awarded. The academic grades refer to the following achievement standards:
A: Well-above expected
B: Above Expected
C: At Expected
D: Working towards the expected level
E: Very limited evidence of expected level
CA: Continuing assessment (assessment not yet completed)
NA: Not assessed
Reports in the Parent Portal
The College will make use of our Parent Portal to upload our reports. The reports may be accessed under "School Resources" option and also in the Newsfeed section.
Parent Teacher Interviews
Parent teacher interviews will be held on the first Boarders' Travel Day of Term 4 – Tuesday 4th October. These have opened for bookings via the parent portal and will close on the 2nd October. We strongly encourage all parents to meet with their child's teachers to discuss their progress. Students are encouraged to attend with their parents.
Requesting a Hard Copy of your Child's Report
If you would like to collect a 'hard copy' report, please contact the College by telephoning 4637 1600 or by email welcomestsav@twb.catholic.edu.au and we will have one printed and in the office for collection in the afternoon on Friday 7th October.
E-Write and Kloud9
As reward for excellent growth in Writing and as part of our Writing Improvement Strategy – 60 of our most improved writers went to Kloud9 on Thursday 15th September to test out their bounce.
The girls had a great fun day celebrating their growth and reaching for the sky.
Jessica Wade
Deputy Principal - Curriculum
Assistant Principal - Mission and Student Wellbeing
Year 12 Retreat
This fortnight we celebrated our graduating Year 12 students. I was joined on the Year 12 Retreat by College Principal, Ms Sharon Collins and our Chaplain, Ms Catherine Skuse. Without giving too much away, the girls had a wonderful culminating experience, commemorating their time with each other at St Saviour's College. I thank Ms Collins and Chappy Cath for their support across these three days in making this a time our Year 12s will remember for years to come.
Valedictory Mass and Year 12 Awards
Upon our return, we celebrated our Valedictory Mass and Year 12 Awards, coming together as a community to affirm, acknowledge and farewell our Year 12 students as they count down the days to saying farewell to St Saviour's College life. We welcomed our special guests, Ms Maryanne Walsh OAM – Senior Education Officer TCS, Fr Ray for presiding and Fr Nathan, accompanying our choir. Throughout the morning, we reflected on the year that has been, the events which encouraged growth in our young women, the opportunities that stretched and challenged us and the wonderful memories which brought joy and happiness to our lives.
Graduation marks a remarkable day in the chapter of a young person's life. It is not only the culmination of many years of study but is a coming-of-age; a moment when a person is no longer a child and is now a fully-fledged adult. Pope Francis said, "Education is not about knowing things or taking lessons but about being able to use three lingos: those of the head, the heart, and the hands ... learning so that you can think about what you feel and do, can feel what you think and do, and can do what you feel and think."
For our Year 12 departing students, there will be feelings of great pride, joy in their achievements. For the parents and care givers, there are probably mixed emotions. There may also be thoughts of the future and of their precious one spreading their wings, leaving the nest and forging a future of their own.
From the Religion classroom
With assessment complete, our Year 8A Religion class spent some time this last week writing prayers for the Homeclasses and for our Religion class prayer jar. One of the lovely things about this activity is the compassionate manner in which students engage in this. One of the special prayers written for Coolock 1/2 is as follows:
God,
I pray for healing and comfort
For anyone dealing with heartache.
I pray that they find refuge in You in the midst of their pain.
May You continue to give them the strength to keep going;
to push through these dark moments and know
You are with them every step of the way.
Amen.
Student Wellbeing and Engagement
Always Making the Right Choices
At St Saviour's College we acknowledge that students are under increasing pressure to navigate complex social situations both online and in person. Student safety is of the utmost priority for all Toowoomba Catholic Schools; therefore, it is paramount that our students receive clear guidance and support in this area.
Toowoomba Lawyer Adair Donaldson will be attending St Saviour's College on Thursday 20 October at 1.15pm, to speak to Year 10 and Year 11 students about such issues as disrespectful behaviour, unsafe partying, use of illicit drugs, mobile phone use, consent, mandatory reporting, sexual harassment and discrimination.
Mr Donaldson has extensive experience regarding these issues through his work as a lawyer. He is passionate about educating young people to build awareness, insight and increased safety. Mr Donaldson has successfully delivered this education to schools and other organisations, including sporting organisations, for over a decade.
Outcome
This training is designed to build student self-protective capacity and awareness. College Staff will receive separate education from Mr Donaldson on the same day.
Student Session at St Saviour's College
Student sessions will be approximately 1 hour and 50 minutes in length.

There will be opportunity for interactive discussion and question-time.

Attending students will read and sign the participation agreement. We encourage parents to discuss this with your child ahead in preparation for the session. The purpose of this agreement is to ensure that everyone engages in respectful communication during the presentation and that students are aware that they can excuse themselves from the presentation at any time should they become uncomfortable with the subject matter. These students will report to Student Services for time out.

No transport is required for this activity.

There is no cost associated with this activity.

Sessions will be attended and supervised by the College Pastoral Staff.

Alternative arrangements and teacher supervision will be provided for non-attending students.
An email will be sent out to parents/carers to complete and return to the College by Monday 10 October.
Parent Session at St Mary's College
In order to provide parents with advice about how to reinforce the safety messages at home, a parent session will be provided at St Mary's College – Edmund Rice Cultural Centre at 5:30pm on 20 October 2022. All parents are invited to attend this session. No registration is required.
Young Mentors: eSafety
The eSafety Commissioner has launched a new program that aims to improve older Australians' digital skills by connecting them with student mentors.
The intergenerational Young Mentors program brings teenagers together with older Australians to share digital skills and knowledge and help them gain the confidence they need to navigate the online world. The eSafety Commissioner is requesting schools, libraries, councils, aged residential care facilities and other community groups to consider involvement in the program. This opportunity may be of particular interest to:
School coordinators looking for a service in community, volunteering awards, work experience or leadership program for their students

School community service program coordinators

School Information Communication Technology (ICT) or Digital Technologies (DT) lead looking for a program that ties in with an ICT or DT elective

Coordinator looking for a program for their students to undertake in the Service section of the Duke of Edinburgh Award. CSAs are reminded of funding assistance for the Duke of Edinburgh's International Award.
Parent Engagement
The Daniel Morcombe Foundation Website
Visit https://danielmorcombe.com.au/safe-bedrooms/ to access this helpful and informative resource for parents and carers and their children and teens. Safe Bedrooms is a suite of resources which equips parents and carers with the tools to lock predators out. Online grooming can happen to any child. However, 97% of Australian parents and carers hadn't previously considered online grooming a threat. Safe Bedrooms provides information for parents and carers on how to recognise, react and report online grooming. Through the series of videos and resources, parents and carers can learn about the warning signs of online grooming, how to protect their children and what to do if they are concerned about a child. By becoming informed, parents and carers can keep their children safe online.
Behaviour Support
The College also employs a best practice model of engaging with families and to provide a restorative approach to conflict within the community. Our College Pastoral Program embeds the PERMAH approach to wellbeing, with a Catholic lens of our Core Values. Our Wellbeing team actively encourages:
Partnerships with other schools (St Mary's College, St Saviour's Primary School. Our Mercy partner schools and other Toowoomba Diocesan and Catholic Colleges).

Family Engagement by invitation to our regular College events, our fortnightly newsletter, social media platforms (check out our Facebook and Instagram pages!)

Strong community ties with local support and social justice agencies such as Toowoomba Transition Support Services, St Vincent de Paul, Protea Place, St Patrick's Parish.

Intervention and Postvention strategies on campus for identification and referral for students who may need support, across all year levels.

A supportive Wellbeing Team, trained and with experience in restorative practices and mental health and wellbeing, consisting of:
Assistant Principal: Mission and Student Wellbeing, Mrs Heather Hagemann
Email: heather.hagemann@twb.catholic.edu.au
Middle Leader Student Wellbeing, Mrs Juanita Doherty
Email: juanita.doherty@twb.catholic.edu.au
Middle Leader Student Wellbeing Support, Mrs Megan Schulze
Email: megan.schulze@twb.catholic.edu.au
A fulltime Psychologist in the role of College Counsellor, Ms Renee Hunter
Email: renee.hunter@twb.catholic.edu.au
A College Chaplain, Wednesday to Friday, Ms Catherine Skuse
Email: catherine.skuse@twb.catholic.edu.au
A Cultural Liaison Champion, Monday to Friday, Ms Amii Brown
Email: amii.brown@twb.catholic.edu.au
Useful Wellbeing and Support Links for Students

Beyond Blue is one of Australia's best known mental health and wellbeing support organisation. They provide support programs to address issues related to depression, suicide, anxiety disorders and other related mental illnesses. Along with a comprehensive website, the beyond Blue Support Service provide 24/7 phone support, Chat online 1pm-12am / 7days a week, email support and a range of community chat forums 1300 22 4636 www.beyondblue.org.au

Kids Helpline is a free Australian telephone and online (webchat and email) counselling service for young people aged between 5 and 25. 1800 55 1800 https://kidshelpline.com.au

1300 MH CALL: Mental health access line
1300 MH CALL (1300 642255) is a confidential mental health telephone triage service that provides the first point of contact to public mental health services to Queenslanders. 1300 MH CALL is available 24 hours a day, 7 days a week and will link to the caller's nearest Queensland Public Mental Health service.
https://www.qld.gov.au/health/mental-health/help-lines/1300-mh-call
eheadspace provides free online and telephone support and counselling to young people 12 - 25 and their families and friends.
Call 1800 650 890, 9am-1am AEST / 7 days a week. https://headspace.org.au/eheadspace/
Student Reminders of College Guidelines and Expectations
Use of Mobile Phones and Earbuds
As per the guidelines outlined in the College Student Planner, students are not to use personal electronic devices (mobile phones or earbuds) at school, within the hours of 8.30am – 3.00pm, without permission from the Principal. Any device found switched on in the possession of a student while they are at school will be confiscated and the parent/carer will be contacted by the office. The electronic device can then be collected by the parent/carer at the end of the school day. The instruction is clear and Homeclass teachers spent a good deal of time ensuring this was clearly communicated during the start of year housekeeping session in Week 1. Students have all been asked to sign pages of the Guidelines in their Student learning Journals to indicate their compliance. These can be found on page 8, so please discuss these with your child. We trust that parents and carers are supporting the address of this matter from home, by encouraging our girls to comply with College Guidelines.
Out of Bounds Areas
The Student Learning Journal (diary) has a clear, colour-coded map of the College grounds, indicating areas which are out of bounds, as well as areas in which students must have adult supervision. I have given several reminders on Assembly to students and staff about this in recent weeks, so please review the Learning Journal to ensure compliance with this document.
Bullying (inclusive of cyberbullying)
There is no place for bullying at St Saviour's College. Bullying is a repeated pattern of behaviour which includes name-calling, taunting, mocking, making offensive comments, kicking, hitting, pushing, theft, inappropriate text messaging, sending offensive or degrading images by phone or internet, producing offensive graffiti, gossiping, excluding people from groups and spreading hurtful and untruthful rumours.
Cyberbullying is a repeated pattern of behaviour defined as 'the aggressive, intentional act carried out by a group or individual, using electronic forms of contact repeatedly and over time against a victim who cannot easily defend him or herself'. St Saviour's College is committed to promoting responsible and positive use of social media sites.
Summer Uniform
The uniform requirements are as follows:
White short-sleeved blouse with red piping

College striped skirt (*below the knee)

Red tie with College badge pinned in the centre

College white formal hat

Mid-calf, white socks

Black leather lace up shoes (no buckles, casual styles, raised heels or coloured stitching)
* It is important that students are conscious of their skirt length remaining below the knee. This may require letting down the hem, to allow for a growth in height.
What is not acceptable:
Makeup or other cosmetics

Earrings other than one, in each lower earlobe

Earrings other than one pair of plain sleepers or studs; no 'decorative' earrings

Earrings larger than 5mm

No other jewellery apart from a plain wristwatch

Coloured nail polish

Fake nails

Headbands with bows or any other detail

Unnatural hair colours or styles

Hair extensions

Black socks
"All laugh and pray together not one cold, stiff soul appears."
Catherine McAuley, circa 1830
For every day, I give thanks – God bless.
Heather Hagemann
Assistant Principal - Mission and Student Wellbeing
Library
Welcome
Final newsletter for the term, hard to believe it is Term 4 in a couple of weeks. This gets to the 'pointy end' for the library where resources start being recalled, and end of year auditing begins. Please ensure all resources are returned by the due dates. There will be no borrowing for Christmas so get your holiday borrowing in over the September break. Such a busy term for the library for 'all things books' and such a fantastic time with all our events.
What's Happening in the Library?
Book Week
Winners!
Dress Up Costume Winners
Dress Up Honourable Mention
Book Week Quiz - 3rd Place
Book Week Quiz - 2nd Place
Book Week Quiz 2022 WINNERS!
New Resources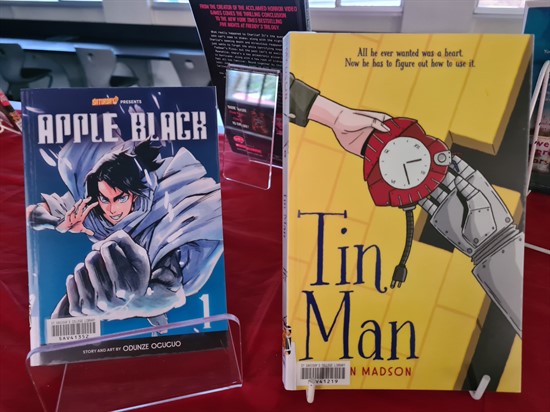 Reading Over the Holiday Break
Reading requires practice, just like any sport/music activity, to get better you must do continuous work with it. So, if there is a break in reading for extended periods then the journey of improvement can stagnate or go backwards. Therefore, it is important to continue reading practices over the holidays. Even with distractions of other events, friends, travel and so forth there must be time made for reading.
Students can borrow books over every holiday break, except for Christmas, so loan a book or two and keep that practice going over the break.
Create a holiday tradition of reading – pick a fun book and make it a family experience.

Don't overdo it – short periods of time reading will suffice. It doesn't have to be long blocks of time.

Reading can help you discover yourself – find connections with characters through emotions, experiences and even events.

Reading can provide lessons that are valuable to life learning.

Reading will improve focus and concentration.

Reading improves your emotional health.

Memory can improve with reading.

Expand your knowledge by reading, it will also enhance your creativity and broaden your imagination.
Date Claimers:
October 8: Love Your Bookshop Day (and what better bookshop than your school library!)
"The reading of all good books is like conversation with the finest (people) of the past centuries." - Descartes

Andrea King
Teacher Librarian
Visual Art
Year 9-10
You have probably been wondering what we've been up to in Visual Art. It has been flat chat with both Year 9-10 Art classes since their artist workshop with Simone Eisler in Week 2. Students have been making sculptures that respond to nature. To that end they've investigated and made ephemeral installations and have been ornamenting their molded plaster forms from the workshop with all sorts of seed pods, feathers, copper and silver, twine, fish scales and other natural materials.
We will hold an exhibition of these works in the Art Courtyard in the first two weeks of Term 4
We invite you to come and see, hold and encounter these
sculptures the students have worked so hard on.
It will be our own belated Carnival of Flowers festival!
Year 11 and 12
Year 11 and 12 students have worked so hard this term on their IA3s. We have had:
macro paintings made of brightly coloured straws commenting on the complexity of feminine ideals of beauty

conceptual works of flowers under lights being burnt and charred while filmed to create a modern 'Memento mori'

meditative labyrinths made on both a huge and tiny scale documented in time lapse

wearable jacaranda dresses sashaying through the art courtyard

Apple monitor screens etched into and drypoint printed from with a recontextualized Da Vinci Vitruvian Man

a spinning vinyl record installation painted with literally two sides of the climate change debate - with B side of decaying tree and an A side of a cherry blossom!
They have been inspiring with their conceptual depth and should be proud of their efforts.
Modern History
The senior Modern History class had a visit from Dennis Smith and Graham Rosengreen to share their experiences from the Vietnam War as part of our unit on Australia's engagement with Asia. The class were able to hear first-hand stories about life during the time, both in Vietnam and back home in Australia. The girls really enjoyed being able to ask questions from real-life primary sources! Thank you to Dennis and Graham for generously giving up your time to share with us about your service in the army and navy.
From the Careers Centre
Open Days and Information Sessions
ADF | Army Careers Virtual Information Session: Thursday 8 September 2022, 6.00pm – 7.30pm (Online). Optimise your potential and consider a career that will transform you into a fit, capable, confident and resourceful member of the Australian Regular Army. Discover whether an Army career is your kind of challenge at the upcoming virtual info session.
Find out more: https://www.defencejobs.gov.au/events/events-detail/9nm2vg7
ACU | Talk with Exercise Scientists and Physiotherapists: Wednesday 19 October 2022, 6.00pm – 7.00pm (Online). A career in sport and exercise science will allow you to help people achieve peak performance and optimal health and wellbeing. Hear from ACU alumni about their experiences working as exercise scientists and clinical exercise physiologists.
Find out more: https://www.acu.edu.au/about-acu/events/2022/october/talk-with-exercise-scientists-and-physiotherapists
Traineeship
Congratulations to Hannah Schubert (pictured with Andrea Campbell and Katy Mason) who commenced her Certificate III in Early Childhood Education and Care school-based traineeship at Eastwood Early Education Centre. Well done, Hannah.
Scholarships
UQ Sports Achievement Scholarships
Value: Varies. Open/Closing Dates: 2 August 2022 – 31 October 2022. Encourages and supports outstanding new and continuing students who have demonstrated exceptional ability in their chosen sport. Find out more
UQ Link Scholarship
Value: $3,000 AUD per year. Open/Closing Dates: 2 August 2022 – 9 December 2022. Find out more
UniSQ Chancellor's Excellence Scholarship
Value: Up to $29,000 AUD. Open/Closing Dates: 2 August 2022 – 19 January 2023. Find out more
Elevate: Boosting Women in STEM Scholarships
Value: Up to $82,000 AUD. Open/Closing Dates: 29 July 2022 – 30 September 2022. In addition to providing financial support, the program aims to address gender inequities in STEM through fostering more women-led industry-academia collaborations in applied research and business, growing professional skills of women in STEM and by propelling women into leadership. Find out more
TAFE Queensland Scholarships
Value: Up to $5,000 AUD. Open/Closing Dates: 4 July 2022 – 30 September 2022. Access and equity scholarships provide equitable access to study at TAFE Queensland. Find out more
2022 ACMF National Songwriting Competition: Entry is free for students from Years K-12. Winners receive prizemoney which can be allocated towards musical equipment or tuition. Entries for the competition close on 22 September 2022. Find out more and enter here: http://acmf.com.au/national-songwriting-competition/
Chris Grierson
Career Development Practitioner