St Saviour's College Newsletter 2022 - Term 3 Week 2
Principal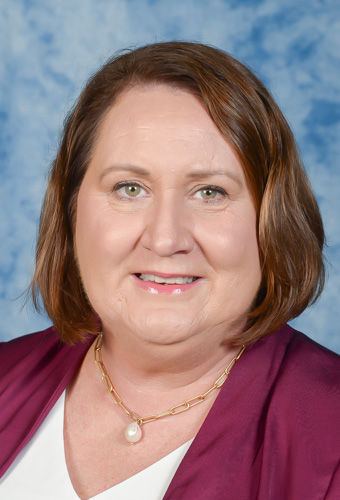 Catholic Education Week
This week, we celebrate Catholic Education Week (CEW). CEW has been celebrated across Queensland for the past two decades. It is a valuable opportunity for all 309 Catholic schools in Queensland to celebrate and promote their distinctive mission and ethos. This year's celebration is particularly significant for the Toowoomba Diocese, given that we will be hosting the state-wide launch and awards ceremony on Tuesday 26 July which will welcome dignitaries from across the state and country for this auspicious event.

The theme of this year's CEW is 'Communities of faith, hope, and love'. For me, one of the hallmarks of a Catholic education is the invitation for members of these communities to be personally called to faith. Increasingly, while many families of students attending Catholic schools do not identify as Catholic, there is a genuineness in the reasons as to why they enrol their children into our Catholic schools. While members of these families may not have a personal faith as such, they opt in because they 'want a bit of what we have'.
In my experience, as a teacher of Religion, Assistant Principal Religious Education and Principal across the past 25 years, I rarely have had 'kick back' in relation to questions and conversations around faith. In fact, young people enjoy and embrace the dialogue. They are open to listening about people's faith journeys and respectfully reflect on these experiences, rarely shunning or deriding what a lived faith means to an individual. In fact, I genuinely believe that the young people in our Catholic schools find great comfort being immersed in communities of faith. This outward expression of faith almost gives unashamed permission for young people in our Catholic school communities to be people of hope and love.
The authenticity of our teachers is pivotal to the success of our Catholic schools. Our teachers most certainly are faces of faith, hope and love to the young people in our communities. Pope Francis recently stated that Christian teachers are "on the front line" in "educating so as to move from a closed world to an open world; from a throwaway culture to a culture of care; from a culture of rejection to a culture of integration; from the pursuit of vested interests to the pursuit of the common good."
Jesus himself was an outstanding teacher, drawing on the lived experience of the people of his time to give rise to a transformative message that sought to promote common good. In the same vein, teachers of today are called to draw on the complexities of the current context of our world to make sense of and give rise to this same transformative message for our young people in the 21st century. This is no mean feat, yet we have so many incredibly talented and expert teachers who turn up – day in, day out – and do just that!
So, in a time where there is a teacher shortage, almost at crisis point, we pray that others take up the challenge to lend their professional lives in pursuit of the common good, through the noblest of professions – the education of our young people. There is no greater reward than to be, like Jesus, a teacher who animates of faith, hope and love to those who are yearning for it.
Grandparents Mass and Awards Presentation
This Thursday, as a part of our Catholic Education Week celebrations, we will be hosting Mass for our Grandparents in the Callaghan Centre at 8.45am. As a part of this celebration, we will be acknowledging our Semester 1 Academic Excellence Award recipients and announcing our Spirit of Catholic Education Awards. We are overwhelmed by the response of grandparents, parents and families who will be in attendance. Consequently, it is requested that you wear masks as a safety measure. A morning tea, celebrating our grandparents and our award winners, will take place after the formalities. I look forward to seeing many of you at this very special event.
Bishop's Inservice Day
Bishop's Inservice Day is an annual event that occurs as a part of the Toowoomba Diocesan Catholic Education Week celebrations. This year, St Saviour's College was to play host to over 900 employees of the Toowoomba Catholic Schools Office and diocesan schools. Sadly, given the current omicron wave sweeping through, it has been decided that this event will run virtually. Fortunately, much of the groundwork is not in vain and will be included as a part of the celebrations. The day remains a pupil free day for all students, this Friday 29 July.
Musical
We are so looking forward to our College Musical, taking place on Friday 5 and Saturday 6 August. Our staff and students have been working extremely hard and I am most confident that the final product will be nothing short of exceptional. Please purchase tickets and support this great event by clicking on the link.
NAIDOC Week
Many thanks to our students for their engagement in the NAIDOC week activities that took place in Week 1. First Nations Year 11 students, Holly Anderson and Kiara McMahon, were fortunate to take part in the Toowoomba Catholic Schools First Nations Leadership Camp at Peacehaven Park. In addition, myself and a group of boarders were warmly welcomed to the annual NAIDOC week dinner at St Mary's College, which was a wonderful night of story, dance and celebration.
Thanks also to the staff who led NAIDOC activities in our Friday afternoon activities. What a great time to recognise and celebrate our first nations peoples and culture, which encourages us all to Get up! Stand up! Show up!
Have a wonderful term and blessings for the weeks to come.
Happy Catholic Education Week!
Sharon Collins
Principal
Deputy Principal - Curriculum
The beginning of Term 3 can only ever mean one thing in my job and that's - Subject Selections. It's an exciting time for students as they imagine their future selves and carve out the path that will take them there. Like never before, we are seeing rich and diverse pathways for all students. It is so life-giving to see each student map out an authentic pathway to success - a pathway that is meaningful and hope-filled for them.
Year 10 into 11 Subject Selection Night
On Monday evening we hosted our Year 10 into 11 Subject Selection Evening. Thank you to all those parents and students and teachers who attended. The evening mapped out the difference between general, applied and certificate courses in senior and touched upon other options like school-based apprenticeships, traineeships, Tafe in Schools and the USQ Headstart options.
Students in Year 10 will be sent the online form and I encourage all families to enter into this subject discernment process together, considering strengths, passions and future goals.
Year 10 UQ and QUT Excursion
On Friday 15 July, Year 10 students from Mrs Wade's class embarked on a trip to both UQ and QUT to explore both Humanities (through the Law Faculty) and STEM options at both universities. It was particularly interesting that our hosts at both universities were scholarship students – highlighting the importance of exploring the scholarship opportunities that all universities offer.
Year 9 and 10 Subject Selections
Year 9 and 10s have received their Subject Selection booklets to begin considering their subjects for Years 9 and 10. This is the first step for students in carving out their middle years pathway. As always, we emphasis for students to select subjects that appeal and are commensurate with:
Their interests and passions

Their strengths

Their future pathways
EEPP
Year 12 students are reminded that External Examination Preparation Program registrations are now open. Students can opt into as many or as few subjects as they wish. By completing the EEPP Registration form you are securing your place. Please make sure that you select the subject or subjects you wish to attend.
Jessica Wade
Deputy Principal - Curriculum
Assistant Principal - Mission and Student Wellbeing
Faith and Mission
It is already Week 3 and the term has started off as a busy one! We are at the beginning of our Catholic Education Week celebrations for 2022. With this year's theme being "Communities of Faith, Hope and Love", I cannot think of a more life-giving and joyous theme to celebrate! Catholic Education Week is such a lovely opportunity to celebrate and enhance the reality of Catholic identity, to dialogue with the Catholic faith tradition and the world in which we live, to interpret and proclaim the good news. This has certainly been the cause for celebration with my Year 8 Religion class who were most excited to devote some of their time wool wrapping the fences at the offices of the Toowoomba Catholic Schools. The girls spread their woollen interpretaions of faith, hope and love as you can see from the images below.
NAIDOC Week 2022
NAIDOC Week celebrations at the start of this first fortnight caused us all to Get Up! Stand Up! Show Up! and marked our first week's Funday Friday activities. This year's theme encourages all of us to champion institutional, structural, collaborative and cooperative change while celebrating those who have already driven and led change for First Nations communities. Our prayer for this fortnight's newsletter celebrates the history and connection to our First Nations' People:
Creator Spirit,
All creation once declared your glory,
Your laws were honoured and trusted,
forgive us our neglect.
Listen to our prayer as we turn to you,
hear the cry of our land and its people,
just as you heard the cry of Jesus, your Son, on the Cross.
Help us to replace our national shame
with true national pride by restoring the dignity of our First Peoples.
May our faith empower us to work for justice.
Only then will our nation grow strong and be a worthy place for all
who wish to make their home in our land.
Amen.
Our Mercy girls, especially those from remote Indigenous communities, were enthusiastic to share their artistic talent for face painting and creating dot dolls, in Dublin Place.
Term 3 Focus Youth Ministry – St Vincent de Paul
We continue our community support with this term's Mission focus – the St Vincent de Paul's Winter Appeal. This has been a long-standing tradition at St Saviour's College to collect warm winter woollies and non-perishable food supplies for Vinnies with the help of Youth Development Coordinators, Julie Inskip and Rachelle. It is also important to increase the awareness of the plight of those experiencing homelessness across our country, within our mercy community.
We acknowledge and appreciate the special privilege we have as sisters of Mercy to see a need and make a positive difference in the lives of others who need assistance, living here in our local community. The Mercy Charism of our foundress, Catherine McAuley, inspires us as empowered women to see a need and respond. It is our hope, in partnership with St Vincent de Paul Society, that this winter we can continue to assist those living in the margins.
We see Jesus in the most marginalised people and take a vow of service to perform works of Mercy that alleviate suffering. At St Saviour's College, we recognise that Catherine sought to follow Jesus' example in all that we do. In the same way that St Vincent de Paul Society look to Frederick Ozanam, the founder of Vinnies to give hope to the hopeless.
Our lives as the students of a Sisters of Mercy College must be focused on responding to unmet needs, through direct service as well as seeking ways to change unjust systems. The Youth Ministry team is looking forward to hosting a range of activities throughout the term that will inspire compassionate responses to the most basic of needs and give hope to the hopeless through the donation of items such as a blankets, scarves, socks and monetary donations, that will assist St Vincent de Paul Society to continue its ministry here in Toowoomba. Students can leave donations at Student Services, at the donations table. Homeclasses also have collection boxes in their Homeclass rooms.

From the Religion Classroom
This week on Wednesday, our Year 11s had an educational day off campus attending the World Religion Symposium at UQ. This annual event provided girls with the experience of a lifetime, as the Professors, Lecturers and Researchers of the Arts Faculty shared their knowledge and wisdom of Religion, its History, achievements, advances and conflicts, through participating in a choice of six workshops. Big thanks to Adele and Chappy Cath for joining us! We sincerely thank Mrs Wade for always promoting exciting and meaningful curriculum enhancement opportunities for our Mercy Girls, and to Ms Collins for supporting a diverse and rich culture of learning at the College.
Student Wellbeing
Parent Engagement
The Daniel Morcombe Foundation Website
Visit https://danielmorcombe.com.au/safe-bedrooms/ to access this helpful and informative resource for parents and carers and their children and teens. Safe Bedrooms is a suite of resources which equips parents and carers with the tools to lock predators out. Online grooming can happen to any child. However, 97% of Australian parents and carers hadn't previously considered online grooming a threat. Safe Bedrooms provides information for parents and carers on how to recognise, react and report online grooming. Through the series of videos and resources, parents and carers can learn about the warning signs of online grooming, how to protect their children and what to do if they are concerned about a child. By becoming informed, parents and carers can keep their children safe online.
Behaviour Support
The College also employs a best practice model of engaging with families and to provide a restorative approach to conflict within the community. Our College Pastoral Program embeds the PERMAH approach to wellbeing, with a Catholic lens of our Core Values. Our Wellbeing team actively encourages:
Partnerships with other schools (St Mary's College, St Saviour's Primary School. Our Mercy partner schools and other Toowoomba Diocesan and Catholic Colleges).

Family Engagement by invitation to our regular College events, our fortnightly newsletter, social media platforms (check out our Facebook and Instagram pages!)

Strong community ties with local support and social justice agencies such as Toowoomba Transition Support Services, St Vincent de Paul, Protea Place, St Patrick's Parish.

Intervention and Postvention strategies on campus for identification and referral for students who may need support, across all year levels.

A supportive Wellbeing Team, trained and with experience in restorative practices and mental health and wellbeing, consisting of:
Assistant Principal: Mission and Student Wellbeing, Mrs Heather Hagemann
Email: heather.hagemann@twb.catholic.edu.au
Middle Leader Student Wellbeing, Mrs Juanita Doherty
Email: juanita.doherty@twb.catholic.edu.au
Middle Leader Student Wellbeing Support, Mrs Megan Schulze
Email: megan.schulze@twb.catholic.edu.au
A fulltime Psychologist in the role of College Counsellor, Ms Renee Hunter
Email: renee.hunter@twb.catholic.edu.au
A College Chaplain, Wednesday to Friday, Ms Catherine Skuse
Email: catherine.skuse@twb.catholic.edu.au
A Cultural Liaison Champion, Monday to Friday, Ms Amii Brown
Email: amii.brown@twb.catholic.edu.au
Useful Wellbeing and Support Links for Students

Beyond Blue is one of Australia's best known mental health and wellbeing support organisation. They provide support programs to address issues related to depression, suicide, anxiety disorders and other related mental illnesses. Along with a comprehensive website, the beyond Blue Support Service provide 24/7 phone support, Chat online 1pm-12am / 7days a week, email support and a range of community chat forums 1300 22 4636 www.beyondblue.org.au

Kids Helpline is a free Australian telephone and online (webchat and email) counselling service for young people aged between 5 and 25. 1800 55 1800 https://kidshelpline.com.au

1300 MH CALL: Mental health access line
1300 MH CALL (1300 642255) is a confidential mental health telephone triage service that provides the first point of contact to public mental health services to Queenslanders. 1300 MH CALL is available 24 hours a day, 7 days a week and will link to the caller's nearest Queensland Public Mental Health service.
https://www.qld.gov.au/health/mental-health/help-lines/1300-mh-call
eheadspace provides free online and telephone support and counselling to young people 12 - 25 and their families and friends.
Call 1800 650 890, 9am-1am AEST / 7 days a week. https://headspace.org.au/eheadspace/
Student Reminders of College Guidelines and Expectations
Use of Mobile Phones and Earbuds
As per the guidelines outlined in the College Student Planner, students are not to use personal electronic devices (mobile phones or earbuds) at school, within the hours of 8.30am – 3.00pm, without permission from the Principal. Any device found switched on in the possession of a student while they are at school will be confiscated and the parent/carer will be contacted by the office. The electronic device can then be collected by the parent/carer at the end of the school day. The instruction is clear and Homeclass teachers spent a good deal of time ensuring this was clearly communicated during the start of year Housekeeping session in Week 1. Students have all been asked to sign pages of the Guidelines in their Student learning Journals to indicate their compliance. These can be found on page 8, so please discuss these with your child. We trust that parents and carers are supporting the address of this matter from home, by encouraging our girls to comply with College Guidelines.
Out of Bounds Areas
The Student Learning Journal (diary) has a clear, colour-coded map of the College grounds, indicating areas which are out of bounds, as well as areas in which students must have adult supervision. I have given several reminders on Assembly to students and staff about this in recent weeks, so please review the Learning Journal to ensure compliance with this document.
Bullying (inclusive of cyberbullying)
There is no place for bullying at St Saviour's College. Bullying is a repeated pattern of behaviour which includes name-calling, taunting, mocking, making offensive comments, kicking, hitting, pushing, theft, inappropriate text messaging, sending offensive or degrading images by phone or internet, producing offensive graffiti, gossiping, excluding people from groups and spreading hurtful and untruthful rumours.
Cyberbullying is a repeated pattern of behaviour defined as 'the aggressive, intentional act carried out by a group or individual, using electronic forms of contact repeatedly and over time against a victim who cannot easily defend him or herself'. St Saviour's College is committed to promoting responsible and positive use of social media sites.
Winter Uniform
The uniform requirements are as follows:
White long-sleeved blouse with red piping

College striped skirt (*below the knee)

Red tie with College badge pinned in the centre

College green blazer (optional)

College white formal hat

Black stockings (opaque)

Black leather lace up shoes (no buckles, casual styles, raised heels or coloured stitching)
* It is important that students are conscious of their skirt length remaining below the knee. This may require letting down the hem, to allow for a growth in height.
What is not acceptable:
Makeup or other cosmetics

Earrings other than one, in each lower earlobe

Earrings other than one pair of plain sleepers or studs; no 'decorative' earrings

Earrings larger than 5mm

No other jewellery apart from a plain wristwatch

Coloured nail polish

Fake nails

Headbands with bows or any other detail

Unnatural hair colours or styles

Hair extensions

Black socks
"All laugh and pray together not one cold, stiff soul appears."
Catherine McAuley, circa 1830
For every day, I give thanks – God bless.
Heather Hagemann
Assistant Principal - Mission and Student Wellbeing
Year 9/10 Visual Arts
The two Year 9/10 Visual Arts classes recently enjoyed a day of workshops each with Artist Simone Eisler. Simone has exhibited all over the world and has many public art commissions in major Australian cities. We enjoyed a day of plaster casting natural forms and will continue to ornament them for an exhibition in the art courtyard later this term.
Students enjoyed developing new skills and hearing of the varied work Simone has created all over the world as a full-time artist. It was very inspiring to hear of her influences, motivations and experiences.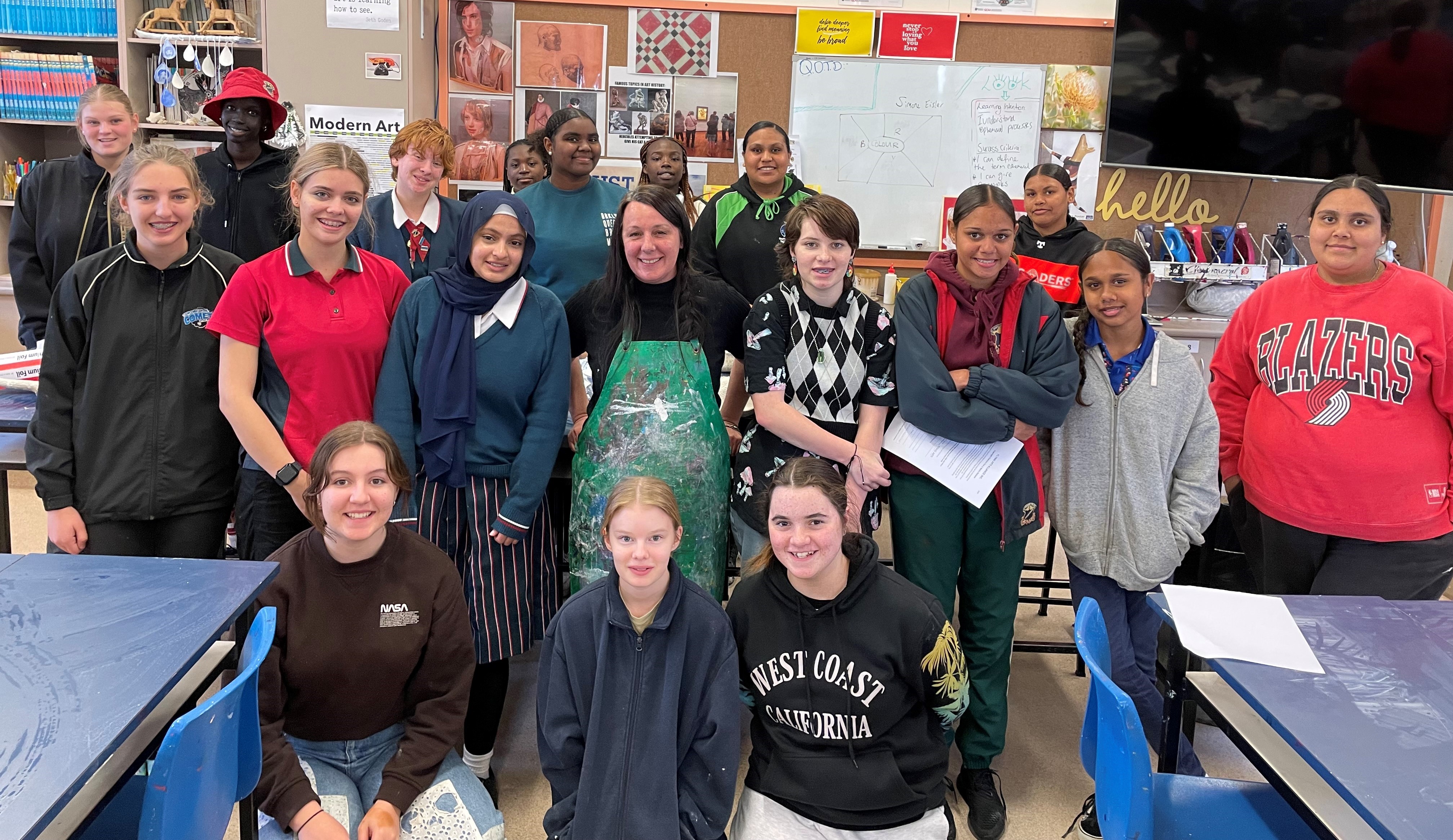 College Musical
TOOWOOMBA, 5th - 6th AUGUST 2022 – Nasty will be nice, and Toowoomba will be over-the-moon when St Saviour's College and St Mary's College students present their musical production on the 5th and 6th August.
This unique story of discovery encourages each of us to examine our prejudices, review what we believe to be our limitations and work to better understand ourselves and others. The actors and crew in this production have embarked on a similar journey, as students and teachers with many different interests have learned more about themselves and each other while collaborating towards the common goal of presenting this musical.
Leading male, Caleb Allen from St Mary's College Toowoomba states, "The best part about doing a school musical is that you get to try new things and meet new people every musical you do".
Leading female, Esther-Leigh Watts from St Saviour's College Toowoomba states, "I would say the best part of doing a school musical is seeing the amount of talent in our schools and forming life-long bonds with the cast and crew ."
St Saviour's College Toowoomba will present their musical on August 5th and 6th at 7pm at the Callaghan Centre, St Saviour's College, corner of Perth and Neil Streets Toowoomba, featuring special guest cast members from St Mary's College Toowoomba. Tickets are $25 and may be purchased by clicking on the link below:
For more information, please contact Director and Producer, Mrs Jenni Potter Jennifer.potter@twb.catholic.edu.au.
Library
Welcome
It is hard to believe that Term 3 is already upon us. This term is a busy school term and that doesn't exclude the library. Our culminating celebration of Book Week is always a big week and everything we do beforehand leads us to this celebration of literature. Along with Book Week, we have Library & Information Week and we are looking at celebrating Harry Potter's Birthday for the first time. This will be a very busy but fulfilling term and here in the library we are anticipating a great response to all the activities and competitions we will be running through the term.
What's Happening in the Library?
Library and Information Week
The theme for 2022 is Renew. Renew. Reimagine.
The act of rewriting stories has been an essential part of expanding and varying our point of view, reimagining or re-evaluating the past and envisioning alternative futures. At its most powerful, rewriting, or reweaving narratives can give light and voice to figures whose perspectives are yet to be told.
Library and Information Week provides the community with the opportunity to do something every day of the week:
Monday: Rewriting or reweaving narratives
Tuesday: Return yourself to the Library – if you haven't been to the library for awhile, what better time than now.
Wednesday: The future of library and information profession – want to know what jobs there are in libraries?
Thursday: UN Sustainable Development Goals incorporate libraries within their initiatives – check it out.
Friday: Celebrate libraries and their role in the school community.
Book Week is coming…
Dress Up Day - August 26
Come dressed up with the theme "Dreaming with eyes open…" linked with a book character. Prizes are for best homemade costume, most recognisable character, most original costume + more!
Costumes are to be school appropriate and sun-safe. There is no need to purchase a costume, we love costumes derived from what you already have in the closet at home. More information to come soon.
Book Club Issue 5
Issue 5 will be dispensed to our Year 7 cohort this week – other year levels are more than welcome to order too. There are spare copies in the library or you can check out the issue online: https://issuu.com/scholastic_australia/docs/bc_5-22_web_issuu?fr=sMjkwZDM0NDU5MDI
Remember all ordering is done via Parent Loop – instructions are on the website https://www.scholastic.com.au/book-club/book-club-parents/
The main point is to attach yourself to our school so the rewards points count towards our library and your order coming to the school. Any queries please contact Mrs King in the Library.
ID Cards to Borrow from the Library:
As all students should have been issued with their ID cards, this is a great way to make it easier to borrow resources from the library. Please have your ID card with you and pass it over at the front desk to be scanned.
TLs and their importance in schools
Manage and develop relevant and responsive collections of physical and digital resources and are informed regarding the challenges of doing so.
"Developing ecollections for … school libraries requires skills and expertise beyond the traditional bibliographic paradigm, encompassing digital licensing and contract negotiation, budgets, formats, device storage and management, as well as an up-to-date understanding of the publishing industry." (O'Connell et al., 2015).
Taken from Kay Oddone's Visual Literature Review
Finding resources for students and teachers is an integral part of a TL's role and something that is continually being monitored and updated as teachers adapt their units, and students with different learning needs arrive and journey through the school. This involves keeping the online library catalogue https://au.accessit.online/STS03/#!dashboard updated and subject links created and reviewed. This is a work in progress and has long term ramifications.
New Books in the Library!
Come and check out our new books – some are on display and others on the shelf. If there is one you would like to read and you are not sure where it is – just ask at the front desk, we love helping someone make a connection with one of the books waiting to be read.
Non-Fiction
Graphic Collection
Senior Collection (for Years 10-12)
Fiction Collection
Stay Tuned…
Date Claimers:
July 25-31: Library and Information Week
August 12: Harry Potter's Birthday celebrations
August 26: Book Week Quiz and dress up day.
Author Roald Dahl (British novelist, short-story writer, poet, screenwriter, and wartime fighter pilot):
"I have a passion for teaching kids to become readers, to become comfortable with a book, not daunted. Books shouldn't be daunting, they should be funny, exciting and wonderful; and learning to be a reader gives a terrific advantage."
Andrea King
Teacher Librarian
Sport
Term 3 Sport
Athletics Carnival - 16 August at O'Quinn Street Oval ​

TSSS and DD athletics ​

Volleyball Schools Cup at Harristown State High Shool​

Futsal School Alliance (Terms 3 and 4)​

Rugby League - Wednesday evening competition (TBC)​

Swan's School Cup Touch Football - Monday Nights​

Friday Sport – athletics practice and rotations ​
Any questions or enquires about trials and sport, please see the Sports Office or Sports Leader, Tia.
McAuley Boarding
It is wonderful to have all the girls back.
We have had a few updates in boarding over the break with some painting in the dining room and some new (refurbished) furniture.
We welcomed five new students into boarding - Kyneisha, Rila, Winifred, Donna and Sarah which has us at 57 girls. As always, I am proud of the way our girls welcome and care for new students.
Last term I confiscated seven second phones and will mail them home today. I admire the girl's creativity but continue to stress the need to follow the rules. It is important for the girls to develop social skills and be able to manage not being glued to their phone or see it as the only way to socialise. We will continue to monitor the phones this term.
Staff
We are now fully staffed and have a wonderful team of ladies who work tirelessly to ensure the girls are well cared for.
Catherine Scott Senior Supervisor
Shauna McNeil Senior Supervisor
Christie Ollier Supervisor and WHS
Kym Stewart Supervisor
Letitia Jensen Supervisor
Siobhan Lansdowne Supervisor
Hannah Purvis Supervisor
Lucy Burling Supervisor
Michelle Mallet Laundry and Uniform Coordinator
Nikki Kemp Casual
Narelle Jackson Casual
College Ties and Blazers Wanted
We have a shortage of College ties with none in stock at the uniform shop. If anyone has College ties they no longer use (and College blazers) and would like to sell or donate, please contact the College. We would love to have them!
Events
Friday 29 July is Bishops Inservice Day and a pupil free day for the girls. We are taking the girls to Harbour Town for a day's shopping. We will take lunch and morning tea for the girls.
A total of 25 girls will attend the NAIDOC dinner at St Mary's College on Thursday night. Miss Kim and Miss Amii will accompany the girls.
Nicole Booth
Boarding Manager
From the Careers Centre
ACU | Year 12 Revision Webinars
Chemistry: Monday 22 August 2022, 7:00 pm - 8:30 pm
English: Tuesday 23 August 2022, 7:00 pm - 8:30 pm
General Maths: Wednesday 24 August 2022, 7:00 pm - 8:30 pm
Maths Methods: Thursday 25 August 2022, 7:00 pm - 8:30 pm
Legal Studies: Monday 29 August 2022, 7:00 pm - 8:30 pm
Study of Religion: Tuesday 30 August 2022, 7:00 pm - 8:30 pm
Join ACU for this free online webinar run by experienced Year 12 exam markers and assessors. They'll guide you through how to respond to possible exam questions, help you get your head around the content to deepen your understanding, and offer plenty of tips and strategies along the way. You'll also have an opportunity to get your questions answered during a live 30-minute Q&A.
Find out more: https://www.acu.edu.au/about-acu/events/year-12-revision-webinars/qld
Decision Making Upskilling Program
Being able to make well-informed choices will differentiate you from others, win you friends and show your leadership potential at work. Grandshake's new 40-minute microprogram, How to Make Great Decisions, will teach you how to make the right choices, process hard decisions, act autonomously and work as a team.
Find out more: https://www.grandshake.co/product/how-to-make-great-decisions
Open Days
ACU | Talk with Psychologists: Wednesday 14 September 2022, 6:00 pm - 7:00 pm, Online
A career in psychology will allow you to explore the human mind and behaviours, and improve outcomes for a range of people in the community. Join us online to hear from ACU alumni about their experiences working as psychologists. Take part in a Q&A session with our graduates and learn what it is like to provide meaningful insight and support to others, when they need it most.
Find out more: https://www.acu.edu.au/about-acu/events/2022/september/talk-with-psychologists
Defence Careers Virtual Information Session: Are you interested to learn about the wide range of roles available in the Navy, Army and Air Force? Join an upcoming info session and speak with current serving members to see which Australian Defence Force career is best suited to you. Time: 6:00pm. Location: Online
Details and Registration: https://www.defencejobs.gov.au/events/events-detail/ozoscbd
Wednesday 27 July 2022: Defence Careers - Toowoomba Information Session: Are you interested to learn about the wide range of roles available in the Navy, Army and Air Force? Join an upcoming info session and speak with current serving members to see which Australian Defence Force career is best suited to you. 6:00pm at the Toowoomba Defence Force Recruiting, O'Quinn Street, Toowoomba, QLD 4350.
Details and Registration: https://www.defencejobs.gov.au/events/events-detail/1l57hyr
Sunday 31 July 2022: Queensland University of Technology - Open Day: Chat with staff and students from all areas of study and get all your questions answered about courses, careers and uni life. 9.00am - 3.00pm at the Gardens Point (city) campus
Details and Registration: https://www.qut.edu.au/study/events/qut-open-day-2022
Saturday 6 August 2022: ACU - Brisbane Open Day: Deciding what to study is a pretty momentous decision. That's why they run Open Day – it's everything you need, in one place, to help make your choice. This year ACU are running both on-campus and online Open Days. The choice is yours – immerse yourself in the campus atmosphere or join us online from the comfort of home. 10:00am at the ACU Brisbane Campus.
Details and Registration: https://openday.acu.edu.au
Navy Fast-Track Career Opportunities: Students or job seekers looking to accelerate their career and start training in the next 3-6 months could fast-track their application by applying for a priority role. No experience is required, all skills will be gained with paid on-the-job training. For any questions about job roles and life in the Navy please contact navyjobs@dfr.com.au. Priority Roles include:
Communication Networks Operator.
Scholarships
PEF National Secondary Scholarship: Value: $1,500 AUD per year. Open/Closing Dates: June 22, 2022 - October 19, 2022
The Public Education Foundation's National Secondary Scholarships support two Aboriginal or Torres Strait Islander students, two refugee students and two students currently experiencing financial hardship that may prevent them from continuing their senior years of education in a public school.
2023 Pinnacle Foundation Scholarships: Value: Up to $8,000 AUD. Open/Closing Dates: July 1, 2022 - August 31, 2022
They provide educational scholarships, mentoring and opportunities for young LGBTIQ+ Australians to realise their full potential and overcome challenges arising from their identity. Scholarships are awarded for fulltime study at public institutions of higher education in Australia, for the purpose of gaining an educational or vocational qualification in any profession, trade or the arts.
Competitions
Wool4School Design Competition
Wool4School is an annual student design competition encouraging budding fashion designers to show the nation what they're made of. Open to all Australian school students in high school, the Wool4School competition invites students in years 7 – 12 to design an outfit using a minimum of 70% wool. The outfit must contain a minimum of one piece with a maximum of four pieces and show the student's creative and innovative side. This year we want you to celebrate your hero by designing them an outfit that embodies your interpretation of sustainability. Your hero's outfit must be fit for a purpose. For example, is your hero an environmental advocate? How can they communicate their message with what they wear? We want you to be as creative and innovative as possible. Let your ideas run wild! The competition closes 5 August 2022. Find out more and register here: https://www.wool4school.com/
MyState Student Film Festival
The MyState Student Film Festival is back again for another year of fun, creativity and exploration. You can enter an original short film in whatever genre you like — drama, comedy, action, documentary, animation or even a music video. The story, setting, plot and style are all completely up to you. Entry to the MyState Student Film Festival is free and students from Kindergarten to University are eligible to submit their films and have the chance to share in thousands of prizes.
Entries close 21 October. Find out more and enter here: https://www.mystatefilmfestival.com.au/the-festival/festival-information/
Career Stories with Careerify
Your career will be as unique as you. It will be a journey full of twists and turns and ups and downs. In Career Stories, you'll see how people have navigated their career journey so far. Some had a clear idea of where they wanted to go. And others ended up in unexpected places because they gave new things a go or changed their mind. Either way, you'll see how things have a habit of working out. Read the stories here: https://careerify.tas.gov.au/career-stories/
Chris Grierson
Career Development Practitioner