St Saviour's College Newsletter 2022 Term 2 Week 4
Principal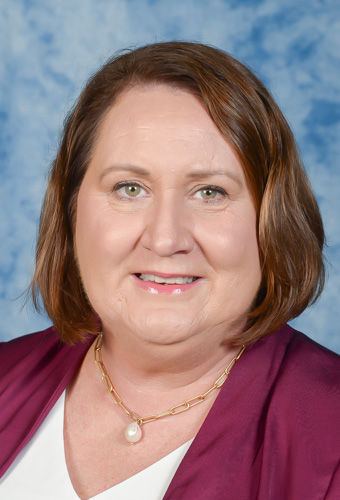 Catherine McAuley Mass
"Our vocation is full of joy and peace in the Holy Spirit"
Catherine McAuley, 1778 – 1841
Last Thursday, we celebrated the community feast of Venerable Catherine McAuley, founder of the Sisters of Mercy, who took up the governance of St Saviour's College 149 years ago. Catherine was an intelligent and esteemed woman who was not lacking in faith, compassion, courage, pragmatism and work ethic. These qualities were made manifest in the enormous contribution she made to the status of women and those in the margins in Ireland in the early 1800s. She put status aside and placed opportunity front and centre. These traditions continued when the Mercy Sisters came from across the seas and brought their work to Australia in the latter part of the 1800s.

I am pleased to attest that Catherine's legacy remains here at the College. St Saviour's continues to attract a diverse range of young women who are all here for the same reason – they are looking for a community that embraces their very spirit and provides for them a quality education that liberates them for life beyond formal education.
What remains at the heart of this Mercy story is the love for, and acceptance of the person, not their circumstance; in addition, a commitment to carry out God's work with joy and peace in the Holy Spirit.
A special word of thanks to Sr Margaret Norris, Sr Diedre Gardner and Sr Beverley Smith who were in attendance at the Feast Mass and remain such wonderful friends of the College. Thanks also to Mrs Heather Hagemann for her organisation of the Mass and Fr Jamie Collins who presided in Fr Ray's absence.
Mother's Day
Thank you to all the wonderful mothers and influential women in our lives who attended Friday's Mother's Day Breakfast. It was a beautiful gathering which enabled us the opportunity to stop, share a meal and some time together, giving thanks for the great blessings that are our Mums.
Special thanks to Mrs Kathy McDonald and Mrs Kerri Prentice for their organisation of the event, to CaterCare for the beautiful food and to Mr Chris Grierson and his team for their hospitality.
I hope all the precious women in our lives were able to be celebrated on their special day last weekend.
200+ Enrolments - College Board Recognition
Over the past five years, St Saviour's has been on an incredible growth journey and it has been wonderful to welcome so many new students who have deemed SSC as their school of choice.
Our College Board work steadily with me in the background to help our College flourish and grow from strength to strength. We meet eight times a year and the purpose of these gatherings is for our Board members to understand the background operations and insight into the College. Their role in the College Board is to advise and offer support.
We often talk to our Mercy Girls about the importance of setting goals. As a College Board, increasing enrolments has been a goal we have been aspiring to over the past few years, specifically to grow beyond the 200-student mark. We were delighted this year when we reached over 200 students, in fact, our numbers today sit at 230.
So, in recognition of this milestone, our wonderful Board members have gifted us with a range of books to commemorate our 200+ milestone. These are some beautiful books our students will see on the shelves that have been carefully selected to reflect our strong belief in empowering young women in a changing world.
As a special treat, members of our College Board sent messages congratulating us on this important milestone and these clips were played at this week's assembly.
A special thank you to our Board members for their generous support of our wonderful College: Mrs Liisa Hammond, Mrs Tracy Hudson-James, Mrs Lisa Cavanagh, Mr Simon Kelderman, Fr Ray Crowley, Mrs Maria Morcom, Ms Nicole Booth, Mrs Jessica Wade and Mrs Xenia Taylor.
Leadership Forum
Last week, I was privileged to join members of the Toowoomba Catholic Schools Executive Leadership Team and fellow Principals from across the 31 schools in the diocese in Warwick. Each term we gather for a number of days to regroup, realign and receive information that directs our diocesan strategic vision. This year, our focus is "Staying on Mission". I sincerely thank TCS for their investment in my professional learning. I also thank the team back here on the ground at SSC who maintain operations in spite of my absence, particularly Deputy Mrs Jessica Wade, Assistant Principal Mrs Heather Hagemann and my PA Mrs Fiona Roberts, who are incredibly capable and generous in spirit.
NAPLAN Online
Our girls in Years 7 and 9 have moved into a steady routine this week with their NAPLAN testing. Quality preparation and clarity of process are key to a smooth NAPLAN week at any school, and I am most grateful to Deputy Principal, Mrs Jessica Wade for ensuring just that. Special thanks to all our Curriculum Leaders and teaching staff who have worked hard across all Key Learning Areas to prepare our girls with the fundamentals to unleash their personal potential.
Eisteddfod
Best wishes to our 'Saviour's Sisters' Choir who will be competing at the Toowoomba Eisteddfod this weekend. Many thanks to Mrs Jennifer Potter and Mr Jed Burley who have prepared the girls for this event! Going by how the girls have continued to flourish across the past year, I am certain they will be highly competitive! Good luck!
Best wishes to all of you for the coming weeks.
Sharon Collins
Principal
Deputy Principal - Curriculum
NAPLAN
Congratulations to all Year 7 and 9 students for the manner in which they have undertaken NAPLAN this week. They have proven themselves to be tenacious in their application to the three tests that have been undertaken thus far. Students have been purposeful, strategic and determined in their approach. They have been doing their thinking on paper, planning their responses and using a process of elimination when selecting the most correct answers.
NAPLAN is just one data set used in schools to track student growth – we have many others. But we also recognise that challenge is an important part of learning and comment these students for rising to the challenge each day. NAPLAN will finish on Tuesday next week with the Numeracy paper.
Senior Students – Unit 1
Year 11 and 12 students are currently fast approaching the end of their Unit 1 or 3 in their senior subjects. They are currently working on their IA2 assessments and are commended for their industry.
Jessica Wade
Deputy Principal - Curriculum
Assistant Principal - Mission and Student Wellbeing
Faith and Mission
Catherine McAuley Mass
During the last fortnight, the College celebrated our annual Catherine McAuley Mass at the Cathedral. We welcomed special guests from St Saviour's Primary School, our Sisters of Mercy Sr Beverley, Sr Margaret and Sr Deidre. Fr Jamie presided over the Mass. This gathering celebrated the tireless work and community values we hold close to our hearts from our founder, Catherine McAuley. Catherine said that each day is a step we make towards eternity and we shall continue thus to step from day to day until we take the last step, which will bring us into the presence of God. As a Catholic Christian College founded in the Mercy tradition, we are committed to leading and serving the community and upholding our values of Justice, Compassion, Excellence and Hospitality.

The Suscipe
My God, I am yours for all eternity.
Teach me to cast my whole self
into the arms of your Providence
with the most lively, unlimited confidence in your compassionate, tender pity.
Grant, O most merciful Redeemer,
that whatever you ordain or permit may always be acceptable to me.
Take from my heart all painful anxiety;
suffer nothing to afflict me but sin,
nothing to delight me, but the hope of coming to the possession of
You my God, in your own everlasting kingdom.
Amen.
Living Water Praxis Service-Learning Program
Our Praxis Living Water Program has further enlivened our lived faith experience within our College community. Students across all year levels have been positively influenced by this service-learning program, which we now see embedded within our curriculum.
Students have shown maturity, curiousity and respect whilst engaging with the program and this has increased student participation in our faith and liturgy celebrations as a community.
Students are enthusiastic about being part of something larger than themselves and the stories of their deeper connections with faith and mercy speak volumes. Our students and staff have learned more and gained a further understanding about our local issues which challenge those in our community who are experiencing hardship, informing their own personal journeys and a call to service.

Student Wellbeing
An Artist's Impression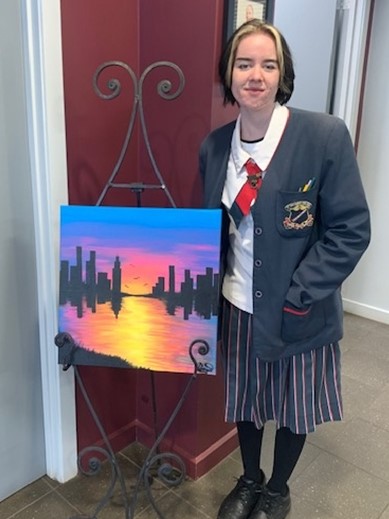 "I love the idea that I could bring in my art for everyone to see, lighting up a little area of the office made a big difference to me!
My painting includes the colours I picked from my old painting box. I used blue, pink, orange, yellow, black and the rest formed itself. I visualise a picture before I start it. Drawing a sky and water, I matched the colours, but I change the direction of the water to the sky. Instead of drawing two skies, because not all skies are straight, they're soft in ways, the shades are very faint. I always stroke my paint brush to the left and right, never up and down when drawing water, because it won't give a water effect like you would hope. Drawing a sky, I did half circles starting from edge to edge, to bottom to bottom. Very oval. Then using my other colours, I then repeated the process and the colours started to combine, creating a smooth effect. Then I continued until all the white background was filled with beautiful colours. Then of course for the city, I just drew black squares, some higher than others, and some longer, some shorter. Then I mirrored it from the water. A little tip when drawing water: use a darker colour for your sky.
I started drawing when I was very young, just messing around with colours, and shapes. Throwing something onto the paper and seeing where it took me. Around ages 4-9, I drew just on blank paper doing it for fun, drawing potato heads and stick legs with oval eyes, just experimenting. That was all I wanted to do when I was a kid.
From ages 8 to 10, I would trace little pictures out of colouring in books, getting the feeling of images forming onto paper. From 10-12, I started drawing without traces. I would draw animated characters, not too hard, with a little shading and using google as an inspiration. Watching how far I could go. Watching the improvements happen over the years.
Aged 12 to 14, using different colours and lighter pencils helped me form the darker and lighter shades. Then getting onto, not only drawing the shades of people's faces, but adding the highlights and getting into colours.
Aged 14 to 16 I found my ways with drawing pictures from Google which always inspired me, but I watched this one particular artist on YouTube for around two years knowing that I wanted to be like him someday. I didn't only begin noticing the differences in spacings, angles, lengths, or widths of a painting or drawing, but I also started waking up more to myself the older I got, drawing more of what you see and not what you think you see. Like an old wives' tale a teacher once told me. That's how I improved, because trying something you love, will someday get you to where you want to be."
From the Sports' Field
Holly Anderson - Year 11
Holly represented Maranoa in the District Bowls Tournament last week. Holly was joined by ladies from across the region and succeeded in placing as runners' up. We look forward to seeing Holly representing Queensland in the not-too-distant future. Well done, Holly!
Parent Engagement
The Daniel Morcombe Foundation Website
Visit https://danielmorcombe.com.au/safe-bedrooms/ to access this helpful and informative resource for parents and carers and their children and teens. Safe Bedrooms is a suite of resources which equips parents and carers with the tools to lock predators out. Online grooming can happen to any child. However, 97% of Australian parents and carers hadn't previously considered online grooming a threat. Safe Bedrooms provides information for parents and carers on how to recognise, react and report online grooming. Through the series of videos and resources, parents and carers can learn about the warning signs of online grooming, how to protect their children and what to do if they are concerned about a child. By becoming informed, parents and carers can keep their children safe online.
Student Reminders
The College also employs a best practice model of engaging with families and to provide a restorative approach to conflict within the community. Our College Pastoral Program embeds the PERMAH approach to wellbeing, with a Catholic lens of our Core Values. Our Wellbeing team actively encourages:
Partnerships with other schools (St Mary's College, St Saviour's Primary School. Our Mercy partner schools and other Toowoomba Diocesan and Catholic Colleges).

Family Engagement by invitation to our regular College events, our fortnightly newsletter, social media platforms (check out our Facebook and Instagram pages!)

Strong community ties with local support and social justice agencies such as Toowoomba Transition Support Services, St Vincent de Paul, Protea Place, St Patrick's Parish.

Intervention and Postvention strategies on campus for identification and referral for students who may need support, across all year levels.

A supportive Wellbeing Team, trained and with experience in restorative practices and mental health and wellbeing, consisting of:
Assistant Principal: Mission and Student Wellbeing, Mrs Heather Hagemann
Email: heather.hagemann@twb.catholic.edu.au
Middle Leader Student Wellbeing, Mrs Juanita Doherty
Email: juanita.doherty@twb.catholic.edu.au
Middle Leader Student Wellbeing Support, Mrs Megan Schulze
Email: megan.schulze@twb.catholic.edu.au
A fulltime Psychologist in the role of College Counsellor, Ms Renee Hunter
Email: renee.hunter@twb.catholic.edu.au
A College Chaplain, Wednesday to Friday, Ms Catherine Skuse
Email: catherine.skuse@twb.catholic.edu.au
A Cultural Liaison Champion, Monday to Friday, Ms Amii Brown
Email: amii.brown@twb.catholic.edu.au
Useful Wellbeing and Support Links for Students

Beyond Blue is one of Australia's best known mental health and wellbeing support organisation. They provide support programs to address issues related to depression, suicide, anxiety disorders and other related mental illnesses. Along with a comprehensive website, the beyond Blue Support Service provide 24/7 phone support, Chat online 1pm-12am / 7days a week, email support and a range of community chat forums 1300 22 4636 www.beyondblue.org.au

Kids Helpline is a free Australian telephone and online (webchat and email) counselling service for young people aged between 5 and 25. 1800 55 1800 https://kidshelpline.com.au

1300 MH CALL: Mental health access line
1300 MH CALL (1300 642255) is a confidential mental health telephone triage service that provides the first point of contact to public mental health services to Queenslanders. 1300 MH CALL is available 24 hours a day, 7 days a week and will link to the caller's nearest Queensland Public Mental Health service.
https://www.qld.gov.au/health/mental-health/help-lines/1300-mh-call
Use of Mobile Phones and Earbuds
As per the guidelines outlined in the College Student Planner, students are not to use personal electronic devices (mobile phones or earbuds) at school within the hours of 8.30am – 3.00pm, without permission from the Principal. Any device found switched on in the possession of a student while they are at school will be confiscated and the parent/carer will be contacted by the office. The electronic device can then be collected by the parent/carer at the end of the school day. The instruction is clear and Homeclass teachers spent a good deal of time ensuring this was clearly communicated during the start of year Housekeeping session in Week 1. Students have all been asked to sign pages of the Guidelines in their Student Learning Journals to indicate their compliance. These can be found on page 8, so please discuss these with your child. We trust that parents and carers are supporting the address of this matter from home by encouraging our girls to comply with College Guidelines.
eheadspace provides free online and telephone support and counselling to young people 12 - 25 and their families and friends.
Call 1800 650 890, 9am-1am AEST / 7 days a week. https://headspace.org.au/eheadspace/
Student Reminders of College Guidelines and Expectations
Out of Bounds Areas
The Student Learning Journal (diary) has a clear, colour-coded map of the College grounds, indicating areas which are out of bounds, as well as areas in which students must have adult supervision. I have given several reminders on Assembly to students and staff about this in recent weeks, so please review the Learning Journal to ensure compliance with this document.
Bullying (inclusive of cyberbullying)
There is no place for bullying at St Saviour's College. Bullying is a repeated pattern of behaviour which includes name-calling, taunting, mocking, making offensive comments, kicking, hitting, pushing, theft, inappropriate text messaging, sending offensive or degrading images by phone or internet, producing offensive graffiti, gossiping, excluding people from groups and spreading hurtful and untruthful rumours.
Cyberbullying is a repeated pattern of behaviour defined as 'the aggressive, intentional act carried out by a group or individual, using electronic forms of contact repeatedly and over time against a victim who cannot easily defend him or herself'. St Saviour's College is committed to promoting responsible and positive use of social media sites.
Winter Uniform
The uniform requirements are as follows:
White long-sleeved blouse with red piping

College striped skirt (*below the knee)

Red tie with College badge pinned in the centre

College green blazer (optional)

College white formal hat

Black stockings (opaque)

Black leather lace up shoes (no buckles, casual styles, raised heels or coloured stitching)
* It is important that students are conscious of their skirt length remaining below the knee. This may require letting down the hem, to allow for a growth in height.
What is not acceptable:
Makeup or other cosmetics

Earrings other than one, in each lower earlobe

Earrings other than one pair of plain sleepers or studs; no 'decorative' earrings

Earrings larger than 5mm

No other jewellery apart from a plain, wristwatch

Coloured nail polish

Fake nails

Headbands with bows or any other detail

Unnatural hair colours or styles

Hair extensions

Black socks
"All laugh and pray together not one cold, stiff soul appears."
Catherine McAuley, circa 1830
For every day, I give thanks – God bless.
Heather Hagemann
Assistant Principal - Mission and Student Wellbeing
Mother's Day Breakfast
Prev
Showing images
1 - 8
of 10
Next
Library
Welcome
What a great start to the term we have had! We received some wonderful news regarding our school's entry into the Queensland School Libraries Association competition they ran for Queensland School Libraries week, so check out that news below. More fantastic new books have been displayed – look at what has come to the library recently in the section below. We have had a great start to our National Family month of Reading with our "May the 4th be with you" day that we extended into "Revenge of the 5th" and ran our Star Wars colouring competition. We have our display and winners from that competition in a section below too!
With the cooler times upon us we are looking at upping the ante in the library and have started with some Star Wars movies so keep an ear out on what else will be popping up in the library to do on these cooler days. Although students are always welcome in here for reading and relaxing as we obviously have our wonderful books, but we also have colouring in (mindfulness) and various activities including word searches.
What's Happening in the Library?
As part of the ANZAC day ceremony held at the school Rotary donated some books to our school library with the theme of war. These donations are greatly appreciated and are being accessioned and readied for borrowing. See the wonderful donations in the images below and/or come to the library to see them on display soon.
Star Wars Everything! May the 4th Be with You!!!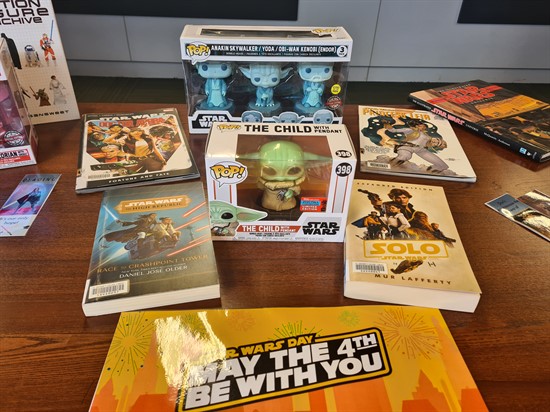 What a great event, with all the Star Wars revival having new books on sale, and now being available in our library. Star Wars is back with a vengeance! To incorporate this great event with our Month of Reading focus is brilliant and so we ran a colouring competition on Star Wars. Some wonderful entries were received, and it was delightful to see the participation from our students.
The winner of this competition will be announced in the next newsletter – stay tuned!
Volunteering in the Library – Sounds like You????
We would love to invite anyone interested in volunteering in our school library with covering books, or exploring your creative and crafty side. We are holding a morning tea for interested people to come and meet us, then do a little workshop on what the expectations are and how to do it.
If this sounds like something you would like to become involved in, and give us some time in the library – check out the invitation below.
Blue Card is required for working in a school, so if you are interested in volunteering in our school library the need to have a Blue Card or the willingness to get a Blue Card will be a necessity.
RSVP via this link below:
New Books in the Library!
The last couple of weeks have seen some amazing new books come into our library – from picture books with great themes to non-fiction general interest and curriculum based. One of our big purchases was in our Manga collection, as this has been extremely popular with our students. We also have purchased some new magazine series to see how they go with the students – so please come and check out our books (also look at the images below) to see what we have that might interest you.
Non-Fiction:
Picture Book Collection: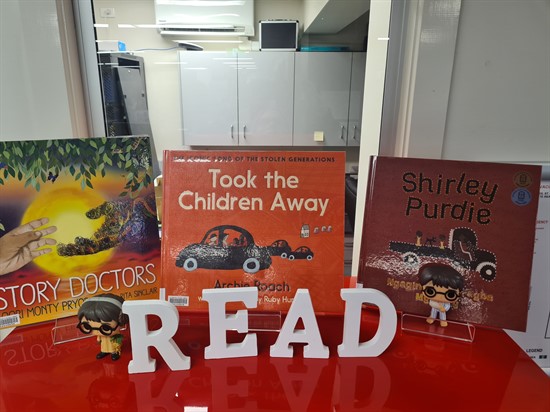 Fiction Collection: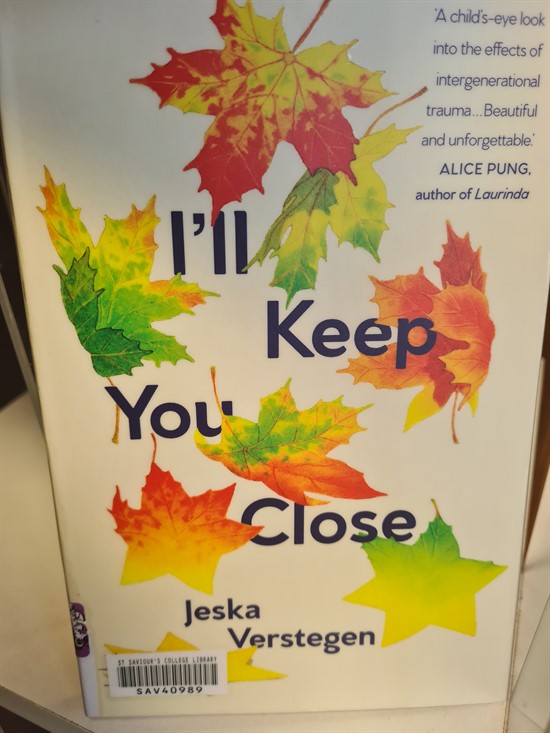 Manga Collection:
And … not just books are new in the library. We have some new magazines that are coming in – check out some of the titles below:
Magazine Collection: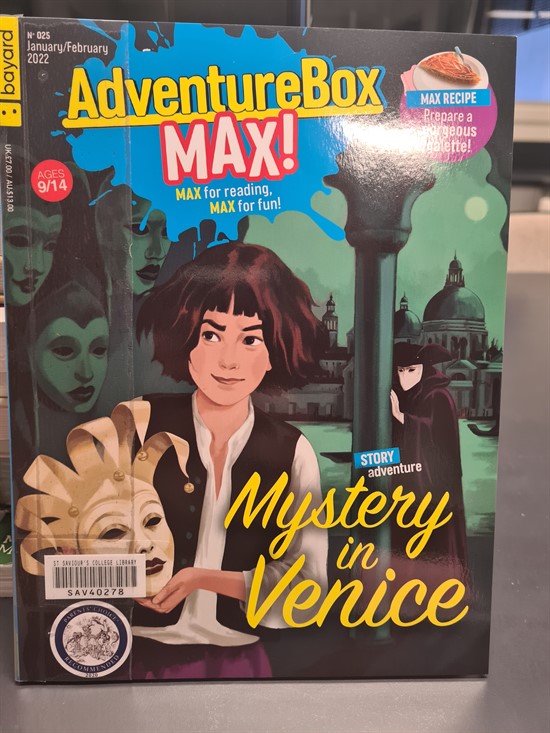 Stay Tuned…
Date Claimers:
May: Scholastic Family Month of Reading
May 25th: National Simultaneous Storytime
Author Roald Dahl
(British novelist, short-story writer, poet, screenwriter and wartime fighter pilot):
"I have a passion for teaching kids to become readers, to become comfortable with a book,
not daunted. Books shouldn't be daunting, they should be funny, exciting and wonderful;
and learning to be a reader gives a terrific advantage."
Andrea King
Teacher Librarian
Art
The Year 8 'A' class of artists have recently been investigating in painting the potential of colour, shape, composition and tone. They completed many activities on the 'Building Blocks of Art' and then studied the practice of eminent Australian painter Jeffrey Smart. This coincided with a retrospective of Smart's work at the National Gallery of Australia.
Demonstrating considerable engagement with the task, students chose specific elements and principles of design to focus on in their 'Smart Cityscape'. A few investigated multiple perspectives, some chose split complementary colour schemes and others, tonal gradation within planes of colour.
As critics, they reflected on Jeffrey Smart's practice and legacy. As student critic Taylor Harris said of Smart's 2004 'The Cleaners' (an image of workers in a stark visual arrangement cleaning roadside reflective barriers); 'This artwork makes me stop and notice the little things, including the beauty in the everyday. Most people wouldn't notice these people cleaning the road signs, but Jeffery Smart does. He keeps his designs flat in tone and in the use of a vibrant colour scheme creates a lot of visual interest.'
As you can see, the links to Smart's own work are clear! Click on the link below.
I commend these Year 8 artists for the level of engagement with this unit and look forward to their efforts in our upcoming mini self-portraiture unit, "Sometimes it IS really ALL ABOUT me!" This unit coincides with the announcement of the 2022 finalists of the Archibald Prize. Who is your tip for the most famous portrait prize in Australia?
Smart Cityscapes
Joanne Stewart
Art Teacher
Cross Country
Our annual Cross Country was held at the beginning of this term. There was great sportsmanship on show during the races and ball games. McAuley House took out the Cross Country title for 2022 with 217 points. Xavier was second on 181 points, followed by Goretti on 144, and Coolock on 106 points.
Cross Country Age Champions were presented with medals at this week's assembly.
2022 CROSS COUNTRY AGE CHAMPIONS
12 yrs – Kayleigh Reid; runner up Belle-Sharee Jeffries​
13 yrs – Ayen Deng; runner up Ella Giuffrida​
14 yrs – Ashandra Bond; runner up Sophia Stapleton ​
15 yrs – Lekaysha Woodbridge; runner up Kaysharn Deemal​
16 yrs – Abby Kelderman; runner up Injil Mwibusa ​
17 yrs – Bianca Gardner; runner up Kirra Baker​
Open – Kellie McMahon; runner up Jess Brown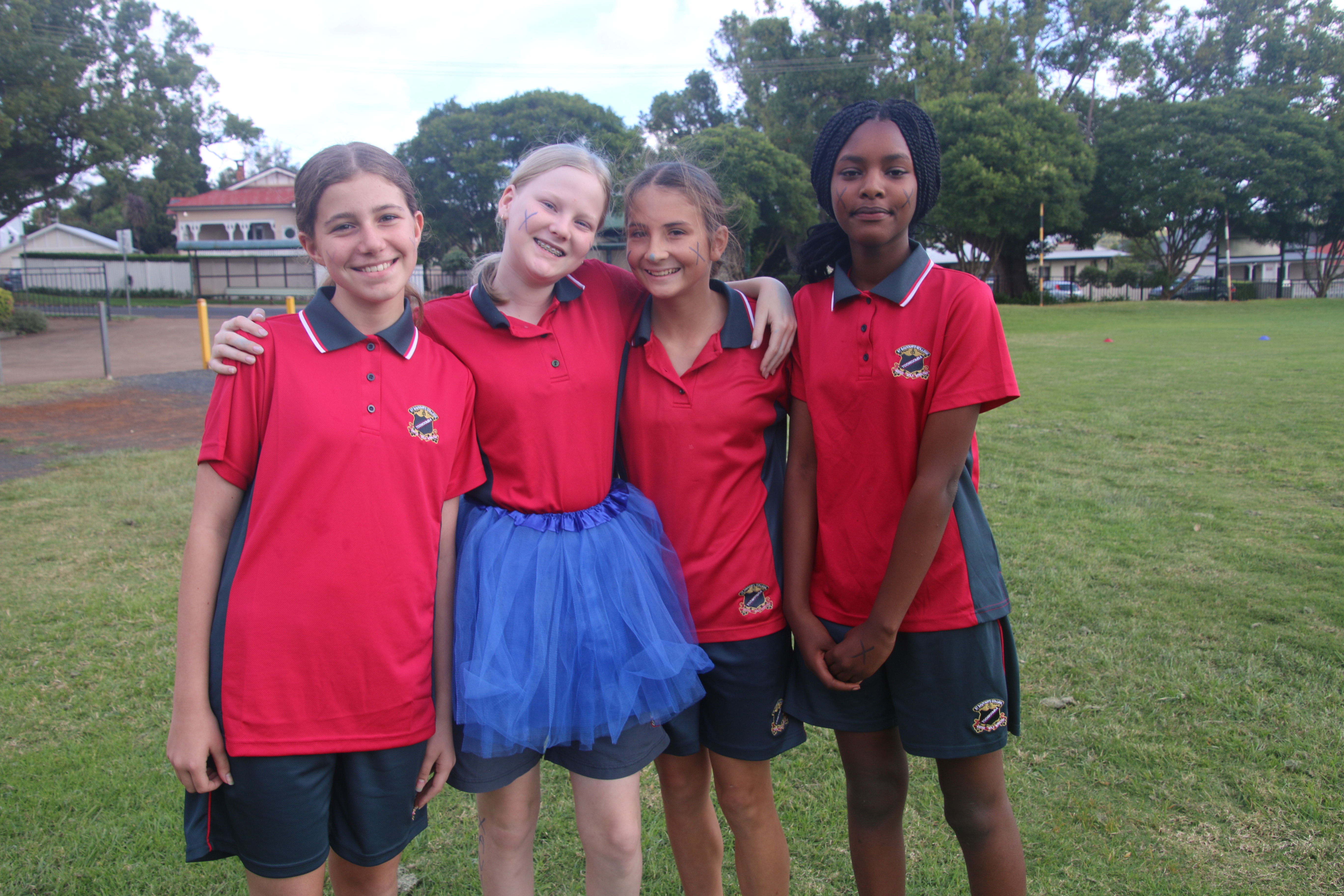 Queensland Rugby League Representative
Year 10 student, Mariah Brown, represented Darling Downs in the U16-18 Girls team at the Queensland School Sport Rugby League carnival held in Gladstone, May 5 - 8.
Mariah shone at the carnival, playing as Centre for Darling Downs, and was named in the 2022 QSS 16-18 Years Girls Rugby League State Team. She will play in the same position for Queensland in the curtain-raiser for the third State of Origin men's rugby league game at Suncorp Stadium. The Queensland side will take on the NSW/ACT team in this match.
In the local TRL competition, Mariah plays Five-eighth for the Highfields Eagles.
Congratulations Mariah on such a great sporting achievement. We hope you enjoy the experience representing your state at Suncorp Stadium and wish you all the best in your rugby league future.
Sports News
The last few weeks have been very busy with sport with a number of students representing the Darling Downs at Queensland School Sport carnivals and St Saviour's school teams taking part in local sports competitions.
From the Careers Centre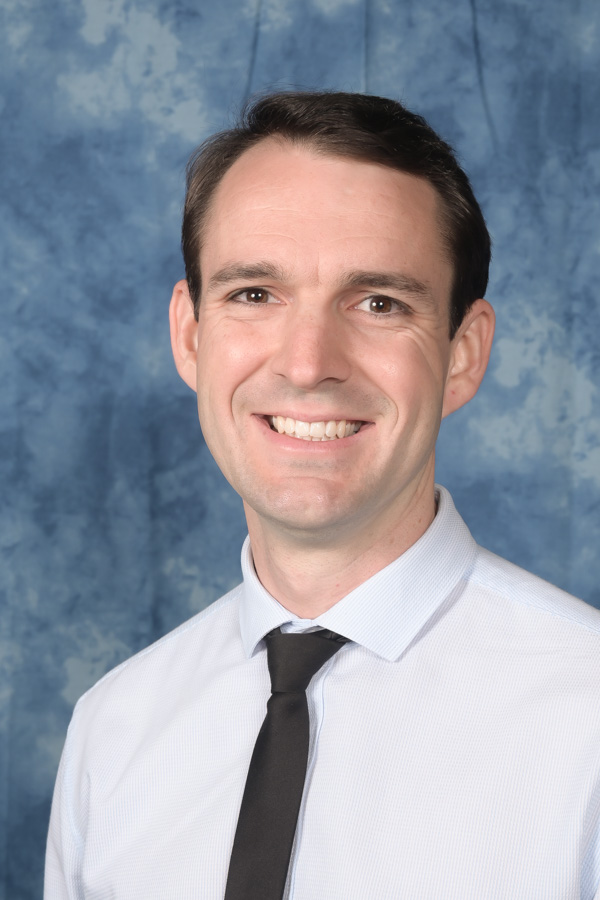 Friday 20 May 2022, 1.00pm to Friday 20 May 2022, 3.00pm at the Defence Force Recruiting Centre, O'Quinn Street, Toowoomba City QLD, Australia.
Have you ever considered a career in the Australian Defence Force? Explore job opportunities in the Navy, Army and Air Force at the upcoming Toowoomba ADF Careers Expo. Speak with current serving personnel about trades, opportunities for further study, flexible part-time commitment and more. Activities on the day will include:

Vehicle displays

Static displays

Weapons display

Armed Reconnaissance Helicopter

QLD Police command post
UNIQ You
St Saviour's College is excited to be participating in an exciting new service that gives our girls the opportunity to be part of a revolutionary initiative that will demystify industries and career paths that are less well-trodden and open up new prospects: UNIQ You. Women are under-represented in many sectors - tech, transport, electricity and gas, construction, mining, aviation, water and sewage, agriculture, manufacturing, military and defence. UNIQ You believes that the best way to inspire girls to explore male dominated industries isn't by quoting statistics or preaching diversity, but by giving them access to honest insights from women who were once just like them. Our partnership with UNIQ You will allow Year 9 to 12 girls, sitting alongside a careers adviser or educator, to have a 30 minute, one-on-one video call with female advisers from around Australia.
Connecting girls to women in real world environments will create a space for frank and open conversations, helping them understand what a range of roles and careers look like. This will encourage girls to explore their options, challenge their own assumptions and discover a world rich with possibilities. UNIQ You's technology allows for emotive conversations which will allow industry advisers to connect easily with girls across the entire state, whether they are in major cities or small regional and remote areas. The program also has a commitment to ensure the service is accessible to Indigenous and Torres Strait Islander girls.
Thirteen corporate partners have volunteered to work with UNIQ You and our school to date - selected on the basis that the industry sectors they represent have less than 40% representation of women: Aurecon, BMD, Boeing, Hutchinson Builders, Origin Energy, Oz Minerals (SA), Seqwater, Shell's QGC Business (QGC), Skedulo, Tesserent (VIC), Urban Utilities, Ventia and Yurika. The website can be viewed at www.uniqyou.com.au If students are interested in making this connection with a female advisor, please come and see Mrs Cocks in the Careers Centre.
What is a USI?
A USI is a reference number made up of numbers and letters, that is unique to you. It allows you to create a secure online record of all or any nationally recognised training that you complete. If you're doing a certificate, diploma, apprenticeship, traineeship, or VET, even if you're doing your VET at school, you'll need a USI. You can also record any courses you complete such as first aid. If you don't have a USI, then you won't receive your qualification or statement of attainment. Your USI gives you access to a secure online record of the training you have done. You could use it to produce a comprehensive transcript of your training, which could be handy when you're applying for work, seeking a credit transfer between universities, colleges or other education institutions, or if you have to demonstrate pre-requisites when you're applying to do further training. After high school if you're planning on going to university, TAFE or completing any other nationally recognised training, you'll need a USI. Without one, you won't get Commonwealth financial assistance that you're eligible for, or your qualification, or a statement of attainment. To create your USI, go to www.usi.gov.au and click on the Student section.
Current SBA Vacancies (advertised through Aurora)
Certificate III Business - Send & Pack
Certificate III Hospitality - Café De Velo
Certificate III Hospitality - Kajoku
Certificate III Business - Bakery Cakery
Certificate III Hospitality - YodThai Restaurant
Certificate III Commercial Cookery - Rak Thai Kitchen
Certificate III Commercial Cookery - YodThai Restaurant
Certificate III Commercial Cookery - Kajoku
Certificate III Business - Pacific Fuels
Certificate III Business - Crackerjack Chicken
Certificate III in Hospitality - Subway
Certificate III in Business - Red Rooster
SBA vacancies are advertised each fortnight in the newsletter and will be emailed directly to all students in Years 10, 11 and 12. If you wish to apply for a vacancy, please ensure you have completed an Expression of Interest Form (EOI), your resume is updated, you have written an appropriate cover letter, and that you follow the application directions in the advertisement. Once these documents are completed, hand them (or send via email) to Mrs Cocks, Career Support Officer at lisa.cocks@twb.catholic.edu.au for submission on your behalf (unless the advertisement has specifically stated that you need to apply online or visit the business directly).
Chris Grierson
Career Development Practitioner