St Saviour's College Newsletter 2021 Term 4 Week 8
Principal
"Wonderful!" his master replied. "You are a good and faithful servant. I left you in charge of only a little, but now I will put you in charge of much more. Come and share in my happiness!" (Matthew 25: 23)
Awards Celebration
Last Friday, our year culminated at the Annual Awards presentation. The celebration acknowledged this year's 'Amazing Race' and celebrated the many achievements of the students who consistently pursue excellence. It was a wonderful opportunity to gather with dignitaries, staff, students, families and friends of the College, to celebrate the many achievements of our young women over the year, from sporting to cultural, service and academic. I am always astounded by the level of involvement of our students and the array of talented staff and students we have. Special thanks to those involved in the organisation of this great event. It was really a great showcase of what an 'amazing race' 2021 has been!
Staffing 2022
As you would appreciate, the acquisition of quality staff is pivotal to the College's success and ongoing performance improvement agenda. I am pleased to announce the following staff who have been recruited for 2022.
Mrs Kimberley Benvenuti – joining us from her maternity leave at St Ursula's College, Toowoomba as a teacher of Humanities and Learning Support. Kim will commence with us in Term 2.
Ms Nicole Booth – will be joining us from Transition Support Services as Boarding Manager of McAuley Residential House. Nicole is well known to the College and comes with an extensive skillset, including classroom teaching experience and vast involvement in working with rural and remote students and their families. These gifts Nicole brings will put her in good stead to lead our boarding community into the future. Special thanks to Ms Tanya Brown who has done an outstanding job as Acting Boarding Manager since May this year. We are pleased that Ms Tanya will stay on as part of the McAuley House team moving into 2022.
Mr Jed Burley – joining us from St John's College, Darwin as a teacher of Music, History and HPE.
Mr Wes Irwin – will be remaining on staff here at the College for Term 1 as a teacher of Humanities.
Ms Kara Jensen – joining us from Mary Mackillop College, Highfields as a teacher of Religious Education, Drama, HPE and History.
Ms Narinder Loi – joining us from Downlands College as a teacher of Mathematics.
Mrs Jen Potter – continuing her fulltime position here at the College as a teacher of English, Humanities and Drama.
Mrs Megan Schulze – will be returning from maternity leave as Middle Leader Student Wellbeing Support.
Mr Julian Smith – joining us from Faith Christian College of Distance Education as a teacher of Mathematics and Science.
In addition:
Mrs Samantha Judd – will be returning as Middle Leader Humanities, Technology and LOTE at the start of Term 2. Mrs Alyson Holmes will continue in this role in Term 1.
Mrs Zoe Marks – will be returning to the College in March after a year's maternity leave, in her substantive position of Business Manager.
And, sadly, we farewell:
Mr Ryan Baines – Ryan finished up last week as Cross-Campus College Chaplain. Ryan has taken up a position as Art teacher of the Noosa Flexible Learning Centre. We thank Mr Baines most sincerely for the palpable joy he has brought to this role across his three years at the College.
Miss Georgina Bayly – Georgina has been with the College for a year as Events and Marketing Officer. Ms Bayly will be missed for her organisational skills and vivaciousness. We wish Georgina all the best for the future.
Miss Candice Brazier – Candice joined us at the start of the year as an experienced and most astute teacher of Mathematics. Candice has been instrumental in the INSPIRE Maths Project and has consistently modelled outstanding practice. Candice's great gifts have been recognised and she has accepted the Mathematics Curriculum Leader position at St Joseph's College, Toowoomba. Congratulations Candice on this appointment and thank you for the considerable contribution you have made to the College during your time here.
Miss Alice Cavanagh – Alice has been with the College for two years now as a classroom teacher and Middle Leader Wellbeing Support. Alice has been appointed APRE of Sacred Heart School, Toowoomba. This is a great appointment for Alice as she is being recognised for her outstanding leadership qualities. We are grateful to have had Miss Cavanagh for even part of her journey and congratulate her as we wish her all of God's blessings for the future and in her married life that commences in January.
Miss Madelyn Jones – Maddy joined us as a contracted graduate teacher. She will be returning to her hometown next year to take up a permanent position at Goondiwindi State High School. We thank Miss Jones for her enthusiasm and preparedness to always take a team! All the best for the future Maddy!
Ms Lucy Leicht – will be going on maternity leave part way through Term 1. Congratulations to Lucy and Corey on this exciting news!!!
Miss Ellie Niki – Ellie has been working at McAuley Residential House this year in the laundry and as a supervisor. Ellie will be finishing up at the end of this year. Thanks to Miss Ellie for being such a positive influence on our girls.
Ms Georgia Philip – Georgia has been a supervisor at McAuley Residential House for 4 years. She has been a great gift to our girls and we wish her all the best as she pursues her career in Nursing. Thank you Miss Georgia for your dedication and commitment to our boarders!
Ms Jo Wieden – Jo will be finishing up as Boarding Supervisor. We thank Miss Jo for being such an integral part of the boarding team during our time with us.
Mr Steve Metzroth – Steve will be finishing up at the College as Acting Business Manager, part way through Term 1 when Mrs Zoe Marks returns from maternity leave. Steve has been outstanding in this role and has contributed much to the success of the team during his time with us. We will be celebrating and farewelling Steve in early March.
We are yet to appoint a College Chaplain, Administration Officer (Front Reception) and several boarding positions. These will be announced at the start of next year.
College Magazine and Calendar
This week, your daughters should have delivered home the 2021 College Magazine and 2021 College Calendar. Both these publications are credited to the talents of Mrs Kerri Prentice, Ms Georgina Bayly and Mrs Fiona Roberts. Enjoy! They are a great representation and celebration of extraordinary personality that is 'St Saviour's College'. If you are yet to receive these publications, please contact the office on 4637 1600.
Happy Holidays
It is an honour to lead a community that has just fulfilled its 158th year, serving as the oldest school in Toowoomba, in the spirit of Catherine McAuley and the Sisters of Mercy. To the young women of St Saviour's College, thank you for being our reason for being. Thank you for the infectious joy you bring to our College and for the way in which you commit yourself to all you undertake. Thank you to our dedicated staff for your unwavering commitment to your educational ministry. Catherine McAuley said it best when she proclaimed, "You must be cheerful and happy, animating all around you". Thank you for doing just that. For each of us, may our prayer for the ensuing Christmas season be that the mercy qualities of hospitality, compassion, justice and excellence direct us in all that we undertake. Safe travels to our boarding students and to those on the roads over the holidays. May integrity always continue to be our strength.
Blessings for a joyous festive season with family and friends. May the celebration of Christ's birth serve as a reminder to each of us that life is full of endless surprises, joy and the opportunity to see hope for the future.
Thanks for another great year.
Sharon Collins
Principal
Assistant Principal - Mission and Student Wellbeing
Faith and Mission
Over the last fortnight, staff and students have been spending many hours in preparation for end of year reporting, Christmas celebrations and events to mark the end of another successful year at the College. There have also been some teary farewells as we bid goodbye to some of our staff and students heading off on more adventures, to shine their lights within other communities. Farewells are always bittersweet; however, we know that wherever members of our Mercy family go, they will remain forever in our hearts. This is a time to give thanks for the blessings of this year and to remember the great joy of the birth of Jesus.
A heartfelt thank you goes out to Mr Ryan Baines, Ms Alice Cavanagh, Ms Candice Brazier, Ms Maddy Jones and Ms Georgina Bayly. These fabulous people are spreading their wings and the Mercy spirit as they continue on their life journeys moving into 2022.
Jesus undertook many challenging journeys during his lifetime, which calls to mind our road to Emmaus scripture. With this in mind, we acknowledge the departure of valued staff members and students who are departing the College. Teaching staff who upheld the values of the College and lived these each day they joined our community. We wish them well as they continue along their own roads, knowing that Jesus walks gently beside them. We send forth a prayer to accompany them on this path:
We come together to adore the Christ for whom there was no room at the inn.
We come to worship God who came into this world in an unexpected manner
as a small, poor child, born in a stable.
People came from far and wide to see this miracle child, bringing gifts of all kind.
We come together to worship God who came to show us how to make room for others,
God who taught us how to welcome the mysterious and the different.
We come to celebrate and show our appreciation of the gifts we see in every person beside us today.
May we always worship the Lord in spirit and in truth.
Amen.
Community Compassion
This term, we devoted our fundraising efforts to our Living Crib initiative which received resounding support. We celebrated the efforts of our community with the hardworking staff from St Vincent de Paul and Protea Place during our end of term Christmas liturgy. Our College community is blessed to be able to offer some assistance to these families by these community support initiatives. The College community offered our girls opportunities to raise funds to purchase gift cards, to provide some financial relief to assist families who are currently experiencing times of hardship. Donations have come from many avenues: our Funday Friday initiatives, SRC fundraising, Praxis student activities and fundraising and the You Can Do It! sausage sizzle this term. We call these gifts a Living Crib and offer these as a symbol of hope and compassion to these families, just as God offered us the gift of hope and compassion by gifting us the miracle of Jesus as his gift to the world.
Mrs Potter's Year 7 Religion class finished off the year's activities by designing and painting their own Social Justice Shirts. This term, students researched a Social issue which challenged the Catholic Social Teaching of The Common Good, making connections to which of the 10 Commandments. Students then designed a t-shirt to raise awareness of their issue and convince audiences to think about their actions, make a stand, or change their views.
These shirts were to be completed in time for the students to be able to wear them to our annual Inspirational Female Colour Run.
Way to go, ladies!
Civics Unit
In our Year 8 History class, students are completing a unit on Civics. This includes a practical element, whereby students were required to plan and implement their own political campaign, including running for local Council. Led by Mr Irwin, students researched inspirational female leaders across the three tiers of government, focusing on community involvement. Students welcomed Councillor Rebecca Vonhoff who spoke about her life, the desire to set up a great community for her children, the challenges of being a female representative and the joys of serving the city. She showed great pride in gaining the most votes in last year's election and spoke about her inspirations, especially her mum.
What a role model!
Praxis Living Water
One component of the Praxis Living Water program allows the students to seek out and reflect on Service-Learning opportunities. Charlotte, Jessica and Chrissy have taken it upon themselves to lend a hand in the three beautiful Prep classes at St Saviour's Primary School. The classes have welcomed our Mercy girls in and the three girls look forward to their visits to their classrooms.

The recent 'Meaningful Play' session resulted in the three girls being spoilt by the creative preppies with many cards, artworks and even a handmade necklace made from paper and a pipe cleaner.

We would like to thank the lovely staff and students of St Saviour's Primary School Toowoomba for partnering with the College to enable our Praxis students to give back to the community.
S.W.A.T. Team - Student Wellbeing
The College maintains its commitment to supporting all students attending St Saviour's to feel safe, loved and that they belong. The College promotes social and emotional learning (SEL), which is about developing the ability to care for others, make responsible decisions, establish positive relationships and handle challenging situations. These skills are essential for developing resilience and the personal attributes that promote wellness, prevent illness and support recovery. The College also employs a best practice model of engaging with families and to provide a restorative approach to conflict within the community. Our College Pastoral Program embeds the PERMAH approach to wellbeing, with a Catholic lens of our Core Values. Our Wellbeing team actively encourages:
Partnerships with other schools (St Mary's College, St Saviour's Primary School, our Mercy partner schools and other Toowoomba Diocesan and Catholic Colleges).

Family Engagement by invitation to our regular College events, our fortnightly newsletter, social media platforms (check out our Facebook and Instagram pages!).

Strong community ties with local support and social justice agencies such as Toowoomba Transition Support Services, St Vincent de Paul, St Patrick's Parish.

Intervention and Postvention strategies on campus for identification and referral for students who may need support, across all year levels.

A supportive Wellbeing Team, trained and with experience in restorative practices and mental health and wellbeing, consisting of:
Assistant Principal: Mission and Student Wellbeing, Mrs Heather Hagemann
Email: heather.hagemann@twb.catholic.edu.au
Middle Leader Student Wellbeing, Mrs Juanita Doherty
Email: juanita.doherty@twb.catholic.edu.au
Middle Leader Student Wellbeing Support, Ms Alice Cavanagh
Email: alice.cavanagh@twb.catholic.edu.au
College Counsellor, Ms Renee Hunter
Email: renee.hunter@twb.catholic.edu.au
Useful Wellbeing and Support Links for Students

Beyond Blue is one of Australia's best known mental health and wellbeing support organisation. They provide support programs to address issues related to depression, suicide, anxiety disorders and other related mental illnesses. Along with a comprehensive website, the beyond Blue Support Service provide 24/7 phone support, Chat online 1pm-12am / 7days a week, email support and a range of community chat forums 1300 22 4636 www.beyondblue.org.au

Kids Helpline is a free Australian telephone and online (webchat and email) counselling service for young people aged between 5 and 25. 1800 55 1800 https://kidshelpline.com.au

1300 MH CALL: Mental health access line
1300 MH CALL (1300 642255) is a confidential mental health telephone triage service that provides the first point of contact to public mental health services to Queenslanders. 1300 MH CALL is available 24 hours a day, 7 days a week and will link to the caller's nearest Queensland Public Mental Health service.
https://www.qld.gov.au/health/mental-health/help-lines/1300-mh-call
eheadspace provides free online and telephone support and counselling to young people 12 - 25 and their families and friends.
Call 1800 650 890, 9am-1am AEST / 7 days a week. https://headspace.org.au/eheadspace/

Student Reminders of College Guidelines and Expectations
Mobile Phone Use
As per the guidelines outlined in the College Student Planner, students are not to use their phones at school, within the hours of 8.30am – 3.00pm. Any mobile phone found switched on in the possession of a student while she is at school will be confiscated and the parent/carer will be contacted by the office. The electronic device can then be collected by the parent/carer at the end of the school day. The instruction is clear and Homeclass teachers spent a good deal of time ensuring this was clearly communicated during the start of year housekeeping session in Week 1. We trust that parents and carers are supporting the address of this matter from home, by encouraging our girls to comply with College Guidelines.
Leaving the College Grounds
When students are dropped off at the College to start their school day, there is the expectation from parents, carers and College staff, that students do not leave the school grounds, without the permission of a supervising adult. This includes a note from a parent or carer, or an email sent to the College admin team.
Bullying (inclusive of cyberbullying)
There is no place for bullying at St Saviour's College. Bullying is a repeated pattern of behaviour, which includes name-calling, taunting, mocking, making offensive comments, kicking, hitting, pushing, theft, inappropriate text messaging, sending offensive or degrading images by phone or internet, producing offensive graffiti, gossiping, excluding people from groups, and spreading hurtful and untruthful rumours.
Cyberbullying is a repeated pattern of behaviour, defined as, 'the aggressive, intentional act carried out by a group or individual, using electronic forms of contact, repeatedly and over time against a victim who cannot easily defend him or herself'. St Saviour's College is committed to promoting responsible and positive use of social media sites.
Summer Uniform
The uniform requirements are as follows:
White short sleeved blouse with red piping

College striped skirt (below the knee)

Red tie with College badge pinned in the centre

College green blazer (optional)

College white formal hat

White socks, mid-calf

Black leather lace up shoes (no buckles, casual styles, raised heels or coloured stitching)
* It is important that students are conscious of their skirt length remaining below the knee. This may require letting down the hem, to allow for a growth in height.
What is not acceptable:
Makeup or other cosmetics

Earrings other than one, in each lower earlobe

Earrings other than one pair of plain sleepers or studs; no 'decorative' earrings

Earrings larger than 5mm

No other jewellery apart from a plain, wristwatch

Coloured nail polish

Fake nails

Headbands with bows or any other detail

Unnatural hair colours or styles

Hair extensions

Black socks
"The journey of one thousand miles begins with a single step."
Catherine McAuley, circa 1830
St Saviour's College staff and students, I am so proud to stand beside you on our collective life journey. For every day, I give thanks – God bless.
Heather Hagemann
Assistant Principal - Mission and Student Wellbeing
Library
Welcome
All returns are due back now
In these final days notices will be sent in regards to resources that have not been returned. Please ensure all resources are returned so they are ready for a new start next year. Resources unreturned will have to be replaced and, as such, will be needed to be reimbursed. Make sure to have a good look at home and have those resources returned.
Christmas is coming….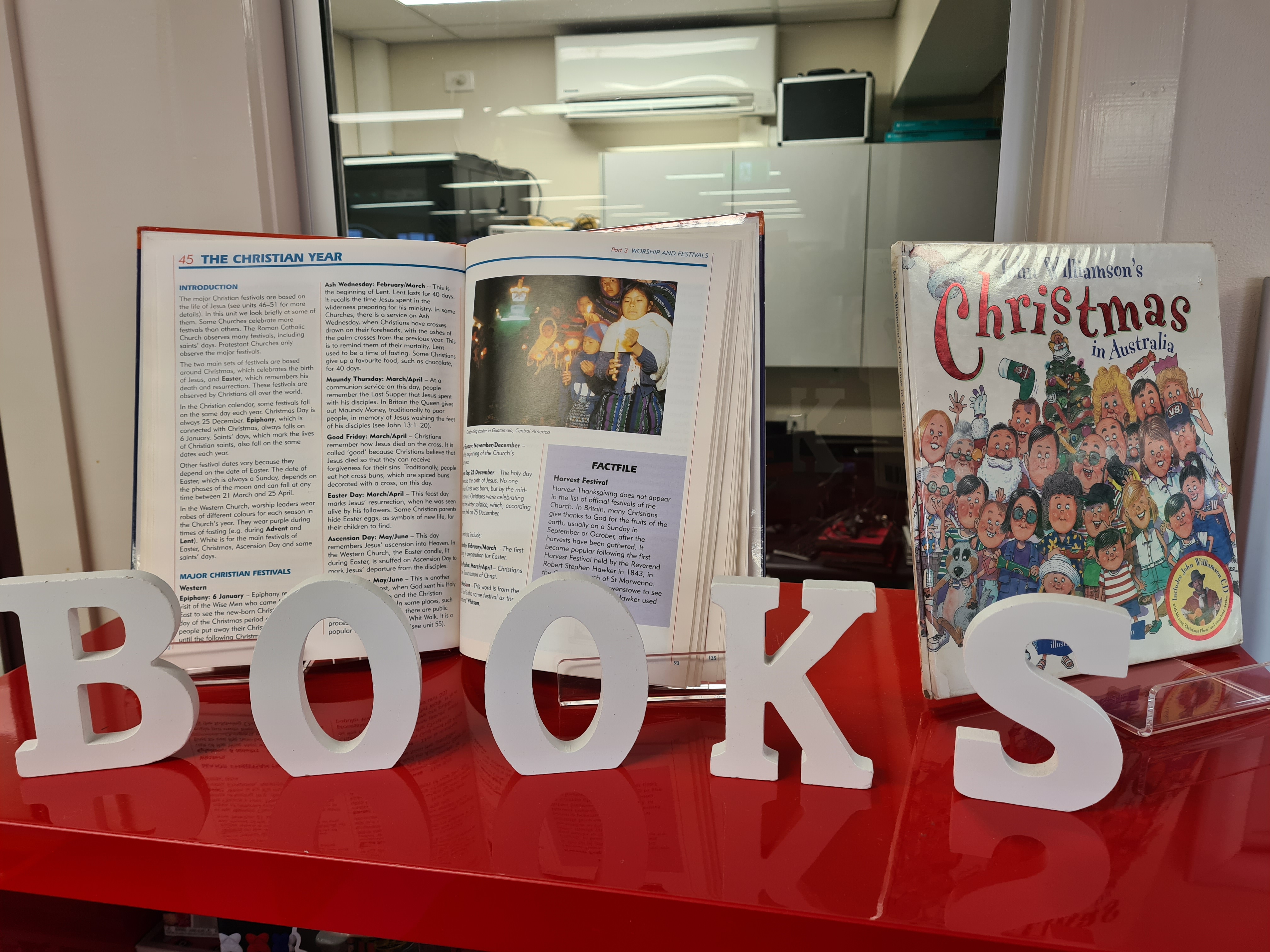 Holiday Reading
Keep your reading up over the Christmas holidays. What can you do to help your child value reading?
Family reading time – create a time when the whole family is reading. Turn off the technology and enjoy the quiet time but together!
Book bag (sports bag would work) – fill a bag with books and magazines to take with you.
Movies that come from books – read the book then watch the movie (with treats).
Ebooks and audio books – check out our library catalogue (see below) for ways to do this as this engages the technology component that some will like.
Magazines – great way to have something that is specific to their likes. Short and sweet snippets of information.
Competitions – check out the local library (see next section) for what competitions they have over summer OR create your own and negotiate a prize for achieving a certain number…your own Reading Challenge!
Your local library – check out what they have in the way of magazines, eBooks, audiobooks and, of course, our fiction and non-fiction choices https://www.tr.qld.gov.au/facilities-recreation/libraries
By doing a search you can filter by eBook, Audiobook or Wheelers (provides ebooks, etc). Or you can look for the little symbols for eBooks (a little e on a book image) or audio (a microphone).
Keep Calm and Read ... Over the Holidays
Interested in a Summer Reading Club????
Libraries are not only invested in supporting the development of early literacy skills of children from birth, they are also keen advocates of sustaining literacy and promoting the importance of recreational reading across all ages, particularly during the summer months.
The Summer Reading Club is a free public program delivered by public libraries and Indigenous Knowledge Centres that aims to encourage a love of reading and literacy skills development amongst children and young people during the summer holidays.
(retrieved from: https://www.slq.qld.gov.au/about-us/partnerships-collaboration/local-government-and-public-libraries/programs/summer-reading)
Check out the following link from the State Library of Queensland:
"Reading is to the mind what exercise is to the body and prayer is to the soul." Matthew Kelly
Stay safe and keep reading.
Andrea King
Teacher Librarian
Humanities, Technologies and LOTE
Term 4 has proved to be a busy one in the department with many excursions taking place and guest speaker presentations occurring. The Year 8 Humanities students had a presentation last week from Councillor Rebecca Vonhoff to consolidate their learning in the Civics unit that has been studied this term.
In Design, Mrs Johnson has been creating another space for students to strengthen their design thinking. A Design Workshop has been setup ready for the Materials and Technologies Specialisations unit which will be offered during Semester One next year. The project for this unit will include the construction of innovative housing for bees, allowing students to develop their management, safety and practical skills. This practical task will provide the students with basic construction skills, working with wood and other materials. The Bluebird Café will return during Semester Two, 2022.
Finally in the world of Business I have been fortunate enough to obtain a Financial Literacy Grant from ASIC – The Australian Securities and Investment Commission. This grant is not just for students in Business classes, it will be used throughout the College to increase the financial literacy of all students.
If you or anyone you know has knowledge on financial literacy topics relevant to young people and would be willing to give a brief presentation in Terms 1 or 2 next year, please contact me at the College or by email – Alyson.Holmes@twb.catholic.edu.au prior to the start of the school year 2022.
Relevant topics could include tax and superannuation, renting a property, personal loans and mortgages, buying and running a car, cost of university or TAFE, or any other topic that involves finances and young people. I look forward to hearing from members of our community who can assist.
Alyson Holmes
Year 11/12 Art
Year 11-12 Art students have recently created 'rejectament' artworks after a considered study of environment, habits, routines and intentions as Artists. Our Creative Arts Coordinator and Deputy Principal then joined the Artists for an exploration of their practice. A week later, joined by the Arts in Practice students, a mixed media artist workshop was held with students developing their skill in using inks, charcoal, modelling compounds, watercolours paint and glazes. Outstanding efforts #mercygirls.
McAuley House Boarding
What a pleasure it has been to be the Acting Boarding Manager of McAuley House for the second half of this year. I have been privileged to lead a team of amazing staff who I give my utmost thanks to: Miss Christie, Miss Shauna, Miss Georgia, Miss Jo, Miss Abbey, Miss Amy, Miss Lisa, Miss Narelle, Miss Nicky and Miss Ellie - thank you for your tireless work with the students this year, your care and kindness and your resilience does not go unnoticed. I wish you a wonderful holiday with your families. We farewell Miss Jo who is relocating to the coast, thank you for your kindness to our girls. Miss Georgia is also leaving us to take up a nursing position, we wish Miss Georgia all the best, you will be surely missed. We also wish Miss Ellie the best for her football career and relocation to Sydney.
Our recent activities included a trip to Burleigh Heads for a beach visit. This was a great day out for the girls and we enjoyed a lunch of fish, chips, potato scallops and a few other goodies we purchased with our recycling money. Thanks to Miss Abbey and Ms Nicole for accompanying us on the day.
A group of girls recently took part in a yarning circle for ABSTUDY Travel. We were excited to receive a gift card for the movies and the girls involved, along with Miss Tanya, saw a great movie last week and reclined in the V Max Cinema. A great night out!
Many of the girls in boarding celebrated sporting success with the Under 13 Rugby girls winning the grand final last week and the Volleyball team successful in the DD Volleyball Cup. Well done girls!
Our congratulations to our Award recipients for 2021 in McAuley House:
Junior Spirit Award: Kyomie Deemal
Senior Spirit Award: Faith Walsh
All Rounder Award: Holly Anderson
Well done girls, we are so proud of your efforts in achieving these awards.
Travel Day is 24 January, 2022. Please arrive no earlier than 1pm, as staff will be participating in Professional Development, any questions please contact myself on 0488755714.
Best wishes for a happy and safe holiday period and we look forward to welcoming students and families for a productive and amazing 2022.
Thank you for your support in 2021.
Tanya Brown
Acting Head of Boarding
Tanya Brown
Acting Head of Boarding
From the Careers Centre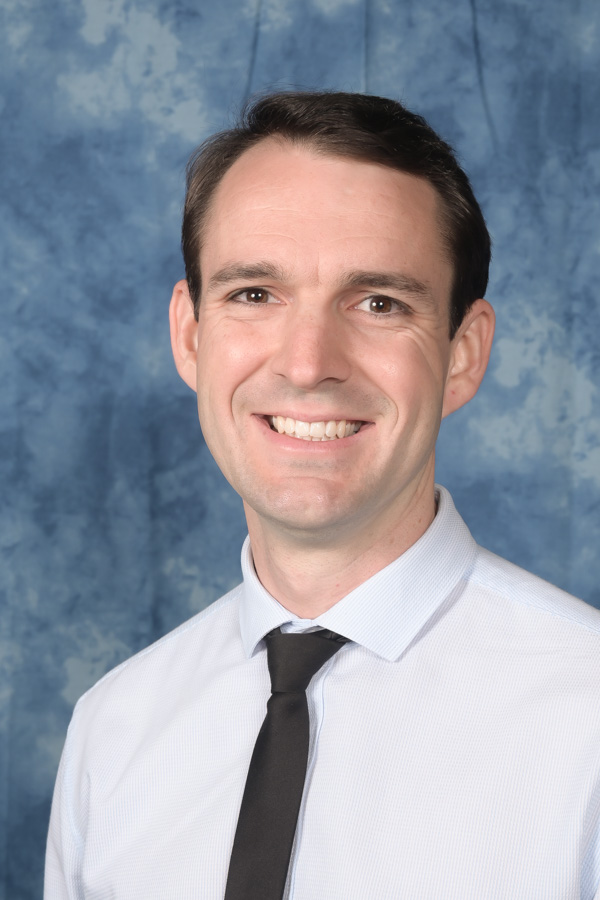 Open Day
ADF | Navy Careers Information Session, Toowoomba: Thursday 18 November 2021, 6.00pm – 8.00pm at the Defence Force Recruiting Centre Toowoomba. Consider a dynamic and fulfilling career working alongside likeminded, expertly trained personnel in the Australian Navy. Speak with serving personnel about career opportunities and discover your potential. Find out more: https://www.defencejobs.gov.au/events/events-detail/cc7pprv
WEP | Student Exchange Info Session: Thursday 2 December 2021, 6.00pm – 7.00pm (Online)
Imagine making friends from all over the world, learning about yourself and the world around you and seeing sights you could only dream of! Find out more about your student exchange opportunities at WEP's online info session. Find out more: https://us02web.zoom.us/webinar/register/WN_DPUniNloTUmgkCERnHjKMg
Experience Australian College of Applied Professions (Online)
Coaching: Tuesday 7 December 2021, 6.00pm - 7:00pm
Criminology: Tuesday 7 December 2021, 7.00pm – 8.00pm
Counselling: Wednesday 8 December 2021, 6.00pm - 7:00pm
Psychology: Wednesday 8 December 2021, 7.00pm – 8.00pm
Join an Experience ACAP session to immerse yourself in a real-life (online) classroom situation. ACAP educators will open your mind to new concepts, interesting case studies and intriguing research across a variety of fields.
Find out more: https://www.acap.edu.au/events/
BOM 2023 Australian Weather Calendar Photo Competition
Submit your vision of Australia's diverse weather to the Australian Weather Calendar photo competition, and your image could feature in Australia's bestselling weather calendar! If your photo is selected it will be hanging in around 60,000 homes and offices around Australia and across the world. We welcome all photographs showcasing the drama and beauty of Australian weather. Find out more
Canvas Art Award 2022
If you are a high school student with a knack for drawing, painting, or using creative digital mediums, you are invited to creatively interpret the quote below into an illustrated scene: "Imagination should be used, not to escape reality but to create it." – Colin Wilson. How you interpret the quote is entirely up to you, however you must include a yellow umbrella somewhere in your scene. All artists are unique in their abilities, to reflect that we are opening the competition to various mediums. You can submit:
Analogue Artwork

Digital 2D Artwork

3D Artwork

Comic Strip

Interactive Novel

Storyboard

Any combination of the above
Entries are open until 17 July 2022
Find out more and enter here: https://www.jmcacademy.edu.au/canvas-art-award-2022/
Smart Reasons to Get a Summer Job
After a hectic school year, you'd be forgiven for counting down to some time out and looking forward to winding down. However, if you give the benefits of a summer job some thought, you might just change your mind. Below is a list of 10 reasons why you might like to find some employment over the summer months.
Feel more confident applying for jobs and attending interviews
Help you build an impressive resume which could make you stand out to future employers, or make your uni application more competitive
Learn all kinds of new skills – some you might not even realise you're doing, like prioritising and multi-tasking
Gain insight into different jobs, find out if there's something you'd like to explore further, or put it on the "no thanks" list
Getting a job during high school willgive you an advantage over people who wait until after graduation to land a job
Develop and practice life skills including time management, patience, communication, customer service, people skills, collaboration, teamwork, good work ethic and problem solving. These will look great on your resume, be useful at school and throughout your working life
Professional networking – this could guarantee you a job to come back to in future or secure you a part time job while you study, get you a great reference, or through word of mouth could get you an even bigger and shinier job offer.
Earn your own spending money to do with exactly as you'd like, help out at home, or put towards your savings for a car, gap year or uni expenses.
Get familiar with entitlements, taxes, banking, budgeting and other essential parts of becoming an adult.
Getting a summer job could help you assert your independence, boost your self-confidence, help you to learn more about your capabilities and might even give you some ideas about what you want (or don't want) to do next.

You might think that showing up to work flipping burgers or serving up ice creams won't benefit you much at all, but aside from earning some cash, it could teach you how to motivate yourself (getting up each day to do something you're not mad about), work hard, prioritise tasks, and achieve goals. Plus, you could make new friends and have some fun along the way. It's not too late, but lots of employers have already started advertising and filling positions so you might like to get organised soon.
Is Your Resume Summer Ready?
Before you start applying for jobs, it's a good idea to make sure that you have a resume ready to go and that it's up to date and that's going to appeal to potential employers – help you stand out from the crowd.
If you already have a resume, but you haven't looked at it since you last applied for a job, it could well be due for a refresh.
Check your contact and personal details are correct

Add in any recent jobs you've not listed (including voluntary and community work)

Update and skills, awards, achievements that you've accomplished lately

List a couple of hobbies – the more relevant they are to the jobs you're looking for the better
Take some time to review your skills and attributes section too. Don't forget that if you're applying for a particular job, it's a good idea to edit your CV to reflect what the employer is looking for. Never make things up, but it is amazing how a little re-wording could make you more appealing as a prospective employee.
SBA Vacancies
SBA vacancies are advertised each fortnight in the newsletter and will be emailed directly to all students in Years 10, 11 and 12. If you wish to apply for a vacancy, please complete the Alternate Pathway Application form, the SBA Referral form, your resume is updated and that you follow the application directions in the advertisement. Once these documents are finalised, hand them (or send via email) to Mrs Cocks (lisa.cocks@twb.catholic.edu.au) for submission on your behalf (unless the advertisement has specifically stated that you need to apply online or visit the business directly).
Chris Grierson
Career Development Practitioner
The Cave Gym is offering a Christmas School Holiday Membership
to all students over 14.
We have week by week memberships for school students to come
and use the gym and classes during the school holidays.
Staffed hours only. Only available during the school holidays.
$14 per week