St Saviour's College Newsletter 2021 Term 4 Week 2
Principal
Final Exams
So do not fear, for I am with you; do not be dismayed, for I am your God. I will strengthen you and help you; I will uphold you with my righteous right hand. (Isaiah 41 :10)
The last three years have seen many changes in the way we teach and assess senior curriculum in Queensland. Over recent weeks, our Year 12 and Year 11 students have sat their Mock and Unit 2 examinations respectively. Teachers have been working solidly with all our senior students to ensure that our young women are prepared to enter into these experiences, both prepared and confident to achieve their best. I would encourage all our students to use these coming weeks well. While it may seem overwhelming, in reality, the remainder of the term only represents a small part of the greater portion of our lives. So, particularly for our Year 12 students, while your efforts now require intense diligence and determination, this period of time will be short lived.
I would like to congratulate those Year 12 students who took up the opportunity to participate in the diocesan External Exam Preparation Period (EEPP) that took place here at the College in the second week of the spring holidays. It was a wonderful opportunity for these young people to participate in this preparation phase with young people from across the diocese. Special thanks to Mrs Jessica Wade, Mr Rod Hickey and Mr Cameron Love, who served as an expert mentoring teachers in their subject areas. Thanks also to our Business Manager, Mr Steve Metzroth, and Principal's Assistant, Mrs Fiona Roberts, for their ever-readiness to be in the wings to support.
As was addressed in the EEPP study skills session, an important part of this time of preparation is maintaining a sense of balance and wellbeing, which requires the setting of attainable goals, as well making time to replenish. We wish our senior girls every success as they move into these final assessments.
NAPLAN Results
This year, we successfully navigated our first year of online NAPLAN testing with great success. Our commitment to NAPLAN preparation most certainly paid dividends this year with our Year 9 students achieving relative growth across four of the five of the domains (Spelling, Reading, Grammar and Punctuation, and Numeracy). There is plenty of opportunity to continue to grow our Year 7 students as they progress through the College in the years to come, and we look forward to the great gains they will make in their testing in two years.
ICAS and PAT-R / PAT-M Testing
This week, our higher performing students from Years 7, 8 and 9 were involved in the nation-wide ICAS tests. These tests are a great opportunity for our girls to challenge themselves. The results of these tests provide great insight into how our gifted students are performing against fellow students from across the country.
To best respond to the needs of all learners, PAT-R and PAT-M standardised testing was carried out for all students in Years 7, 8 and 9 in Term 1 and followed up with additional testing this week to ascertain the growth of students in reading and maths. The data from these tests enable the College to analyse where to prioritise and direct our teaching and learning.
Many thanks to Deputy Principal, Mrs Jessica Wade, for her leadership in organisation and implementation of these valuable testing experiences.
Camps
Next week, our Year 10/11 students will be attending camp for three days at Camp Cooby, where they will engage in a range of outdoor activities that focus on building group dynamics and leadership skills. These experiences are included as a compulsory part of the curriculum and the College fees. Much planning goes into the preparation of these camps, and it is so highly valued, that teachers readily give up time away from their own families to supervise the girls, ensuring that they enjoy a quality experience.
Non-participation in these camps is an enormous lost opportunity for our young women as it is through these experiences that our girls get to try different experiences and challenge themselves, consequently, relationships are built and memories are made. I would encourage all parents and carers to advocate these experiences with their daughters and support the College in seeking to empower our young women to stretch beyond their comfort zone and leap into the unknown, and enjoy themselves along the way!
Many thanks to Middle Leader Student Wellbeing, Mrs Juanita Doherty, for her overseeing and organisation of the camps with the support of Mr Rod Hickey, and to staff who will be attending, Mrs Wendy Collins and Ms Jo Stewart.
We hope that an enjoyable and safe time is had by all.
All Schools Touch
Congratulations to our All Schools Touch team who competed at the annual competition at the Gold Coast on Friday and over the weekend. It was three days of tough competition, but was a great time of competition for the girls who continue to grow from strength to strength each year. They played with determination and grit, and much learning took place along the way.
Many thanks to Mrs Juanita Doherty, and Mr Chris Bartlett who co-coached, and our ever-ready Mr Rod Hickey who drove the bus.
Year 12 Final Assembly
Date change: The Year 12 Final Assembly will now be taking place in the Callaghan Centre at 1.30pm, next Friday 22 October. Year 12 parents are welcome to join us as we farewell our graduating Class of 2021.
Blessings for the coming week.
Sharon Collins
Principal
Deputy Principal - Curriculum
Term 4
This term has gotten off to a ferocious start! The first two weeks of term have already seen a plethora of activities underway and students returning to school enlivened for the final act of 2021.
Mr Wes Irwin spoke to the whole school last week to offer us some of his 'wesdom' - one piece of advice he gave us as a community was to take ourselves seriously - that we are too important not to! I appreciated this message and found it so empowering. I am also reminded of Kate Hudson-James and Georgia Bartlett's speech at formal where Kate said, 'The only thing you can rely on is hard work.' Whilst these may not be messages we hear that often - their beating truth is undeniable. In a society fascinated by quick wins and easy gains, they are somewhat countercultural. I'd like to celebrate some of these hard fought gains now.
External Examination Preparation Program
Congratulations must first be offered to the many motivated, driven and pro-active Year 12 students who signed up to the Toowoomba Catholic Schools EEPP program. Some students attended up to 46 hours of preparatory classes across six days - well done! A tremendous effort. Certainly, you are great examples of taking yourselves seriously.
Year 7, 8, 9, 10 ICAS Competitions
Congratulations to the outstanding students in years 7, 8, 9 and 10 who were selected this week to sit the ICAS English and Mathematics competition. Your diligence, fierce attitudes and perseverance to the last moments of those competitions was exceptional. At the end of the exam, I asked the students how they found it and all said that it was challenging! One year 9 student commented on the way the exam started easy enough, but progressed quickly to unfamiliar, challenging problem solving questions. What a worthy exercise for our most able students - to sit a test that provided them the opportunity to exist in the 'learning' space of struggle and challenge and strive to attain excellence.
We look forward to announcing excellence in student achievement in these competitions at assembly in the coming weeks.
Progressive Achievement Tests in Reading and Mathematics
Students in Years 7, 8 and 9 have now completed the PAT Reading and Mathematics assessments. These assessments provide information about the strengths and weaknesses of students in these two areas. If you would like further information about your daughter's performance on these tests, please contact her Mathematics and English teachers.
Teachers will use the information gathered about the concepts and skills your daughter knows well and those she needs to develop to support her learning in the coming year.
Year 11 Exam Block
Best wishes to the Year 11 students as they embark on the final days of their exam block. Students have been purposeful in their attendance and approach to exams. These exams form the final assessment of Unit 2 and students will begin working on Unit 3 for all subjects upon their return to the College after camp.
Year 11 and 10 Senior Subject Changeover
Students in Year 10 and 11 will move to their senior subjects in Week 4 of this term, following their leadership camp and plenary days. Students have been notified of their assigned subjects in Term 3 but are encouraged to proactively seek out Mrs McDonald or Mrs Wade if they would like any further changes to subjects in Week 4.
Book Lists
Book lists for 2022 are being finalised this week in preparation for next year. These will be emailed to families and published on the College Website.
Jessica Wade
Deputy Principal
Assistant Principal - Mission and Student Wellbeing
Faith and Mission
Seeing ourselves through God's eyes or seeing life from God's point of view gives us a new clarity when we open our heart to Him. We begin to see life a whole lot better. We see ourselves. We see our problems. We see our past, our present, our future. Everything gets a little clearer the closer you get to God. Matthew 6:22 states that "Your eyes are windows into your body. If you open your eyes wide in wonder and belief, your body fills up with light." God is talking about spiritual insight. He's talking about looking at spirituality in a new way. Paul calls it seeing with the eyes of your heart. In Ephesians, Paul prays "I pray that the eyes of your heart may be enlightened.
Heavenly Father help us to work in partnership; to see ourselves,
our students and our colleagues through Your eyes.
Look for the light and the positives in each of us and give us
the strength and compassion to do the same for all of us in our community.
Encourage us to strive for excellence and empower our students
to stretch themselves to become resilient, lifelong learners.
Be the guiding light, providing a soft place to fall,
always with the open arms of Your grace.
We make this prayer through Christ, our Lord.
Amen.
Youth Ministry
Our students continue to work closely this month with Protea Place and St Vincent de Paul. Our Youth Ministry Team will roll out our Term 4 focus, The Living Crib, at our next weekly assembly. Share the Dignity began as a simple idea of giving dignity to women. The need has been so great, that the organisation has grown to become a national charity. There are over 5,000 volunteers Australia-wide, and provides multiple initiatives aimed at giving dignity to women.
Our collection campaign includes the donation of old handbags you no longer use, as well as items such as shampoo, conditioner, soap, toothbrush, toothpaste, sanitary items, and deodorant. Items we are NOT able to include are food of any type, sharps or razors, or scissors. If you can contribute with even one item to help us, this would be great. Handbags will be packed with a variety of the donated items and given to Protea Place. #Mercygirlssharethedignity
"When women support women, it feels like nothing can hold us back.
We may be weak, but we are also strong.
We are vulnerable, but we are also invincible.
We know fear, but in its face, we can be brave.
We too often remain silent, but when we find our voice, we can change the world."
Rochelle Courtenay - Share the Dignity founder
It's initiatives like this that makes St Saviour's College distinctive; being a school that embeds service-learning into our everyday curriculum is something we are proud of and have worked hard to include such initiatives in our culture and our daily conversations.
Term 4 Living Crib
This term, we continue our partnership work with St Vincent de Paul and Protea Place, with the launch of our Living Crib, Christmas Appeal. Our Youth Ministry Team are guided by the charism and mission of Mercy laid down for us by the lived experience of Catherine McAuley – she was a woman who saw a need and responded to it. It is with the same spirit of Mercy that we partner with St Vincent de Paul Society and Protea Place, to respond to the needs of families in our community who are going to be struggling at Christmas time.
Through our Living Crib Project, we have an opportunity to make a difference in the life of our community's most vulnerable, by walking in the footsteps of Jesus. Jesus showed compassion and kindness to all. Through our Living Crib Project, we get to do that too, and our gift from the crib can keep on living. This year we are donating to both the St Vincent de Paul's Christmas Appeal, and Protea Place – one of our new partners for 2021. It is really important that we acknowledge why we commit to these much-needed organisations, each year. Some families in our community are not able to celebrate at Christmas time. This is a far cry from the Christmases that most of us are used to - the type of Christmas that we all take for granted.
We are seeking Christmas gifts suitable for children (aged 3-12 years), teens, and women. Please feel free to bring in pre-loved items, as long as they are in good condition. At the end of term, we will present these gift baskets to representatives from Protea Place and St Vincent de Paul, as part of our Christmas Liturgy. Homeclasses are also encouraged to write Christmas messages of hope and compassion for the baskets. Please email Mrs Hagemann, Mr Baines or a member of the Youth Ministry team if you have any questions.
Student Wellbeing
Student Leadership Camp - Years 10 and 11
Over the last fortnight, the College has been busy planning for upcoming events and camps for staff and students. Our Year 10 and 11 students are heading off to Camp Cooby, once again. Students negotiate leadership responsibilities, brainstorm, problem solve and have a fun but challenging couple of days. Their strengths are called upon and students are put to the test physically, emotionally, as individually and in teams. Our accompanying staff take with them our College Mercy values, to support camp staff and students during this off-campus experience. Our experienced team love the opportunities that campo experiences offer, to make young people smile and to support them as they navigate life.
Restorative Practices
Our College Wellbeing Team has been working hard this year to continue our journey of Wellness. Our Wellbeing Program has included Youth/Teen Mental Health First Aid Training for staff and students, to reduce the stigma around mental health, as well as to provide all in our community with the right tools and an increased understanding for everyone. Included in the program is further work in the restorative practices space. Our College motto states Integrity is our strength, and our Mercy Values support these practices of connecting before correcting. By nurturing the development of our students' moral compass and putting into place practices which promote self-regulation and collaborative problem solving, to become empowered people as agents of positive change. These relationships become the agents of change and the best therapy is love for and support of one another.
Funday Friday!
The first Friday back started off with a BANG! Student Leaders from our Praxis team facilitated National Hero Day, with a film in our media room. For Week 2, our student leaders from McAuley have planned a Healthy Hips initiative, to raise awareness and much-needed funds for Healthy Hips Australia. This organisation aims to minimise the impact of hip dysplasia for Australians. Well done, girls!
"Recognising and fostering the dignity of every person …" Catherine McAuley, circa 1830
Useful Wellbeing and Support Links for Students

Beyond Blue is one of Australia's best known mental health and wellbeing support organisation. They provide support programs to address issues related to depression, suicide, anxiety disorders and other related mental illnesses. Along with a comprehensive website, the beyond Blue Support Service provide 24/7 phone support, Chat online 1pm-12am / 7days a week, email support and a range of community chat forums 1300 22 4636 www.beyondblue.org.au

Kids Helpline is a free Australian telephone and online (webchat and email) counselling service for young people aged between 5 and 25. 1800 55 1800 https://kidshelpline.com.au

1300 MH CALL: Mental health access line
1300 MH CALL (1300 642255) is a confidential mental health telephone triage service that provides the first point of contact to public mental health services to Queenslanders. 1300 MH CALL is available 24 hours a day, 7 days a week and will link to the caller's nearest Queensland Public Mental Health service.
https://www.qld.gov.au/health/mental-health/help-lines/1300-mh-call
eheadspace provides free online and telephone support and counselling to young people 12 - 25 and their families and friends.
Call 1800 650 890, 9am-1am AEST / 7 days a week. https://headspace.org.au/eheadspace/

Student Reminders of College Guidelines and Expectations
Mobile Phone Use
As per the guidelines outlined in the College Student Planner, students are not to use their phones at school, within the hours of 8.30am – 3.00pm. Any mobile phone found switched on in the possession of a student while she is at school will be confiscated and the parent/carer will be contacted by the office. The electronic device can then be collected by the parent/carer at the end of the school day. The instruction is clear and Homeclass teachers spent a good deal of time ensuring this was clearly communicated during the start of year housekeeping session in Week 1. We trust that parents and carers are supporting the address of this matter from home, by encouraging our girls to comply with College Guidelines.
Leaving the College Grounds
When students are dropped off at the College to start their school day, there is the expectation from parents, carers and College staff, that students do not leave the school grounds, without the permission of a supervising adult. This includes a note from a parent or carer, or an email sent to the College admin team.
Bullying (inclusive of cyberbullying)
There is no place for bullying at St Saviour's College. Bullying is a repeated pattern of behaviour, which includes name-calling, taunting, mocking, making offensive comments, kicking, hitting, pushing, theft, inappropriate text messaging, sending offensive or degrading images by phone or internet, producing offensive graffiti, gossiping, excluding people from groups, and spreading hurtful and untruthful rumours.
Cyberbullying is a repeated pattern of behaviour, defined as, 'the aggressive, intentional act carried out by a group or individual, using electronic forms of contact, repeatedly and over time against a victim who cannot easily defend him or herself'. St Saviour's College is committed to promoting responsible and positive use of social media sites.
Summer Uniform
The uniform requirements are as follows:
White short sleeved blouse with red piping

College striped skirt (below the knee)

Red tie with College badge pinned in the centre

College green blazer (optional)

College white formal hat

White socks, mid-calf

Black leather lace up shoes (no buckles, casual styles, raised heels or coloured stitching)
What is not acceptable:
Makeup or other cosmetics

Earrings other than one, in each lower earlobe

Earrings other than one pair of plain sleepers or studs; no 'decorative' earrings

Earrings larger than 5mm

No other jewellery apart from a plain, wristwatch

Coloured nail polish

Fake nails

Headbands with bows or any other detail

Unnatural hair colours or styles

Hair extensions

Black socks
St Saviour's College staff and students, I am so proud to stand beside you on our collective life journey. For every day, I give thanks – God bless.
Heather Hagemann
Assistant Principal - Mission and Student Wellbeing
Library
Welcome
All resources are to be returned before the end of term. The one time of year everything must be back. There is no borrowing over the Christmas break as we would like all resources returned to their home in the library so they can be checked over and audited for the year.
Overdue and recall notices will be sent out soon to remind students to return all their resources. Students can access what they have out through our Library Web App – please encourage your child/ren to check what they have out that must be returned.
New Resources
New resources are still available at the moment – come in and check out what is on display. Check the images below to see what is new in our library. Don't forget: write your suggestions and put them in the box on the front counter so we know here in the library what resources you would like to see available for borrowing.
What's Happening in the Library?
International School Libraries Month - Growing Global Citizens
We are currently celebrating International School Libraries month and tying it into our Halloween with the theme of Growing Global Citizens and what better way than through a cultural event of All Hallow's Eve from another country. Come in and check out our display of spooky stories and stories from other parts of the world, or even otherworldly!
Read Like a Superhero Day!
Celebrating superhero day in the library! Graphic novels about superheros, what words characterise superheroes, activities of colouring in, word searches, word puzzles were all on offer. Check out our images of the display below: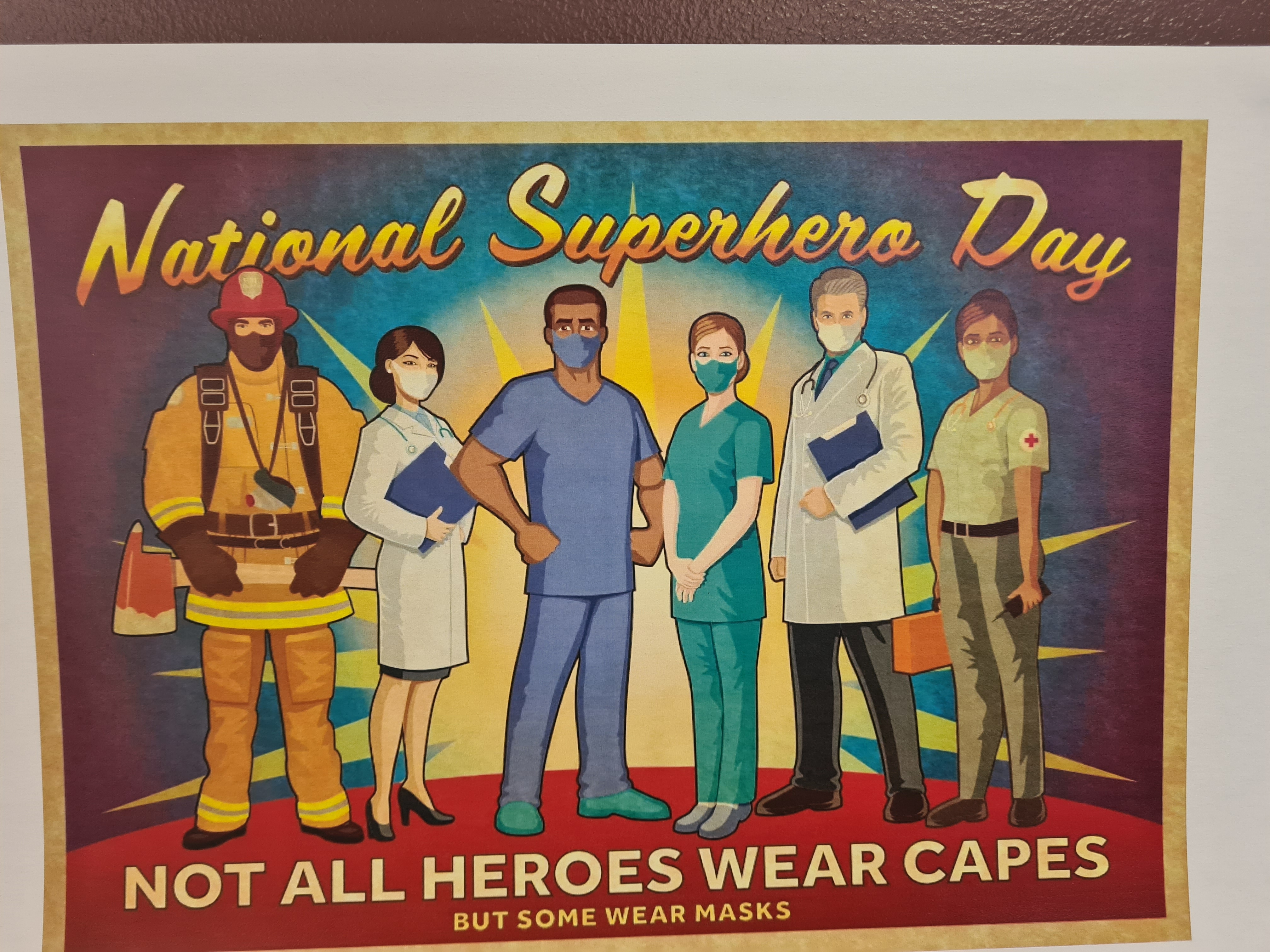 "Reading is to the mind what exercise is to the body and prayer is to the soul." Matthew Kelly
Stay safe and keep reading.
Andrea King
Teacher Librarian
Year 11 Drawing Expeditions
The Year 11 Visual Art and Year 12 Arts in Practice class enjoyed drawing Toowoomba scenery in their double periods for Visual Art at the end of last term. While some Year 12 students were doing exams and then left for the retreat, we took the opportunity to go on drawing expeditions - firstly the Cathedral precinct in Week 8, then Laurel Bank Park in Week 9. These 'en plein air experiences' encourage skill development and explore the fundamental practice of drawing in most styles of art.
Students enjoyed the magnificent displays for Carnival of Flowers and drew detailed scenes along with some smaller nature studies. Students then continued to work on these initial drawings and considered cutting out, rearranging elements, and bringing in other media such as ink and water colour to create a more resolved mixed media artwork, all inspired by our local environment.
The artists are to be congratulated for the spirit in which they entered into these drawing expeditions.
McAuley House Boarding
Welcome to Term 4, it's hard to believe the schooling year is almost over. The boarders have returned enthusiastically for the start of term. The first week has already been a busy one, even with a short week!
Welcome to our new boarders this term - Madisyn, Evie and Kayla. We hope you enjoy your time with us in McAuley House. We also welcome our new staff member Abbey who will be joining us this week.
Several girls from boarding represented the school in the All Schools Touch competition - well done to Kyomie, Kaysharn, Emmie, Shai, Ashandra and Madisyn.
Alison and Emmie joined the school at a futsal competition on Thursday and enjoyed the evening. The girls are excited about the rugby competition which commences this week on Thursday afternoons.
Graduation Dinner
Last term we enjoyed our graduation dinner for our Year 12 graduates, Deb and Taya. My thanks to Miss Christie and Miss Shauna for their efforts to transform the dining room, an amazing effort ladies. We were also lucky enough to organise the boarders going to watch the formal arrivals at Clifford Park which is always a fun outing. We will bid farewell to Deb and Lanease in the coming weeks and wish them every success for their future endeavours.
Housekeeping
Leave forms - leave forms are due by Thursday to allow staff to contact families and hosts, please follow this process for all leave i.e afternoon, overnight or weekend leave.




Girls returning from leave are requested to be back in boarding by 8pm as the showers are locked at this time and evening processes are underway. We request that McDonalds and other take away foods etc. not be brought to boarding after leave, please consume this whilst you are on leave. If girls are returning with groceries and snacks, could these please be stored in the dining room cupboards. Staff will assist with the naming of these, food is not permitted in the dormitory as this attracts vermin.

The contact number to reach boarding is 0428 043 001, the "drop" phone is not carried by staff on shift.
Tanya Brown
Acting Head of Boarding
From the Careers Centre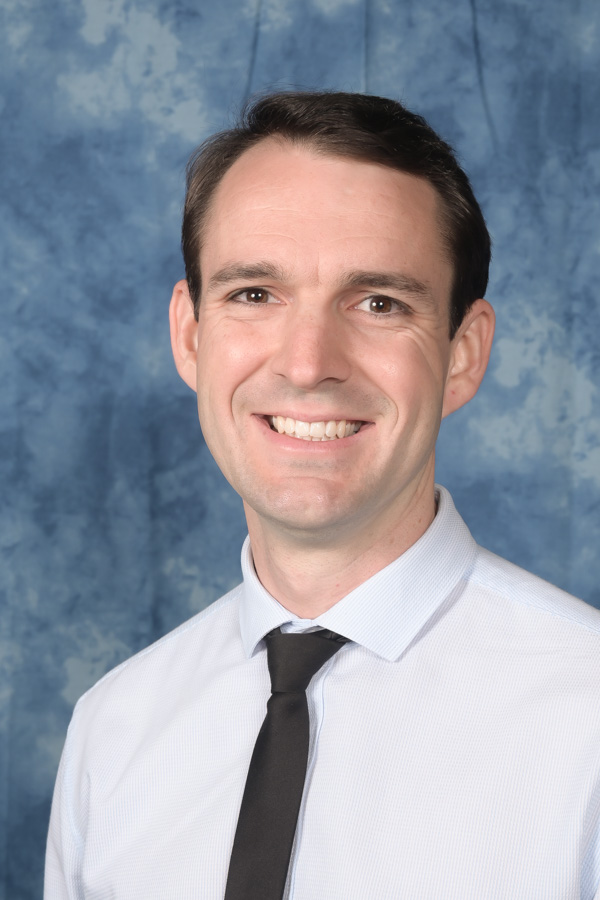 Congratulations
Congratulations to Natalya Mah Yen who won the Downs Industry Schools Co-operative Vocational Encouragement Award and Rachel Nyashinde who won the TAFE South-West Qld Outstanding Vocational Education Student at the recent Year 12 Awards assembly.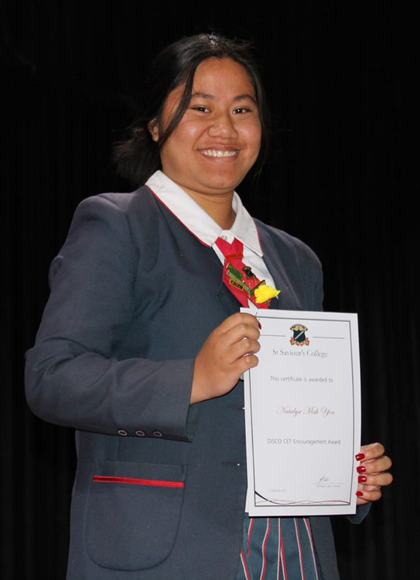 Entry Level Careers in Health Care
Within the Health Care Industry there are lots of entry level jobs to consider, they could help you to get a foot in the door, provide pathways into other careers or give you some insight into if there are other careers in this industry you would like to pursue.
Data Entry – entering patient information and updating records.
Administrative Officers – updating records, making appointments, sending out important documents and information.
Patient Transport – you'll need a full, clean, driver's licence.
Personal Care Assistants (PCAs) – also known as caregivers or health aides, provide care to residents in homes or other patients who are unable to look after themselves. They work in aged care, disability or hospital services.
Home Health Aide – take care of patients who are suffering from chronic illnesses or disabilities, or are elderly and need continuous care while living at home. Qualifications aren't usually a requirement and you'll get on-the-job training.
Medical Receptionist – specific qualifications may not be required but skills or experience with office administration and IT are generally required. You'll also need to have great spelling (medical terminology can be tricky) as well as customer service and communication skills.
Medical Transcriptionist – transcribe audio reports from health professionals into accurate, written records, reports or correspondence. Great typing and spelling skills will be essential.
Dental Assistant – you'll most likely need to get a Certificate 3 in Dental Assisting to be eligible for these roles, but you could apply for a traineeship as a school leaver and start earning while you work.
Pharmacy Assistant – working in a pharmacy team under the supervision of a registered pharmacist. You'd mainly be working in retail pharmacies selling pharmaceutical goods, managing stocks and greeting clients.
AusAPP Pathways: Free App for Apprenticeships and Traineeships
AusAppPathways is a free app that helps students and jobseekers explore Australian Apprenticeship career pathway ideas on their smartphone or tablet. Users can access:
General industry options as well as specific apprenticeships and traineeships

Links to job hunting and career research sites

Contacts for local Apprenticeship Network providers and Group Training Organisations.
AusAppPathways is available for both Apple and Android devices. A 'Guide to Using AusAppPathways' can be found on the Australian Apprenticeships Pathways website (see link below).
Work Experience
Pictured above is Maryam Abawi (Year 9) with her father Mr Dawood Abawi at Neil Mansell Transport. Maryam recently completed one week's work experience at Neil Mansell Transport. Maryam worked within the administration section and helped out with filing, data entry and general office duties. Congratulations Maryam on your successful week gaining new skills and learning about working in an office environment.
Westpac Indigenous School-Based Traineeship - Year 10 Students
Westpac Group are seeking expressions of interest from Year 10 Aboriginal and Torres Strait Islander students who are interested in a 2-year school-based traineeship in customer service. The traineeship will provide opportunities to kick-start a career in banking and finance by learning banking skills and gaining formal training. If successful, you will join a supportive team working one day per week during school terms, and up to full-time hours in school holidays. This may include greeting and welcoming customers, serving customers face-to-face, selling to meet customer needs, assisting with day-to-day banking needs and other general enquiries. To express your interest, please submit your resume and a cover letter online at: www.maxima.com.au/indigenous-careers or give them a call: 1300 669 859.
Job Pathways Charts for VET Pathways
The Australian Apprenticeships and Traineeships Information Service's webpage contains information regarding Job Pathways Charts which show the potential training pathways within specific industries which start with an apprenticeship or traineeship. Click here for a full list.
The Job Pathways Charts included are Aeroskills, Agriculture, Horticulture and Conservation and Land Management, Animal Care and Management, Australian Meat Processing, Automotive Manufacturing, Automotive Retail, Service and Repair, Aviation, Business Services, Chemical, Hydrocarbons and Refining, Community Services, Construction, Plumbing and Services, Correctional Services, Creative Arts and Culture, Electricity Supply Industry – Generation Sector, Electrotechnology, Food, Beverage and Pharmaceutical, Hairdressing and Beauty Services, Metal and Engineering, Public Safety, Sport, Fitness and Recreation, Tourism, Travel and Hospital, Training and Education, Transport and Logistics.
SBA Vacancies
14/21: Years 10, 11 and 12 - Certificate III in Hospitality School-Based Traineeship (Front of House) Jillys Café
15/21: Years 10, 11 and 12 - Certificate III in Business School-Based Traineeship at Berny's on West, Toowoomba
27/21: Years 10, 11 and 12 - Certificate III in Painting and Decorating with Travis Keen Painting
29/21: Year 10 only - Certificate III in Cabinet Making Sir Lancelot's Kitchens Bathroom and Joinery
30/21: Years 10 and 11 - Certificate III in Hospitality (Front of House) – Various Positions
The above positions will remain open until filled.
SBA vacancies are advertised each fortnight in the newsletter and will be emailed directly to all students in Years 10, 11 and 12. If you wish to apply for a vacancy, please ensure you have completed the SBA Referral form, your resume is updated and that you follow the application directions in the advertisement. Once these documents are finalised, hand them (or send via email) to Mrs Cocks (lisa.cocks@twb.catholic.edu.au) for submission on your behalf (unless the advertisement has specifically stated that you need to apply online or visit the business directly).
Chris Grierson
Career Development Practitioner
Strong Smiles Program
Strong smiles is a free dental health screening program that comes to you. The Strong Smiles team will visit our school on 1 November and check registered Year 7, 8 and 9 student's teeth.
This is a free program
The team will do a quick screen and apply a protective fluoride varnish
Parents/carers don't need to be present
The team will email parents/carers to let them know what they find
Registration form: https://www.health.qld.gov.au/darlingdowns/strongsmilesreg
Find out more: https://www.health.qld.gov.au/darlingdowns/our-services/strong-smiles
APPLICATIONS CLOSE 31 OCTOBER