St Saviour's College Newsletter Term 3 Week 8
Principal
Feast Day of Our Lady of the Southern Cross
"And Mary said, "My soul magnifies the Lord, and my spirit rejoices in God my Saviour, for he has looked on the humble estate of his servant. For behold, from now on all generations will call me blessed; for he who is mighty has done great things for me, and holy is his name." (Luke 1: 46)
September 1 is recognised as the Feast of Mary of the Southern Cross, our diocesan patron saint. On Wednesday morning, I gathered with four Year 10 students Regina, Amelia, Kiara, and Lily to share in the Eucharist, celebrated by Bishop Robert McGuckin. This celebration was a timely reminder of the pivotal role Mary not only played in the life of Jesus, as His mother, but the role she plays in the lives of all of us as carer and protector, and mother of the Church. May Mary's gentleness and compassion serve to model to each of us what it means to live our lives in accordance with God's will for us.
Principal's Review
This week, our College community welcomed Mr Jim Midgley, Director: Teaching and Learning at Toowoomba Catholic Schools Office; Mr John Coman, Senior Educational Leader at Toowoomba Catholic Schools; and Mr Kort Goodman, Principal of St Joseph's College, Toowoomba, to our St Saviour's College to interview a broad range of community members around my performance across my (almost) five years as Principal of the College. Many thanks to all parents and staff who would have completed an online survey review. As a part of this process also, I completed a self-review, reflecting on my achievements in the five areas of: Religious Leadership; Educative Leadership; Staff and Community Leadership; Organisational Leadership; and Strategic Leadership. All qualitative and quantitative data will be collated into a final report that will be issued to me. I sincerely thank all who have been involved in this most important process and look forward to being afforded the opportunity to continue to lead this special community for years to come.
Year 12 End of Term Events
Our Year 12 students are currently sitting their Mock Exam Block that will provide for them a great 'training ground' for the External Assessment Block that awaits them in Term 4. While the ATAR-eligible students have only been in attendance for their exams, it is anticipated that their spare time at home will enable them to begin their revision process in preparation for their final assessments.
The end of these exams leads directly into our Year 12 Retreat next Tuesday through Thursday at Coolum. This is always such a special time of reflection, sharing and time spent well together.
As has been noted on previous communications, Week 10 of this Term, normal Year 12 classes will resume from Monday until Wednesday. The end of Term 3 will culminate in our Year 12 End of Year Awards ceremony on Thursday 16 September, which will be held at the Callaghan Centre from 8.45am. A morning tea will follow for our Year 12 students and their families at the Hall until 10am, when we will make our way down to St Patrick's Cathedral and celebrate the Valedictory Mass as a College family at 10.15am. At the celebration's conclusion, the girls will prepare themselves for their Valedictory Dinner at Clifford Park Racecourse, commencing at 5pm. Many thanks to all the staff involved in the organisation of these events including Ms Georgina Bayly, Mrs Kathy McDonald, Mrs Lisa Cocks, Mrs Jess Wade, Mrs Heather Hagemann and Mr Ryan Baines. We look forward to celebrating our Senior Class of 2021!
Father's Day Breakfast
It was wonderful to gather with more than 100 guests to celebrate our fathers at Thursday's breakfast. Strong male role models are so critical to lives of our Mercy Girls and I thank all in attendance for taking the time to be with us, reminding our (your) girls that they matter, and that they have a strong male presence in life's corner, which is not something to be taken for granted. Happy Father's Day for Sunday to all our fathers, grandfathers, stepfathers, and significant male role models in our lives! Special thanks to Rodney and CaterCare who prepared the sumptuous breakfast and to Ms Georgina Bayly for her organisation of the event.
External Exam Preparation Period (EEPP)
EEPP 2021 is a Toowoomba diocese initiative available to all Year 12 students in the second week of the school holidays to engage in revision and feedback intensive sessions, which endeavours to build skills in preparation for the October/November external exam block. The experience will be run and facilitated here at St Saviour's College, with teachers from across the diocese serving as expert teachers who will be paid to serve as subject 'Mentors'. A great amount of work has gone into this experience, which I am sure will prove to have great results for our senior students. All our ATAR-eligible students are encouraged to participate.
CTJ Day – Staff Planning this Friday 3 September
This Friday, we have a pupil free day that, traditionally, was dedicated to 'Consistency of Teacher Judgement' (CTJ). This year, our Deputy Principal, Teaching and Learning, Mrs Jessica Wade has put together a program centred around the emerging changes to the Australian curriculum. All teaching staff will be working together around these changes to improve on our practice as we continue to provide quality learning and engagement for our students.
Blessings for the coming weeks.
Sharon Collins
Principal
Deputy Principal - Curriculum
Year 8, 9 and 10 Subject Selections
Thank you to all students who participated wholeheartedly in the subject selection processes. Student across years 8, 9 and 10 are now being placed in their subjects and students and parents will be notified of subject allocations in the coming weeks.
Year 10 SET Planning
Last week students in Year 10 undertook their Senior Education and Training planning interviews with either Mr Grierson or myself. These interviews were outstanding. Students were well prepared, had considered and could articulate their plans for the future and were keen to map out learning pathways that would align to their vision for a life beyond school. I was so grateful to be able to sit with students and their parents to hear the students' future goals, planned pathway - it is a lovely reminder of the passion, vitality, and hope-centred nature of the young people we work with every day.
SET planning and Senior subject selection can be a challenging time for families and students and a time when expectations, realities and assumptions can collide. If, over the coming weeks, families and students would like to revisit their SET plan meeting or want some extra information on pathways discussed, please contact Mr Grierson or myself. Thank you to Mrs Cocks for all her work in the preparation and organisation of the SET plan materials.
Year 12 General Mock Exams
Year 12 students have undertaken their mock exams this week in preparation for their External Exams in October. This experience - of completing exams that reflect the length, complexity and challenge of the externals - is one important step in preparing students for success in their final challenge.
Year 12 students will receive their papers back on Friday of Week 9 and Monday of Week 10. These lessons will be dedicated to working with students to discuss what they know and don't know, the strengths in their response as well as their weaknesses, as well as formulating a clear study plan for the final three weeks leading up to the exam block in Term 4.
TCSO External Examination Preparation Program
The Toowoomba Catholic Schools Office is once again offering our students the opportunity to network with other high achieving Year 12 students who are pursuing exemplary results in external exams, through the External Examination Preparation Program. Students are offered preparatory courses in English, Mathematics, SOR and Science courses. They are run by expert teachers in the diocese and are very highly regarded by all past participants. St Saviour's College will once again host this program. I implore all students sitting external exams to register for the subjects on offer. Please see Mrs Wade if you have any questions.
End of Term Assessments and Examinations
Many students will now be 'feeling the pinch' of assessment time. Week 8 and 9 is often the time when many drafts, assignments and projects are due, and this can coincide with exams in other subjects. It is a time when organisation is rewarded, and avoidance and procrastination can be disastrous.
Students should be completing work at home each afternoon on their subjects as well as some revision, organisation, and note-making activities to review what they have been learning each day. These routines will mean that, with a little done each day, the end of term is more manageable and students are better prepared for their assignments and exams.
Parent Teacher Interviews
Notifications of parent teacher interviews will be email to parents in the coming week. Please check your email for more details on how to book through the Sentral Parent Portal.
Jessica Wade
Deputy Principal
Assistant Principal - Mission and Student Wellbeing
Faith and Mission

Last week on assembly, Goretti 1 and 2 shared with us a beautiful opening prayer, celebrating our First Nations peoples. Some vibrant artworks of stories, traditions and spirituality were included throughout the prayer as well as wise words from our First Nations people's ancestors, and a Fire Blessing.
We also congratulated our QATSIF graduating seniors (pictured below) Georgia, Lanease, Sophie, Taya and Deb.
Denim for Dolly – Xavier House
Xavier House Captain, Charlotte Morcom, addressed assembly last week with the annual Xavier awareness campaign around the Denim for Dolly initiative. Charlotte spoke about Dolly's story and what Dolly's Dream means:
Dolly Everett was just 14 years old when she took her own life after being horribly cyberbullied. Dolly went to high school in Warwick, which is why her story hits so close to home. The next video is an ad created by 15-year-old Charlotte McLaverty that depicts how modern bullying is more than just sticks and stones in the playground.
One in five young people report being cyberbullied in any one year, according to research by the advocacy organisation Dolly's Dream, which was established by Dolly's parents last year. The lunchtime activity that Charlotte and Xavier House promoted, was a great way to raise awareness of cyberbullying. All funds from selling raffle tickets and free dress went to Dolly's parents, Kate and Tick's organisation, Dolly's Dream.
Youth Ministry Team
"As the heads, hearts and the hands of Jesus", our hardworking Youth Ministry Team continue to follow in the footsteps of Catherine McAuley and the sisters of Mercy, by providing opportunities for all to live out the College Mercy Values of Justice Excellence, Compassion and Hospitality. In celebration of our theme "sowing the Seeds of Hope and Mercy" the students of the Youth Ministry Team regularly bring to life our Mercy Charism values in each of the initiatives undertaken.
Annual St Vincent de Paul Winter Appeal
We continue with our resounding support for those experiencing vulnerability and hardship this winter. Our Winter Appeal collections are growing, in the form of blankets, scarves, gloves and jumpers that are still in a useable condition to give to those who are struggling. Donations can be made to the College front office, Student Services collection area, or through your Homeclass collections box.
Sharing the Dignity
In keeping with our annual tradition to support our community, the Youth Ministry Team rolled out our Share the Dignity campaign at our weekly assembly. Share the Dignity began as a simple idea of giving dignity to women. The need has been so great, that the organisation has grown to become a national charity. There are over 5,000 volunteers Australia-wide, and provides multiple initiatives aimed at giving dignity to women.
Our collection campaign includes the donation of old handbags you no longer use, as well as items such as shampoo, conditioner, soap, toothbrush, toothpaste, sanitary items, and deodorant. Items we are NOT able to include are food of any type, sharps or razors, or scissors. If you can contribute with even one item to help us, this would be great. Handbags will be packed with a variety of the donated items and given to Protea Place. Protea Place, founded by Toowoomba local and CEO, Ms Amanda Dalton, provides support resources to women in our community who are vulnerable and experiencing hardship. Collections may be made by staff and students through their Homeclass collection boxes and Student Services. #Mercygirlssharethedignity
"When women support women, it feels like nothing can hold us back.
We may be weak, but we are also strong. We are vulnerable, but we are also invincible.
We know fear, but in its face, we can be brave.
We too often remain silent, but when we find our voice, we can change the world."
Rochelle Courtenay - Share the Dignity founder
Wellbeing
The College maintains its commitment to supporting all students attending St Saviour's to feel safe, loved and that they belong. The College promotes social and emotional learning (SEL), which is about developing the ability to care for others, make responsible decisions, establish positive relationships, and handle challenging situations. These skills are essential for developing resilience and the personal attributes that promote wellness, prevent illness and support recovery. The College also employs a best practice model of engaging with families and to provide a restorative approach to conflict within the community. Our College Pastoral Program embeds the PERMAH approach to wellbeing, with a Catholic lens of our Core Values. Our Wellbeing team actively encourages:
Partnerships with other schools (St Mary's College, St Saviour's Primary School, our Mercy partner schools and other Toowoomba Diocesan and Catholic Colleges).

Family Engagement by invitation to our regular College events, our fortnightly newsletter, social media platforms (check out our Facebook and Instagram pages!).

Strong community ties with local support and social justice agencies such as Toowoomba Transition Support Services, St Vincent de Paul, St Patrick's Parish.

Intervention and Postvention strategies on campus for identification and referral for students who may need support, across all year levels.

A supportive Wellbeing Team, trained and with experience in restorative practices and mental health and wellbeing, consisting of:



A fulltime Psychologist as our College Counsellor, Ms Renee Hunter.
Email: renee.hunter@twb.catholic.edu.au
Assistant Principal: Mission and Student Wellbeing, Mrs Heather Hagemann
Email: heather.hagemann@twb.catholic.edu.au
Middle Leader Student Wellbeing, Mrs Juanita Doherty
Email: juanita.doherty@twb.catholic.edu.au
Middle Leader Student Wellbeing Support, Ms Alice Cavanagh
Email: alice.cavanagh@twb.catholic.edu.au
Teen Mental Health First Aid Training
We acknowledge and support the importance and effectiveness of training in the area of mental health first aid. Therefore, by the end of this year, all staff at the College and 50 per cent of our student body will be trained in the field of Mental Health First Aid. Mike Thomason, Education Officer: Guidance Counsellor Coordinator and School Support, has been instrumental in making this a reality for our College, and we encourage other schools to offer this comprehensive and personalised school programs to staff and students.
SWATeam - Mercy Court Pet Shop
Our Student Wellbeing Team has brought some love, life and furriness to Mercy Court this term! Students and staff have been asked to share photos of their beloved household pets to decorate the walls of Mercy Court and, so far, the dogs are outnumbering all other pets! Keep the pictures coming, everyone

Ongoing Support – Mental Health and Wellbeing
Please contact one of us if you would like further information, assistance, or support, regarding your child's wellbeing. Below are some useful sites for external support, regarding wellbeing and mental health:

Beyond Blue is one of Australia's best known mental health and wellbeing support organisation. They provide support programs to address issues related to depression, suicide, anxiety disorders and other related mental illnesses. Along with a comprehensive website, the beyond Blue Support Service provide 24/7 phone support, Chat online 1pm-12am / 7days a week, email support and a range of community chat forums 1300 22 4636 www.beyondblue.org.au

Kids Helpline is a free Australian telephone and online (webchat and email) counselling service for young people aged between 5 and 25. 1800 55 1800 https://kidshelpline.com.au

1300 MH CALL: Mental health access line
1300 MH CALL (1300 642255) is a confidential mental health telephone triage service that provides the first point of contact to public mental health services to Queenslanders. 1300 MH CALL is available 24 hours a day, 7 days a week and will link to the caller's nearest Queensland Public Mental Health service.
https://www.qld.gov.au/health/mental-health/help-lines/1300-mh-call
eheadspace provides free online and telephone support and counselling to young people 12 - 25 and their families and friends.
Call 1800 650 890, 9am-1am AEST / 7 days a week. https://headspace.org.au/eheadspace/

Student Reminders of College Guidelines and Expectations
Bullying (inclusive of cyberbullying)
There is no place for bullying at St Saviour's College. Bullying is a repeated pattern of behaviour, which includes name-calling, taunting, mocking, making offensive comments, kicking, hitting, pushing, theft, inappropriate text messaging, sending offensive or degrading images by phone or internet, producing offensive graffiti, gossiping, excluding people from groups, and spreading hurtful and untruthful rumours.
Cyberbullying is a repeated pattern of behaviour, defined as, 'the aggressive, intentional act carried out by a group or individual, using electronic forms of contact, repeatedly and over time against a victim who cannot easily defend him or herself'. St Saviour's College is committed to promoting responsible and positive use of social media sites.
Cyberbullying behaviour can include:
abusive texts and emails

hurtful messages, images or videos

imitating others online

excluding others online

humiliating others online

spreading nasty online gossip and chat

creating fake accounts to trick someone or humiliate them
How common is it?
In the 12 months to June 2017:
1 in 5 Australian young people reported being socially excluded, threatened or abused online.

55% sought help from their parents, 28% from their friends; 38% blocked the offending social media account; 12% reported it to the website or platform.

1 in 5 Australian young people (15% of kids, 24% of teens) admitted behaving in a negative way to a peer online - such as calling them names, deliberately excluding them, or spreading lies or rumours. Of these, more than 90% had had a negative online experience themselves.
Here at the College, members of our community are modelled respectful behaviour, with our positive interactions with one another. There is no room for negativity at St Saviour's.
Summer Uniform for the Start of Term 4
White short sleeved blouse (red piping)

College striped skirt

College tie

College blazer (optional)

College formal hat

White socks

College V-necked pullover

Black leather lace up shoes (no buckles, casual styles, raised heels, coloured stitching or eyelets are permitted)



God bless,
Heather Hagemann
Assistant Principal - Mission and Student Wellbeing
Library
Welcome
BOOK WEEK CULMINATION – What a great week we had in the library and across the school celebrating all things reading! Book Week is a special time to acknowledge the role reading and literacy plays in our lives, both academically and socio-emotionally.
Our culminating event was our Book Quiz that was held in the Hall and what a fantastic, fun afternoon. The students were amazing with their participation and enjoyment, I think I even heard some of them saying they wanted to check out the books we were asking questions on!
Bring on next year's celebrations! But don't forget that reading is about consistency and even if we are celebrating specifically at this time of the year, reading is a yearlong, life-long activity that benefits us in whatever we do. With that in mind Australia Reads is coming up – check out the date further below, and Keep Calm and Read On.
Quiz for Years 7-10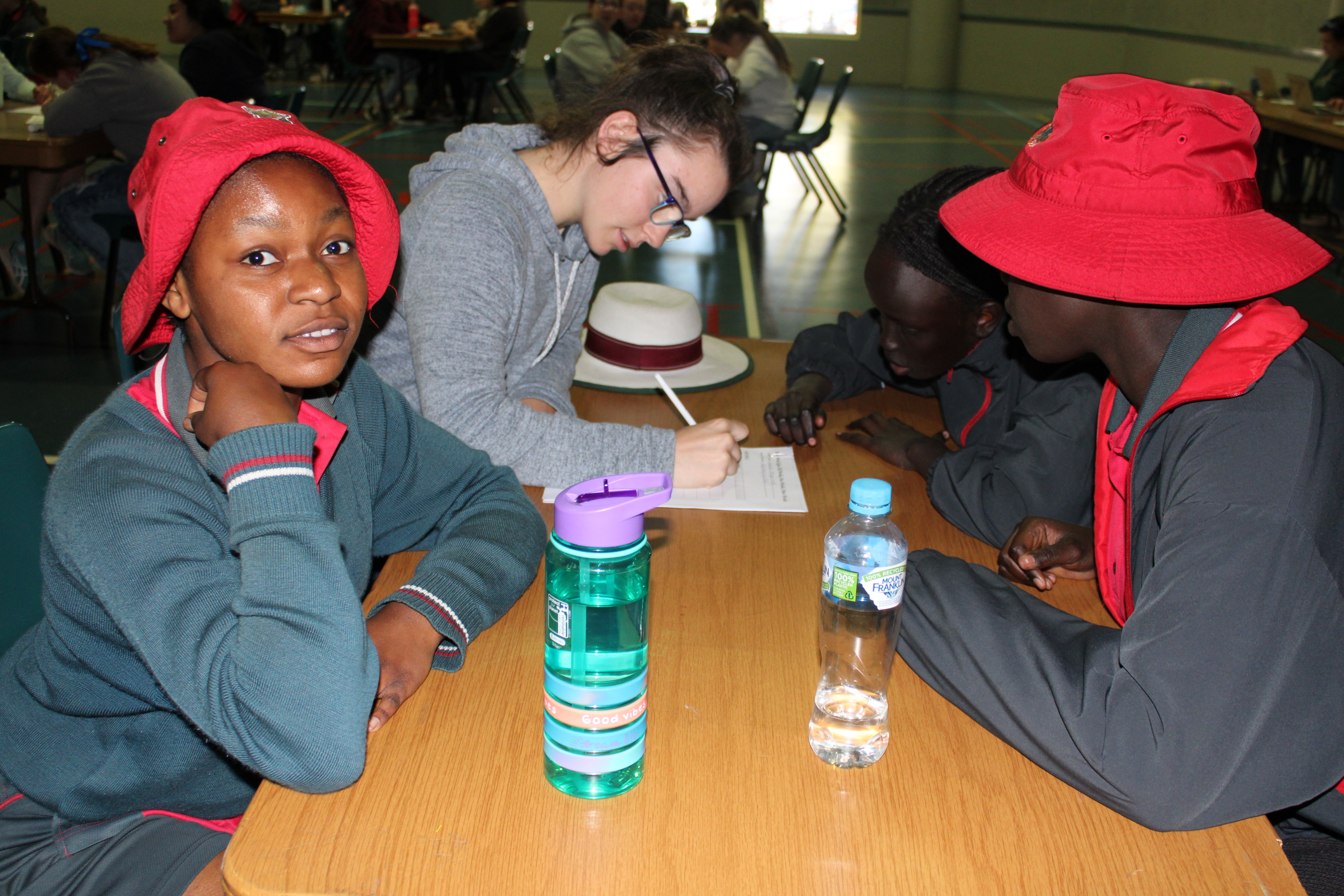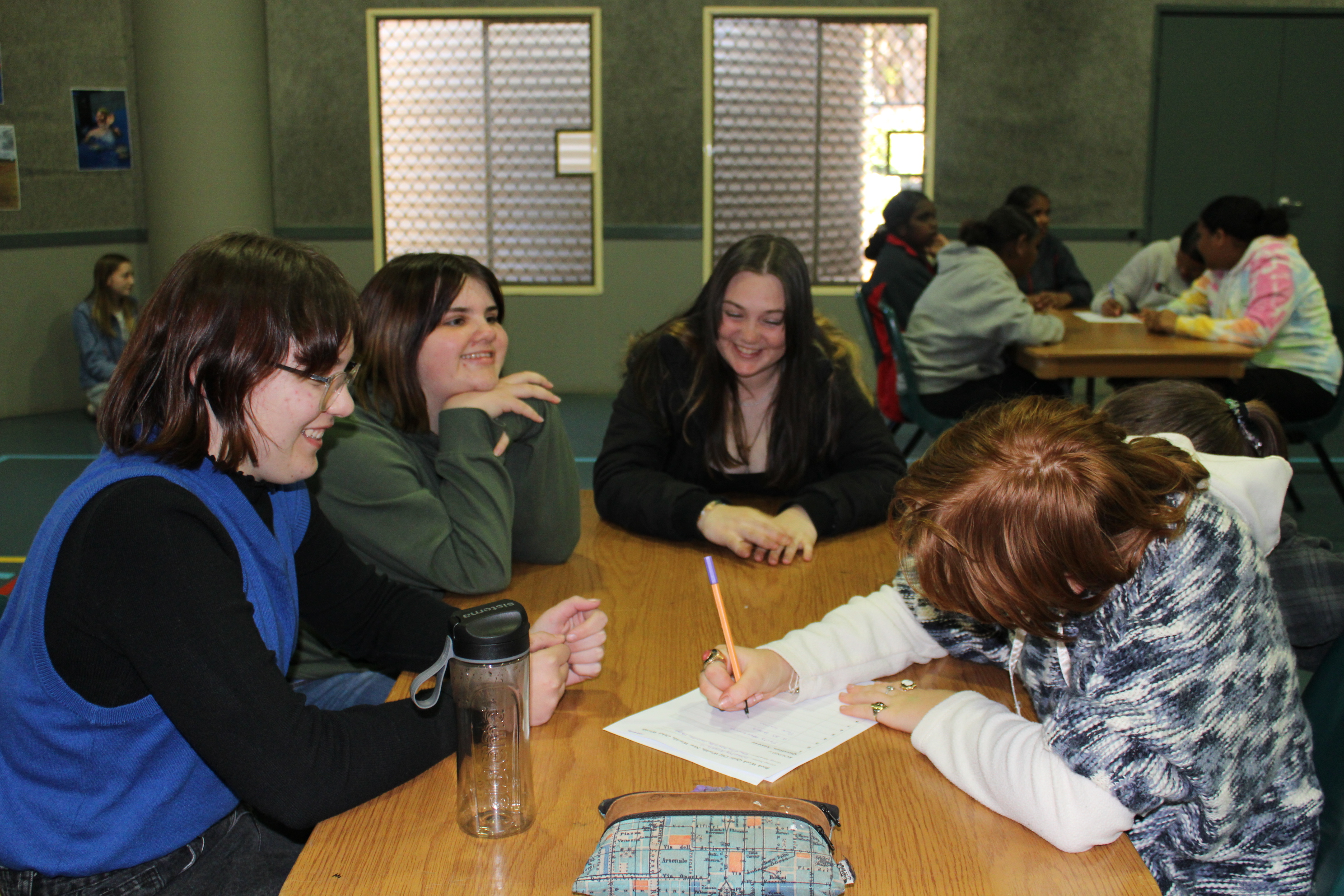 RESULTS
Winning Team
Runners Up
Book Week Competition
Book Week Display in Library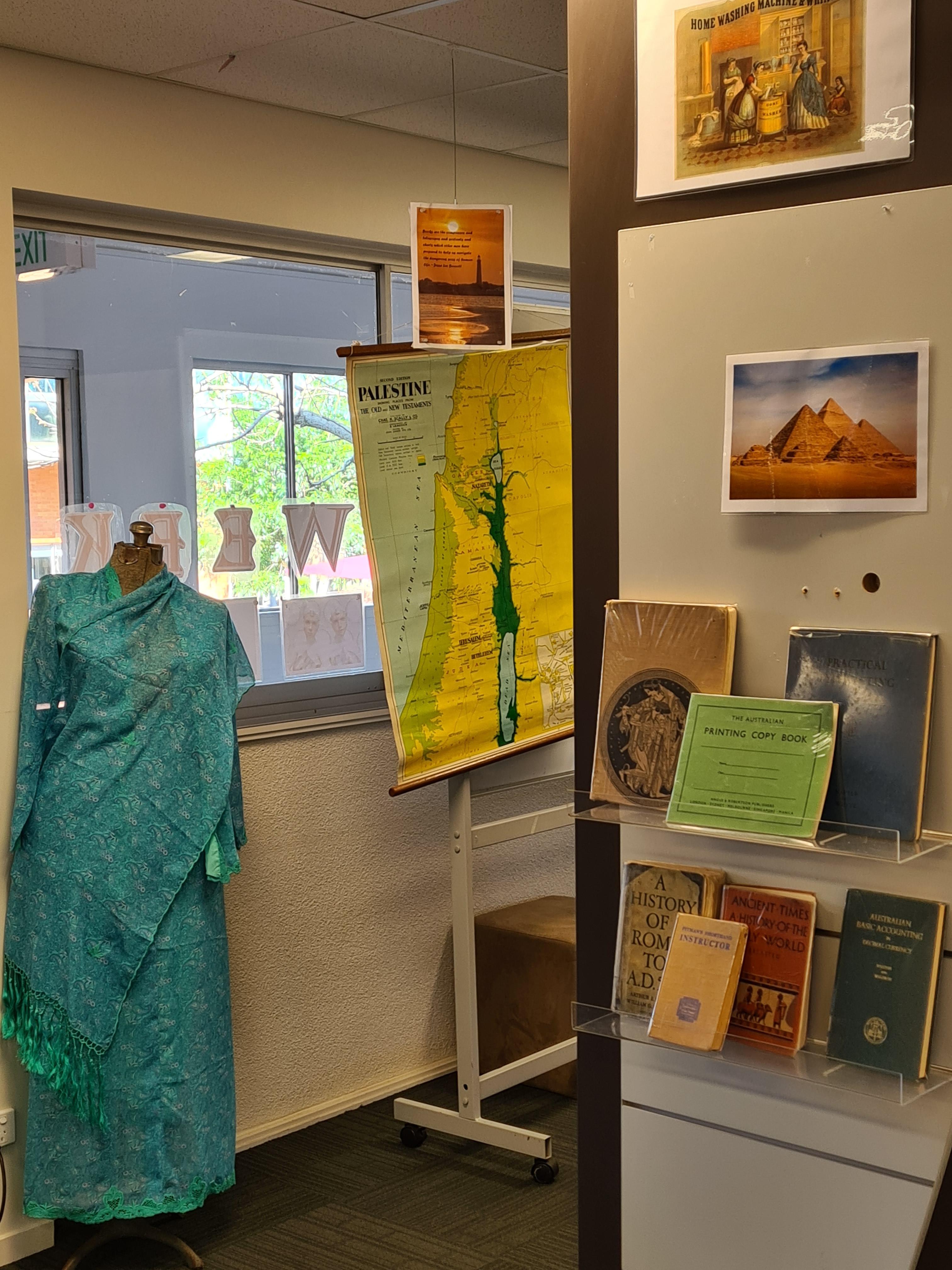 Australia Reads! September 14 - Australian Reading Hour
Theme: Stories that Matter: The Story of Me, the Story of You, and How we are becoming Us.
Celebrate reading on Tuesday 14 September 2021 along with the rest of Australia.
Originally launched by Australian libraries for the National Year of Reading in 2012.
Overdue Library Resources
Please remind your child/ren to keep up to date with library loans. Especially as we are coming to the end of the term. If students would like to borrow over the holidays they are able to if they have no overdue items out.
Students are able to manage loans through the Library Web App, where they can see their overdue items.
Students will also receive overdue reminders via email each week. Please ensure the overdues are returned or renewed otherwise they are considered lost and request for payment may occur. Your help with this is much appreciated!
"Reading is to the mind what exercise is to the body and prayer is to the soul." Matthew Kelly
Stay safe and keep reading.
Andrea King
Teacher Librarian
Sport
Rugby 7s
The Rugby 7s competition will kick off again in Term 4 2021. This year St Saviour's College have two teams - 13s and 15s. Students who are interested need to attend training and collect paperwork in the coming weeks to make sure they are cleared to play. Students will need to pay $25 to cover the cost of insurance for the 2021 season. Any questions or queries regarding Rugby 7s please see Mr Leathart.
Rugby League
NRL Game Development are excited to be hosting a female rugby league experience. For more details, please see Mr C Love. After a slow start, the Wednesday afternoon competition is coming alive and our girls are doing well learning some of the basic skills and demands of the game through competition against other schools. Students are reminded that if they are helping, they need to be dressed appropriately and conduct themselves which represents the college in a positive manner.
Tuesday Night Volleyball
Students playing Tuesday night volleyball are also reminded that the way you conduct yourselves is always on display to the greater public. It has been great to see some of the results in this competition with the girls able to work on some skills in an authentic performance environment. Games and duties will continue until the end of term and resume after the term 3 break. Students are reminded that if they are helping, they need to be dressed appropriately and conduct themselves which represents the college in a positive manner.
Saturday Netball
Led by Tia and Emillie, the Cadet G Saturday Netball will play this weekend to gain a spot in the grand final. The girls will play on Court 13 at 11.30am this Saturday, 4 September. Well done and best of luck. Supporters are most welcome to cheer on the girls as they look to finish their season strong.
2022 Darling Downs Sport Calendars
Information about the DD Sports Calendar for 2022 will be available soon. Please be aware these do get updated once championships are confirmed. For the latest information regarding school sport please visit the sports office or the Darling Downs school Sport website.
Friday Sport
Students in years 7-10 have only a few weeks left of sport for the year. I would like to remind students that this time is a gift to have during school time and should be valued. Students have a range of choices and should follow all teachers' instructions regarding their sport time.
Sport and Student Responsibilities
School sport is a privilege, and the college has worked hard over the years to increase the standards and opportunities in numerous sports for our students to participate in. Failure to attend academic support or submit drafts means you could be removed from these teams until your work is up to date. The college trusts that students will make the right decisions about their studies. Any questions please see Mr Leathart.
Greg Leathart
Middle Leader HPE, Sport and Activities
Winter Showcase 2021
Last Thursday, the talents of St Saviour's College were well and truly on show. With the diverse amount of participants, it was a fabulous display of the Arts. It was wonderful to see students who would not normally perform in front of an audience have the opportunity to showcase their talents. A special mention to Year 12 student Kate Hudson-James for her organisation prior to the event and being MC for the night, as well as performing several acts herself.
A highlight was Kate's rendition of "On My Own', a reprise of her first Showcase piece in Year 7. The Saviour's Sisters sang beautifully and we enjoyed seeing them in the Paul Morton Coral Festival at the Empire Theatre on Tuesday night.
A huge thank you to Hazel Johnson for the organisation of the Fashion display, Joanne Stewart and Wes Irwin for curating the Visual Art display, Chris Grierson for the fantastic organisation of the delectable savouries and soup, Adele Sretenovic and the Interact students for liquid refreshments, Jennifer Potter for her lightboard wizardry, Lucy Leicht for all the preparation into many fantastic acts and the fantastic backstage talents of Berni Gray. The night could not have gone as smoothly as it did without your support.
The opportunities for the Arts students at the College are growing and we hope to see more in the future.
Wendy Collins
Middle Leader - English and Arts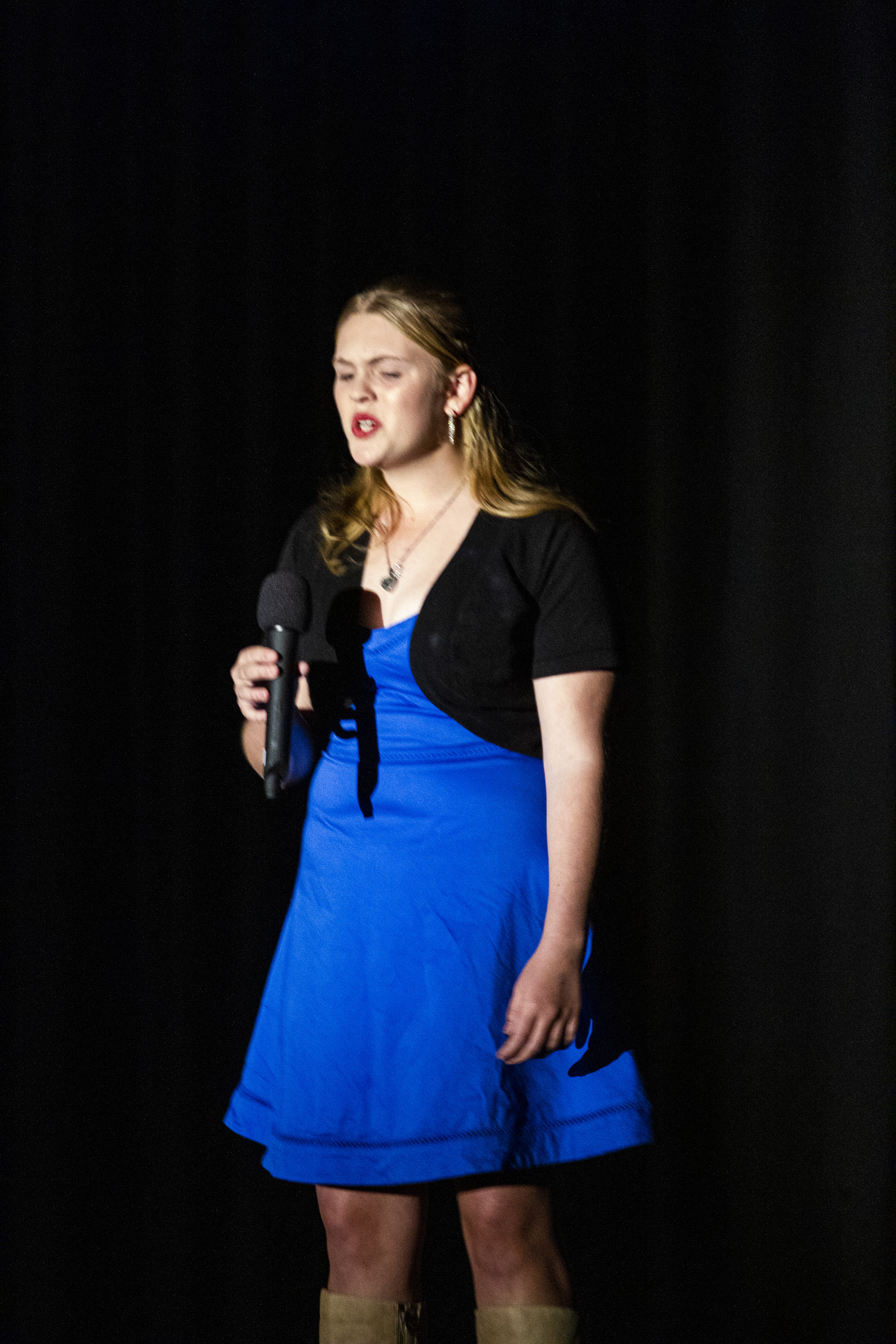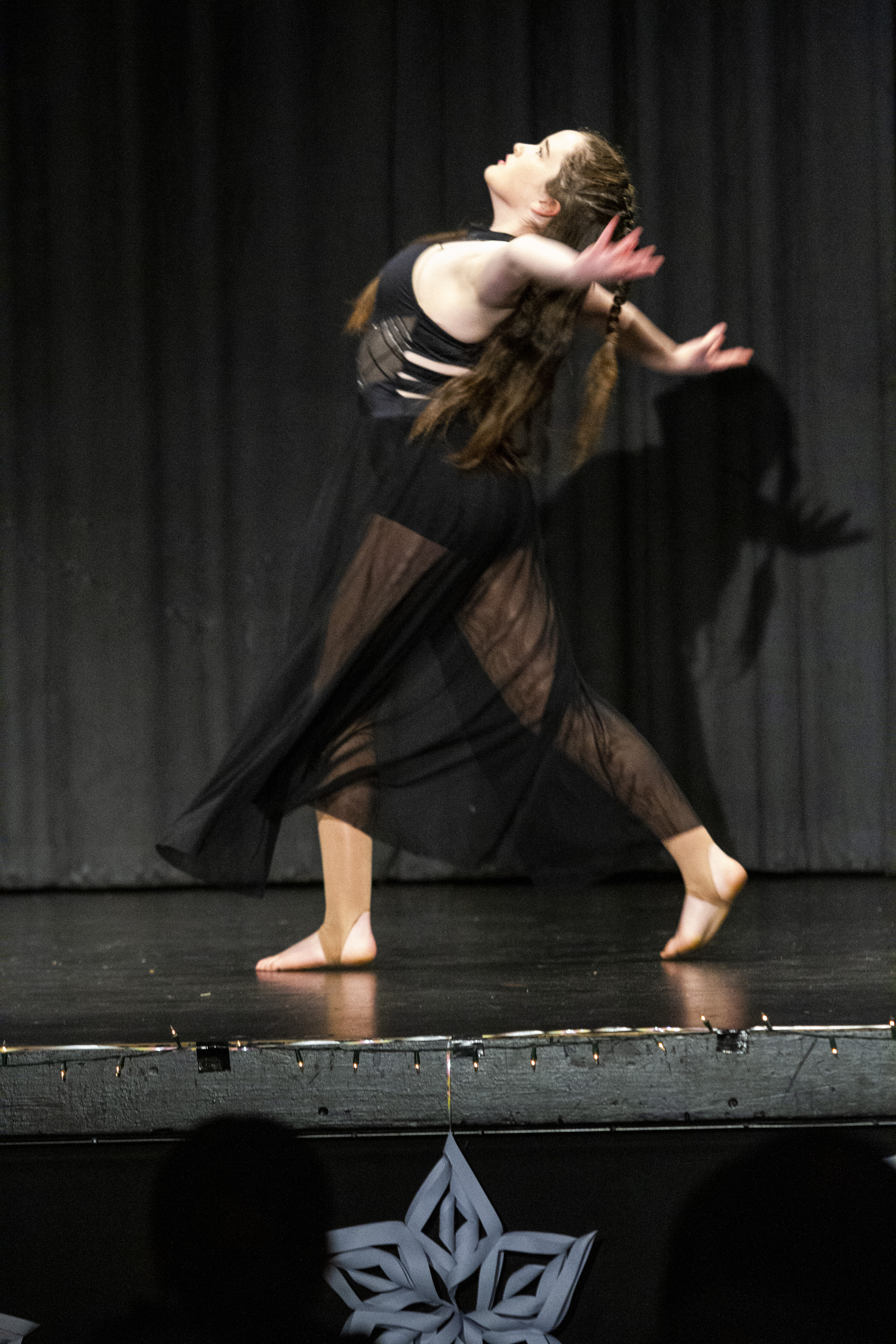 McAuley House Boarding
Congratulations to the girls that participated in the Winter Showcase, you surely did us all proud with your performance, what a great final act to the night!
Finals fever is evident in Boarding with the Under 15 footy girls surviving extra time in their game last weekend, well done girls. The netball girls have also been successful and will participate in a semi-final this weekend, best of luck girls!
We welcome Miss Gabby to our staff at McAuley House, Miss Gabby has previously worked in boarding and her love of sport will be welcomed by the girls.
Today Miss Shauna and her husband Dan gave the girls an introduction to Muay Thai, we are grateful for their time and efforts and the girls thoroughly enjoyed this activity, we hope Shauna and Dan will provide us with further workshops in the near future.
McAuley House is doing well with our recycling, thanks to the girls who volunteer each week at Bingo, giving them new-found confidence and skills. St Pat's Bingo generously donate their recycling to us, we have been able to fund our disco last term and are planning what our next activity will be using our recycling funds, thanks to Miss Mary and Miss Shauna who assist in this area.
Our Year 12 students are looking forward to Valedictory in the next few weeks, an exciting time for Lanease, Deb and Taya, we are so proud of your achievements and we will be sad to farewell you soon.
We anticipate that the next few days we will be issued with our travel itineraries for the upcoming holidays, please contact boarding staff if you have any questions regarding travel for the holidays ASAP.
Tanya Brown
Acting Head of Boarding
From the Careers Centre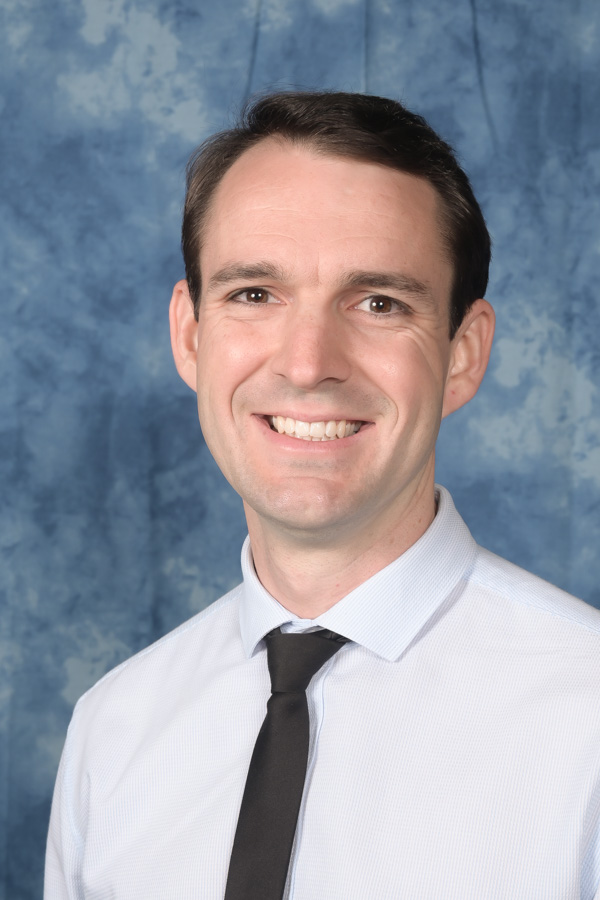 USQ's Accelerated Entry Pathway Program
Guarantee your place at Uni next year with the University of Southern Queensland. USQ's Accelerated Entry Pathway Program (AEPP) can make it happen. This free short program, available at both Toowoomba and Springfield campus, helps you transition from school to university, so it's perfect if your school results aren't where you want them to be.
Why study AEPP?
Low ATAR/No ATAR - Gain entry to Uni if you didn't undertake an ATAR pathway at school or didn't get the ATAR you expected.

Get an introduction to Uni level studies, including on-campus workshops.

Free accommodation and food is available at the newly refurbished USQ Residential Colleges (Toowoomba campus only) while participating in the AEPP program.

Help with travel is available for rural and remote students
Applications are open now, visit www.usq.edu.au/aepp to apply or call 1800 269 500. The next program starts on 29 November. The application closing date for 2021/2022 is Friday 19 November 2021.
School-based Apprenticeship Sign Up
Jessica Brown has been successful in commencing a Certificate III in Hairdressing school-based apprenticeship. Congratulations Jessica.
TAFE at School 2022
If you're a year 10, 11 or 12 student in 2022, you may be able to complete a TAFE Queensland qualification while you're still at school. Choose from a variety of Certificate I to Certificate III courses from a range of study areas ranging from hospitality to horticulture, early childhood education to engineering, and everything in between. The great thing about TAFE at School courses is they work in with your existing high school studies. They can also count towards your Queensland Certificate of Education (QCE), however please note that QCE Points only accrue for new learning (for more information please visit the QCAA website). TAFE at School allows you to join the workforce sooner by giving you a nationally recognised qualification while you're still at school. You'll build practical skills and graduate job ready, giving you a head start in the job market. Completing a TAFE at School qualification gives you direct entry into any related TAFE Queensland course. Also, if you continue on to a diploma qualification you can take advantage of our articulation arrangements with some of Australia's top universities. This means that if you decide to continue your studies at university, you will receive credit for your study at TAFE Queensland, shaving time off your degree.
Work Experience Opportunity
Recently, Dakota, Hessie, Roxy and Deenorah had the opportunity to visit the Goodstart Early Learning Centre in Centenary Heights. The girls spent three hours reading to the toddlers, colouring in and playing games with the pres-schoolers and interacting with the babies. This experience gave our students a great insight in to how the staff interact with the children and how the children interact with each other. We thank the Goodstart Early Learning Centre for providing such a wonderful and positive experience to our students.
Three Tips to find Life Balance as a Student
Life is a balancing act, and high school students need to become master acrobats in order to navigate their menagerie of tasks and roles. Between school, study, work, chores, family, friends, and maintaining a social life, there's a lot to keep track of each week. Want to know how to get back into balance, read more here: Three tips to find life balance as a student - Study Work Grow
Gap Year Positions Available for 2022
Letz Live have continued to operate throughout the pandemic, providing Gap Year and Working Holiday programmes to young people eager to spread their wings abroad. Positions are available for their January 2022 intake to New Zealand, The United Kingdom and Thailand. Travel exemptions are being granted to applicants for working holiday programmes, with current participants overseas having a great time. Further information is available at: Gap Year and Working Holiday Organisation | Letz Live
Job Spotlight - Makeup Artist
If you are creative, love to help people look and feel their best, and want a job that can give you a great degree of flexibility, becoming a Makeup Artist could be perfect for you. Further information available at: How to become a Makeup Artist - Study Work Grow
Open Days - Term 3
14 September - James Cook University - Virtual Open Day - 9.00am - Online.|
Registration: https://www.jcu.edu.au/events/2021/september/virtual-open-day
15 September 2021 - ADF | Engineering Careers Virtual Information Session - 6.30pm - 8.30pm - Online
Consider an Engineering career in the Navy, Army or Air Force and keep Defence weapons, vehicles, aircraft, ships and infrastructure operating safely and effectively. Join in for a virtual info session to learn more.
https://www.defencejobs.gov.au/events/events-detail/s7z6rcb
15 September - AIE Information Evening - Online.
Registration: https://aie.edu.au/aie_event/information-evening/
16 September - BASAIR - Brisbane Pilot Career Seminar - 7:00pm - 8:30pm at Basiar Archerfield, 210 Qantas Avenue, Archerfield Airport. Registration: http://www.basair.com.au/Events
SBA Vacancies
14/21: Years 10, 11 and 12 - Certificate III in Hospitality (Front of House) - Jillys Café
15/21: Years 10, 11 and 12 - Certificate III in Business - Berny's on West
30/21: Years 10 and 11 - Certificate III in Hospitality (Front of House) – Various positions
52/21: Years 10, 11 and 12 - Certificate III in Hospitality (Front of House) School-Based Traineeship – Vapiano
53/21: Year 10 - Certificate II in Supply Chain Operations School-Based Traineeship – Civil Toowoomba
54/21: Years 10 and 11 - Certificate III in Business School-Based Traineeship – Duo Bakery & Café
55/21: Year 10 - Certificate III in Hospitality (Front of House) or Tourism School-Based Traineeship – Jilly's Cafe
56/21: Years 10 and 11 - Certificate III in Business School-Based Traineeship – Berny's on West, Toowoomba
57/21: Year 10 - Certificate III in Hospitality (Front of House) or Tourism School-Based Traineeship – The Rock
58/21: Years 10 and 11 - Certificate III in Business School-Based Traineeship – 7-Eleven
59/21: Years 10 and 11 - Certificate III in Business School-Based Traineeship – Little Miracles Maternity Wear
60/21: Years 10 and 11 - Certificate III in Business School-Based Traineeship – Totally Workwear
The closing date for the above vacancies is 10 September 2021.
Aurora: Years 10, 11 and 12 - Certificate III in Commercial Cookery - BP Charlton. To submit an expression of interest, please click on https://form.jotform.com/202741177012041 and complete the application form. You will need to attach a copy of your resume. Please forward any enquiries to swqadmin@aurora.edu.au
SBA vacancies are advertised each fortnight in the newsletter and will be emailed directly to all students in Years 10, 11 and 12. If you wish to apply for a vacancy, please ensure you have completed the SBA Referral form, your resume is updated and that you follow the application directions in the advertisement. Once these documents are finalised, hand them (or send via email) to Mrs Cocks (lisa.cocks@twb.catholic.edu.au) for submission on your behalf (unless the advertisement has specifically stated that you need to apply online or visit the business directly).
Chris Grierson
Career Development Practitioner