St Saviour's College Newsletter Term 1 Week 8
Principal
Women's March 4 Justice
This week across the news, we have seen images of women and men taking it to the streets and marching for the inherent rights and dignity of all women. This grassroots organisation #March4Justice, has a very simple philosophy, "Women have been struggling for our rights alone for too long, and enough is enough. We believe by being inclusive and all genders working together we can achieve more."
This proactive display of solidarity is an inspiration to us all that the beauty of the collective voice sings in the face of injustice.
At St Saviour's College, our young women are encouraged to find their voice. In doing so, they become a voice for the voiceless who sing in the face of injustice.
Catherine McAuley was a woman ahead of her times. In the mid-1800s in the streets of Dublin, every day for her and her Sisters was a 'March 4 Justice' as she gently drew women out of the margins of society, and gave them a purpose, a sense of belonging, and with education and upskilling, a sense of independence, and ultimately, a livelihood. I am sure, were Catherine alive today, she would be shouting from the rooftops that women rightfully have their place and would revel in the collective group marching 4 justice!
How blessed are we to share in Catherine's legacy. Being the oldest secondary school in Toowoomba, I frequently encounter former students, who, in their own unique, unassuming way are the voice for the voiceless. We saw from our recent IWD Guest Speaker, Hilary Maguire, we don't simply give up on ourselves because we have doubts about our capacity because of our gender. In the male dominated field of aviation, Hilary is well on the way to attaining her pilot's license. In her own unique, unassuming way, Hilary is giving young women a voice that they can be successful in any particular field, irrespective of inherent gender-bias.
Let us all continue to be advocates for change, for equity and for gender-equality. Let us continue to find our voice for the rights of all women so that we can achieve more.
"I raise up my voice—not so that I can shout, but so that those without a voice can be heard …
We cannot all succeed when half of us are held back."
Malala Yousafzai
Changes to Reporting Processes
In the coming weeks, all families will be receiving information around the changes to the way we report. As we move into a more 'paperless' society, this term we are trialing the use of our Parent Portal to upload our reports. Last week, you would have received an email detailing your Family Code and instructions on how to log into the Portal. Student reports may be accessed under the "School Resources" option.
Parents may also book Parent Teacher Interviews via the "Parent Teacher Interviews" option. The Parent/Teacher interviews will be held on Monday 19 April from 2pm – 5pm. All interviews are welcomed, and we encourage all parents and their daughters to attend. These interviews are valuable in that they allow parents to meet the teachers and to further discuss their daughter's progress. Telephone or virtual interviews may also be organised in consultation with individual teachers.
Harmony Day
Next Thursday 25 March, we come together as a College to celebrate Harmony Day. This is always a great day for all members of our community to acknowledge and celebrate the great diversity and cultures that make up who we are. Unfortunately, given the current Covid-19 restrictions we will not be able to open up the event to our wider community, but we look forward to welcoming the Year 6 cohort from St Saviour's Primary School who will join in our stalls and concert. Many thanks to all the staff and students involved the planning of this special day.
Open Evening
Open Evening looms upon us. This important event in the College calendar will take place on Thursday 29 April, from 3pm - 6pm. We are looking for volunteer parents who will be able to assist the Parents and Friends with the barbeque throughout the afternoon. If you are interested in doing so, please email welcomestsav@twb.catholic.edu.au I encourage you to pass information on about this event to families you may know contemplating all girls' secondary education for their daughters.
Parents and Friends
Next Monday, 22 March, we will be hosting the inaugural Parents and Friends gathering for the year. All are most welcome to join us at 6pm in the College library.

Please RSVP to welcomestsav@twb.catholic.edu.au by 9am, Monday 22 March.
As we continue our Lenten journey, may we be inspired by Jesus's hospitality in the face of rejection, compassion in the face of suffering, and strong sense of justice in the face of injustice.
Blessings for the coming weeks.
Sharon Collins
Principal
Deputy Principal - Curriculum
Launch of the Parent Portal and Sentral App
This week sees the launch of the St Saviour's College Parent Portal and App. Last week you would have received a family code and log on invitation to Sentral. This portal will enable all parents access to student records, family records and student report cards. It will also be the means by which the College provides letters, notes and slips to parents and will give you the ability to provide absentee notices through the app. As a College, we are keen to engage our parent community in discussion around how you would like to interact with and use this technology.
As a starting point, we encourage you to download the app to your phone so that in the coming weeks you will be able to book a parent teacher interview and view, download and print your child's report card instantly.
Year 11 and 12 Interim Report Cards
Interim report cards for students in Year 11 and 12 will be available from today in the portal. As we move to a more paperless society, we will not be posting report cards home this term. However, if you would like a printed copy of your daughter's report card, please email Kathleen.mcdonald@twb.catholic.edu.au or welcomestsav@twb.catholic.edu.au to request printing and these will be available for collection from the front office within 24 hours of your request.
Year 12 Provisional Results
Given that Year 12 results have not yet been passed through the rigorous statewide confirmation and crossmarking system, it is important to remember that all results on interim report cards remain unconfirmed at this point. Confirmed results for students in general subjects will be available in May 2021. A full report on Unit 3 will be provided to Year 12 parents in Week 6 of Term Two.
Year 11 Subject Changes
Now is an important time of reflection on results in assessments in subjects for Year 11 students particularly. If your daughter is experiencing difficulty with her current subjects, I encourage her to make a meeting time with me to discuss next steps in this area. We might develop a study plan or even revisit her set plan and amend her course of study. I am keen to support your daughter in ensuring her course of study is commensurate with her future pathways, abilities and skill set.
Mobile Phones
I would like to take this opportunity to remind parents and students that all communication between parents and students during the school day should go through the office. Students should not be using phones throughout the school day as this can affect their ability to concentrate in class, develop their own strategies for resilience and interact socially with their peers in a face-to-face environment. Occasionally, staff may request that student use their phones for learning purposes (to film performances, experiments etc) but this would be exceptional rather than common occurrence. Please encourage your daughter to avoid person mobile phone use throughout the day.
Student Emails
All girls at St Saviour's College have an email account. Please can you encourage your daughter as part of her organisation time each afternoon or evening to check her emails to ensure she is up to date with information being communicated using this methodology. It will remain an important organisational skill throughout her life to check emails, set reminders and write events in her calendar or learning journal.
Jessica Wade
Deputy Principal
Assistant Principal - Mission and Student Wellbeing
Rejoicing in the presence of God, let us pray for the needs of the world.
For wisdom to be good caretakers of the earth, we pray as one.
For farmers to grow food for families, we pray as one.
For artists who help us see with new eyes, we pray as one.
For all the troubled children, we pray as one.
For the prayers in our hearts today, we pray as one.
Gracious God hear our prayers.
Amen
A reading from the letter of St James 3:13-15, 17-18
Are any of you wise or sensible? Then show it by living right and by being humble and wise in everything you do. But if your heart is full of bitter jealousy and selfishness, don't brag or lie to cover up the truth. That kind of wisdom doesn't come from above - it is earthly and selfish. But the wisdom that comes from above leads us to be pure, friendly, gentle, sensible, kind, helpful, genuine, and sincere. When peacemakers plant seeds of peace, they will harvest justice.
The word of the Lord. Thanks be to God.
E-Raced – Praxis partners!
Today our Year 12 PRAXIS class welcomed volunteers from E-Raced to talk about their life experiences that have not only shaped them into the people they have become but also inspired them to share their story with schools. Both Maree and Bomkey spoke about their schooling experiences and their struggles with racism. They spoke about how they made the decision to volunteer and the benefits of giving their time. Both tell their stories in the hope of achieving a ripple effect of people using their words to lift people up rather than tearing them down.
E-Raced was founded by past St Saviour's College alumni Prudence Melom, to tackle the issue of racism head on by sharing stories and building connection between people of diverse multi-cultural backgrounds.
Support for Project Compassion
So far this term the Youth Ministry team have raised over $340 for Project Compassion. Upcoming initiatives include:
Week 8 Funday Friday – Vortex comp and $2 lolly bags

Week 9 Funday Friday – Zooper Doopers

Harmony Day BBQ - $2 sausage sizzle
Opportunities for Engagement in College Life
At St Saviour's College, our two pillars of Academic Excellence and Faith, Wellbeing and Engagement are the mortar that provide adhesion and the foundational support for our girls and our staff. This is evident in the range of extra curricula activities that we offer our community, all year round.
Clean Up Australia Day
In the last fortnight we celebrated Clean Up Australia Day, St Saviour's College style for 2021. Our Student Representative Council organised our annual Clean Up Australia Day event. This year's event consisted of a two-round challenge. Round 1 saw house vs house in a 10-minute classroom clean up challenge - Xavier vs Goretti and Coolock vs McAuley, with 'Secret' judges awarding Goretti and McAuley the win, which saw them advance to Round 2. This round was designed to see if our community knew 'What goes in which bin' and saw the introduction of the 'Sabotage' twist where 10 recyclable bottles/cans brought in = 1 'steal' point. Those 'steal' points allowed Goretti House to take out the win and some much need Mercy Shield points! Keeping our grounds and classrooms clean and litter free is the MERCY GIRL WAY. Everyone – remember to continue to bring in your recyclable bottles/cans and place them into your House bin outside of Student Services to receive more points for your house!
Mercy Movers!
We had three Mercy Mover students attend one of the recent sessions, with all running personal best 1km times - Well done girls!
In total the Mercy Movers have now covered 70.2km, meaning we have raised $70.20 for Project Compassion.
2021 Mercy Movers points table after five sessions:
Coolock - 29 Goretti - 2 McAuley - 50 Xavier - 34
Student Academic Groups
Debating Club

Science and Engineering Challenge

ICAS - English and Math Competitions

USQ Math Challenge
Student Community Groups
Community Outreach

Rosie's, our friends on the Street

St Pat's Bingo at the Cathedral Centre

Tony's Community Kitchen

St Vincent de Paul

Student Representative Council

Youth Ministry

Interact

Lunchtime Wellbeing Hub – Indoor and Outdoor

Craft Club

Friends of the Library - Library Helpers

Weekly Funday Friday
College Sporting Competitions
Saturday Netball (Club)

Rugby Sevens

Rugby League

Golden Glove Softball

Soccer (Bill Turner, SSI)

AFL

Basketball

Touch Football (All Schools)

Volleyball

Mercy Movers
Faith and Cultural Events
NAIDOC Week

Floral Display for Carnival of Flowers at St Patrick's Cathedral

Catherine McAuley Day

Harmony Day

Debating Club

Arts Showcase

College Musical

Performance Choir

Anzac Day commemoration

Remembrance Day commemoration

Ash Wednesday commemoration
Student Reminders of College Guidelines and Expectations
Mobile Phone Use
We have had a few instances recently of students using their mobile phones at school, without teacher permission. As per the guidelines outlined in the College Student Planner, students are not to use their phones at school within the hours of 8.30am – 3.00pm. The instruction is clear and Homeclass teachers spent a good deal of time ensuring this was clearly communicated during the start of year Housekeeping session in Week 1. We trust that parents and carers are supporting the address of this matter from home, by encouraging our girls to comply with College Guidelines.
Wellness - Mental Health
National Nametag Day
A human being's name is a principle component of his person, perhaps a piece of his soul.
Sigmund Freud
Students from Goretti 1/2, led by Mrs Berni Gray and Mrs Wendy Collins delivered a touching prayer to conclude our assembly in the last fortnight. Their special sacred space reflected Nametag Day, acknowledging the need to belong and the importance of self-identity.
Calling someone by their name evokes an almost instant feeling of greater familiarity. Calling a person by their name is also much more personal because, as Freud noted, a name is an extremely integral part of a person. The world would be a much friendlier, much more open place if we all knew each other's names, and chances are we'd all feel much safer and more trusting of others. Imagine walking down the street or at lunchtimes and knowing who you're talking to at all times, and not having to avoid people for fear of awkward encounters spent wondering who this person you're talking to actually is. It's a nice thought, isn't it?
Pastoral Care
The Pastoral Care of students is just one of the supports put in place when joining our College community. The Homeclass teachers who meet with their Homeclass on most mornings, provide a familiar and friendly face for daily wellbeing and academic check-ins. I encourage you to contact one of your daughter's Homeclass teachers if you have not yet had the pleasure of meeting them, to celebrate your daughter's ongoing success with their St Saviour's learning journey.
God Bless,
Mrs Heather Hagemann
Assistant Principal - Mission and Student Wellbeing
Library
School Library - Why it is Important
Excerpt:
"Principle findings from the most recent Australian School Library Survey (Softlink 2015) suggest there is a positive correlation between annual school library budgets, the number of qualified teacher librarians employed, and NAPLAN Reading Literacy results. This relationship has been consistent since the annual survey began in 2010."
(Oddone, 2016)
Click on the link for the full article
Welcome
We continue to be busy with International Women's Day. Winners of our competition will be announced soon!
New Books
We continually have new books being put on display in the library. These books are available to be borrowed so please come in and check out what has been resourced for our library.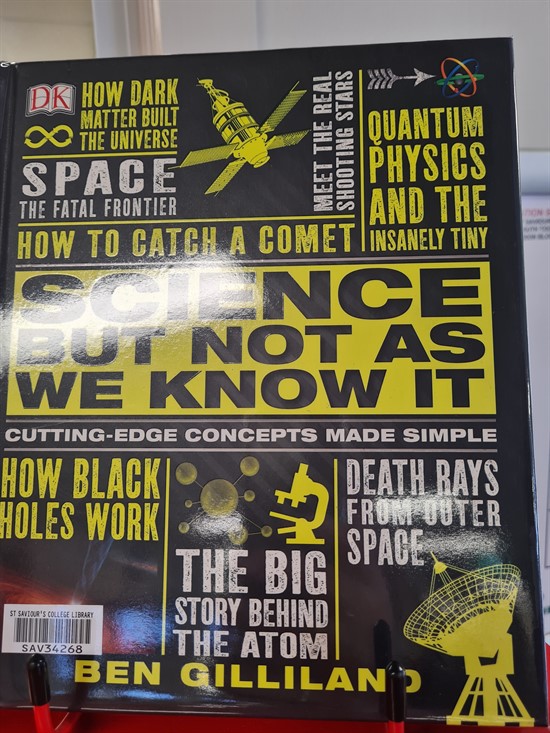 Reminders
It is coming up to the end of the term and all reading resources will need to be returned to the library. This will allow holiday borrowing to occur in the last week of the term.
ALL library resources to be returned by the end of Week 9 please.
Access the school library catalogue online through the student intranet or your CANVAS modules. See Mrs King in the library for help. This also has access to online reading material.
Also, don't forget that if you are a member of the Toowoomba Regional Library you then have access to more online material, including books, magazines and audio material. Check them out!
https://www.tr.qld.gov.au/facilities-recreation/libraries/library-locations-open-hours/8221-library-locations-opening-hours
Manners in the Library
Please remember to say "Good morning" or "Good afternoon" as you come into the library, we love seeing the students using our library, especially when they are polite and respectful to both the staff in the library and the users of the area. "Please" and "Thank you" are expected in asking and receiving help at any time in the library. Also remembering it is a shared space and to keep our voices at a respectful level.
Date Claimers
Friday 26 March: all reading books returned
Week 10: Holiday borrowing
March 31: Last day of term
In the nonstop tsunami of global information, [teacher] librarians provide
us with floaties and teach us to swim.
Linton Weeks
Andrea King
Teacher Librarian
Careers Update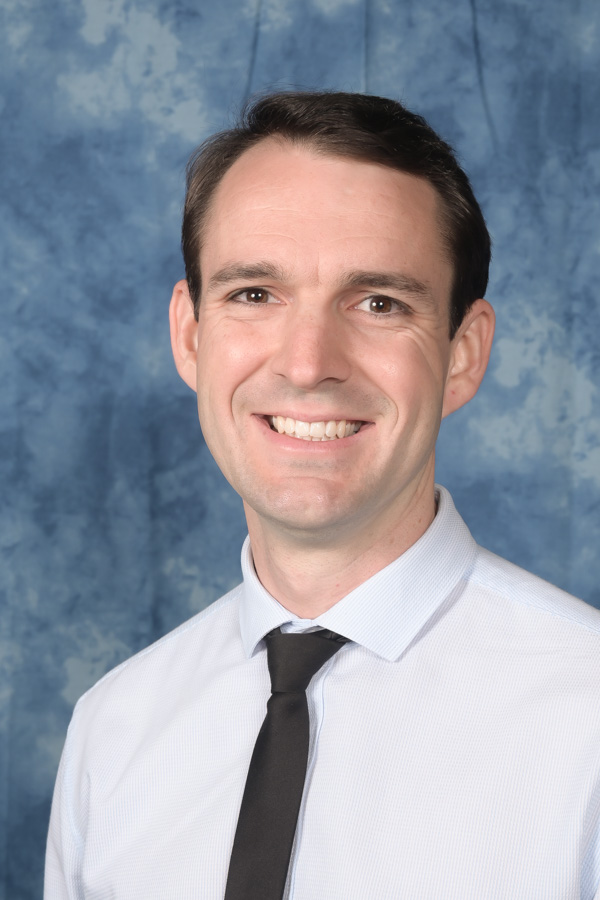 UQ SWEP Program
Kirra Baker and Miranda Owen (both in Year 11) recently had the opportunity to take part in procedural workshops through the Rural Clinical School, Faculty of Medicine Student Work Experience Program (SWEP).
At the one-day event, hosted by The University of Queensland Rural Clinical School's Clinical Skills Team, with the assistance from current UQ RCS medical students, Kirra and Miranda took part in a human anatomy session, practiced their hand at suturing and completed procedural workshops on airway management, plastering, basic life support and had a meet and greet with current UQ medical students.
Work Experience: Year 10 - Monday 29 March to Wednesday 31 March
As the work experience program commences at the end of Term One, it is strongly advised that you assist your daughter in securing a placement for this period as soon as possible. It is important to note, however, that the onus on finding a placement is on your daughter as we seek to provide her with opportunities to develop the communication skills needed to be successful in her post-schooling endeavours. If you have any queries regarding work experience, please contact the St Saviour's College Career Development Practitioner – Mr Chris Grierson, or the Career Support Officer – Mrs Lisa Cocks.
Engaging Parents in Career Conversations
As a parent you can assist your daughter in many different ways to help develop their knowledge around careers. From a young age your child will start to explore the world around them, including their understanding about work. The following points are seven ways to prepare and support your daughter with their future career plans:
Talk with your child about what they like, their strengths, interests and why they like them.

Encourage your child to talk to the career advisor at school.

Encourage your child to participate in out of school activities and different experiences such as sport,
music and volunteering.
Encourage and support your child to visit Tertiary open days usually held in August and Career Expo
events.

Support your child in adapting and changing career ideas as they become aware of other options.

Talk to your child about your work and workplace. Encourage them to talk with other adults and relatives
about the kind of work they do.
Try and support your child's interests and strengths, rather than a particular career that you think is right
for them.
Always remember that your first point of contact should be your daughter's Career Development Practitioner, Mr Chris Grierson.
AusAPP Pathways: Free app for apprenticeships and traineeships
AusAppPathways is a free app that helps students and jobseekers explore Australian Apprenticeship career pathway ideas on their smartphone or tablet. Users can access:
General industry options as well as specific apprenticeships and traineeships

Links to job hunting and career research sites

Contacts for local Apprenticeship Network providers and Group Training Organisations.
AusAppPathways is available for both Apple and Android devices. A 'Guide to Using AusAppPathways' can be found on the Australian Apprenticeships Pathways website
SBA Vacancies
Year 10 – Certificate III in Floristry at Westridge Florist (closing date will remain open until the position is filled). Workday one day per week and work experience is required. Students are to present in person at Westridge Florist with your resume and ask to speak to Karen.
19/21: Year 11 only: Certificate II in Warehousing Operations School-Based Traineeship Reece, Toowoomba West Club (closing date will remain open until filled). Applicants should be hardworking, highly motivated and enjoy working as part of a team. The successful applicant will learn how to perform a range of tasks including general warehouse duties, housekeeping and receipting, stock locating, maintenance, replenishment, order picking, packaging, checking and dispatching. Workday one day per week and Saturday mornings. Work experience is required. Apply online at https://reece.wd3.myworkdayjobs.com/en-US/ReeceCareers/job/QLD---Toowoomba-West---213- Anzac-Avenue/School-based-Traineeship---Plumbing-Toowoomba-West_R-00011418
20/21: Years 10, 11 and 12 - Certificate III in Hospitality School-Based Traineeship Noodle Box and Patty Smith Burgers, Westridge (closing date will remain open until filled). Both businesses both currently have vacancies for school-based trainees to undertake Certificate III in Hospitality positions. Applicants should be genuinely keen, reliable, well presented and have the willingness and ability to commit to a traineeship which involves both study and hands-on experience. The successful applicants will learn how to perform a range of tasks including sales and operational skills, develop a sound knowledge in hospitality industry operations and work well in a team environment. Workday is negotiable and work experience is required.
17/21: Years 10 and 11 - Certificate III in Business Administration School-Based Traineeship - Tilly's Crawler Parts (closing date 19.03.2021). Applicants should be genuinely keen, reliable, well presented with both the willingness and ability to commit to a traineeship which involves both study and hands-on experience. The successful applicant will learn how to perform a range of tasks including reception – greeting customers, working well with a team of 4 to support over 70 staff, computer and customer service skills, record keeping and general office administration. Workday Friday 8.00am – 5.00pm and work experience is required.
18/21: Years 10 and 11 - Certificate III in Hospitality (Front of House) School-Based Traineeship - Downs Club (closing date will remain open until filled). Applicants should be genuinely keen, reliable, well presented and have the willingness and ability to commit to a traineeship which involves both study and hands-on experience. The successful applicant will learn how to perform a range of tasks including providing exceptional customer service to customers, work well in a team environment and use point of sales machines. Workday one day per week and some weekends. Work experience is required. Students are to present in person to the Downs Club at 15 Mylne Street with resume.
5/21: Year 11 only - Certificate II in Warehousing Operations School-Based Traineeship - Actrol
6/21: Years 10 and 11 - Certificate III in Hospitality (Front of House) School-Based Traineeships (various positions)
07/21: Years 10 and 11 - Certificate III in Commercial Cookery School-Based Apprenticeship - Urban Grounds Café
09/21: Years 10 and 11 - Certificate III in Commercial Cookery School-Based Apprenticeship - Monkey Business Catering
10/21: Years 10 and 11 - Certificate III in Hospitality (Front of House) School-Based Traineeship - Kingfishers Café Restaurant
11/21: Years 10 and 11 - Certificate III in Hospitality (Front of House) School-Based Traineeship - Stellarossa, Bernoth Centre
14/21: Years 10, 11 and 12: Certificate III in Hospitality School-Based Traineeship (Front of House) - Jilly's Café
15/21: Years 10, 11 and 12 - Certificate III in Business School-Based Traineeship - Berny's on West
16/21: Years 10, 11 and 12 - Certificate III in Business School-Based Traineeship - Duo Bakery & Café
Years 10 and 11 - Certificate III in Hospitality – KFC
SBA vacancies are advertised each fortnight in the newsletter and will be emailed directly to all students in Years 10, 11 and 12. If you wish to apply for a vacancy, please ensure you have completed the SBA Referral form, your resume is updated and that you follow the application directions in the advertisement. Once these documents are finalised, hand them (or send via email) to Mrs Cocks (lisa.cocks@twb.catholic.edu.au) for submission on your behalf (unless the advertisement has specifically stated that you need to apply online or visit the business directly).
Chris Grierson
Career Development Practitioner
Sport
Swimming Carnival
The 2021 Swimming Carnival was a huge success with more than 150 students enjoying the spirit and the competition that comes with attending the first of our three major carnivals for the year. House spirit was high considering the cheering could be heard from some of the office blocks in the CBD. 95 athletes competed in the major races with many more entering the pool for the range of novelty events which took place on the day. Five records were broken with Ayen Deng, Georgia Bartlett and young Ella Giuffrida rewriting the 12 years category with three new records.
The day also had some new events which will continue as part of a new look program designed to engage and allow for maximum participation. The Super Sprint which had our 8 fastest swimmers of the day, which was won by Abby Kelderman, and an all-ages relay which went to Goretti house. In the end, only one house can be named champion and this year Coolock house owned the pool and with it the bragging rights for another year. Congratulations to all who competed for house and house spirit alike. A special thank you to the parents who gave up their time to help with timekeeping and to the students who worked hard in the background to make the day run smoothly.
Super Sprint Results (8 Fastest Swimmers at St Saviours College for 2021)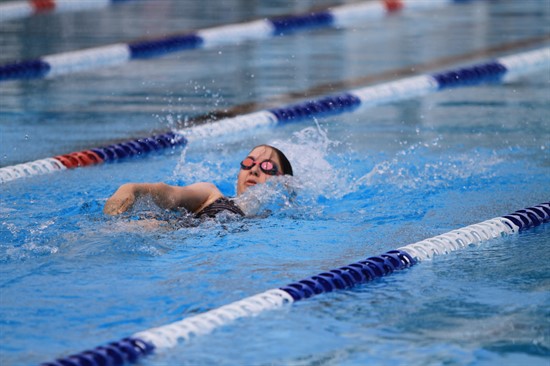 Laura Geitz Netball
On Sunday 14 March our St Saviour's College Laura Geitz Netball played in the annual round robin competition for 2021. Entering in Division 2 the St Saviour's girls played well and continued to improve with each game. Drawing the first game the girls battled hard to get a win against Concordia. This placed them into fourth heading into the final rounds. Results did not go our way and the girls lost some key matches which stopped them from proceeding further into the finals, however it was not all bad as they did gain another victory against Scots PGC. Congratulations girls on a great carnival. It was good to see that students were committed to training in the lead up to the event and we will look forward to 2022. A special thank you to Miss Jones who gave her time to prepare the girls for the carnival.
Friday Night Basketball
This Friday there will be an opportunity to progress in the competition, given a lifeline last week, when both teams play in the post season for Friday night basketball. The 7-8 game will play at 4pm and the 9-10 game at 6pm. Both games will be held at the Clive Berghofer Recreation Centre (USQ). Due to COVID restrictions only players and coaching staff will be able to attend and we wish both teams the best of luck for their games.
Saturday Netball
If your student has expressed an interest in playing netball for the St Saviour's College Netball club, please find below the link for the registration process. If you have any questions or concerns, please contact the College. Don't forget that you can also use the QLD government Fair play vouchers which will cover the cost of payment for the season.
Create a new user and follow the prompts.
When selecting your organisation name - for anyone wishing to play for the College select St Saviour's College Netball. Do not select Toowoomba Netball Association.
https://netball-registration.worldsportaction.com/userregistration?organisationId=93bfb157-2c2d-4076-9662-fb8d9cb5d570&competitionId=de023bbe-21e4-47cc-b70b-9439d8921e5e
Greg Leathart
Middle Leader - HPE, Sport & Activities
McAuley Boarding House
Thomas Jefferson once said 'Do you want to know who you are? Do not ask. Act! Action will delineate and define you.' I love this, as it is great advice for anyone wanting to follow and find motivation and purpose. Many people we encounter are big talkers, their jaw muscles work overtime. However, few follow through with action to match their talk. Our prayer for this week is that we are motivated to be part of the minority; act on the words that leave your lips. For it is what we do, not what we say; the link between our thoughts, our words and our actions that will truly define you. Act with courage, kindness and confidence.
The recent swimming carnival was held at Milne Bay Aquatic Centre and our boarders did a fantastic job of rising early on a fresh morning to be organised to walk down to the pool in time to start the day. Many of our girls have never seen a 50m swimming pool, so to have the courage to participate and contribute to their house for points was inspiring. A big congratulations to boarding students Shai Watson, Holly Anderson and Kaysharn Deemal on their actioned success in receiving Age Champion honours. Thank you to boarding staff for walking the girls down to the pool and to our catering staff who drove the girl's meals down to the pool to keep it fresh, rather than be in their bags. Be sure to like the College Facebook page for all the great photos that were taken on the day.
There has been a lot of school sport and club sport action in the past two weeks. The Friday night basketball teams have excelled this year and made the pool cross over round. Both the year 7/8 and 9/10 teams were successful in making the final four teams for this Friday night finals series. The girls have been dedicated to training every Monday afternoon, learning new skills and concepts to take to the court. We wish both teams luck for their games and will be cheering for our boarding students who are involved - Phillana Elisala, Sarai Hankin, Kaysharn Deemal, Xeroxia Nona-Poipoi, Ruth Guise, Flossy Elisala.
Saturday netball sign on for Term Two have commenced. Please discuss this with your daughter, as arrangements will be needed to start commencing if she would like to be involved in this competition. Four of our boarding girls - Ashayla Mitchell, Paige Mills, Kaysharn Deemal and Kyomie Deemal have already started their netball practice. The girls participated in the Laura Geitz Netball carnival held at the Glennie School on Sunday 14 March. It was an early start for the girls and Miss Tanya. They missed out on Mass and brunch, however had a great day representing the College. A sneaky stop at Zarraffa's for a frappe bought a welcomed surprise for the girls as we ran into Mrs Kim Murray. They respectfully chatted and caught Mrs Murray up on all the happenings at St Saviour's. Such a blessing to witness.
Rugby League has been in full swing with many students attending trainings on Tuesday and Thursday afternoons. Our girls are representing two Toowoomba clubs this season:
Valleys - Hessie Victor, Eliza Daphney and Mia Biazos.
Souths - Emmie Creevey, Kia Tayley, Minnika Baird, Kyomie Deemal, Kaysharn Deemal, Rayziah Yarrak, Phillana Elisala and Lanease Mooka.
Registrations and payments are now due. If players are not registered or financial, they will not be able to take the field. Both clubs have been generously supporting us working through this process, thank you.
Boxing
Boxing has become a positive energy outlet for the girls on a Monday afternoon. Brett Richardson has accommodated our girls learning, ability and fitness levels. He continues to inspire and teach the girls, encourage and challenge them. Congratulations to Shai Watson who won last week's challenge. A shout out also to Miss Cath for driving the girls out each week and supervising.
Travel
Boarding staff are busy organising end of term travel. Itineraries are starting to arrive from ABSTUDY and Queensland Bulk Travel for many of our students. Please, if you have not touched base via email or telephone with the boarding staff regarding your daughter's travel plans, please do so in the next week. The last official College day of term is Wednesday 31 March, boarder travel day is Thursday 1 April. We look forward to hearing from you.
A gentle reminder to please communicate with us and the girls at appropriate hours. Our staff are off duty between 10.30pm and 11.00pm. This means that the boarding mobiles are turned onto silent and utilised for emergencies. In addition, the girls have set times that their technology is required to be handed in. Often, we are having to chase girls as they are still on their phones at hand in time. Can we please ask for your help to reiterate with your daughter the importance of sticking to our routines. This will enable staff to be able to meet timeframes and their routines.
Jesse Bolton
McAuley Boarding House Manager